Choux pastry dumplings are the tastiest and most tender. The addition of boiling water makes them both thin and durable. We will share a recipe for custard dumplings with liver and onions. Read on.
Cooking time
Calorie content
Ingredients
Water – 150 ml
Wheat flour – 250 g
Refined sunflower oil – 2 tbsp
Salt – 0.5 tsp.
For filling
Chicken liver – 500g
Onions – 150g
Refined sunflower oil – 4 tbsp
Salt, black pepper – to taste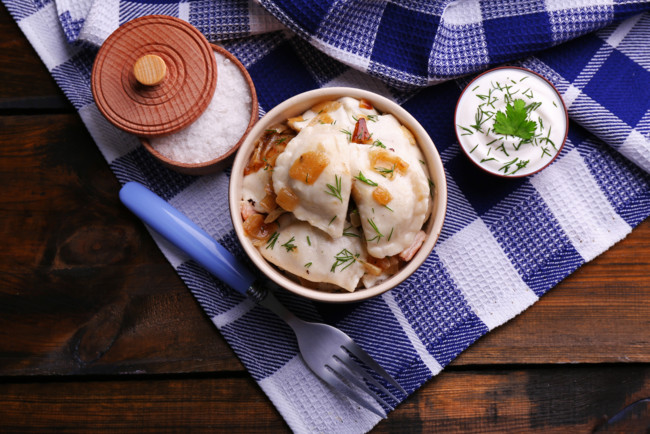 Cooking method
Sift flour, make a hole in the center, pour in sunflower oil, and stir. Bring water to a boil and immediately pour into the flour. Knead the dough quickly, then knead for another 5 minutes. Cover with a towel and leave for half an hour.
Wash the liver and remove the films, cut into pieces.
Cut onion into cubes and fry in vegetable oil until half cooked. Add liver and cook for about 10 minutes – until tender. Season with salt and pepper, let cool.
Roll out the dough on a floured board to a thickness of 1 mm and cut out circles with a glass.
Pass the liver and onions through a meat grinder. Put a tablespoon of the resulting mass on dough circles, pinch the edges, and and and and form dumplings.
Pour water into a saucepan and bring to a boil. Add salt, 2 bay leaves,, and 2 tablespoons of sunflower oil. Put the dumplings in boiling water and stir immediately with a wooden spoon so that the dumplings do not stick to the bottom. Bring water to a boil again and cook for 2-3 minutes.
At this time, put butter or bacon in the pan and cook for another minute. Gently remove the dumplings from the water and put them in a frying pan, stir.
Useful advice
The more onions you add to the filling, the juicier the dumplings will be.
Adapted and translated by The Cop Cart Staff
Sources: Today Lifestyle