Let's start with the first ones. The healthiest condiment for pasta and risotto remains the classic tomato sauce (290 calories for one serving). But if you want to add a tasty sauté to your sauce, remove the foil and let the classic chopped onion, carrots, and celery wilt in 2-3 tablespoons of vegetable broth; you will gain in digestibility and lightness.
And if you like cannelloni and lasagna so much, don't despair because you can indulge in this whim now and then; use the cream instead of the usual béchamel to get a saving of 660 calories. Here's how; boil 1 dl. Of skimmed milk with a pinch of salt and a little nutmeg, lower the heat to low and very slowly add a glass of cold water in which you have dissolved 4 tablespoons of cornstarch. Stir for 30 seconds and put back on the heat for 1 minute, continuing to stir until the cream has thickened.
For meat, cooking in the oven or on the grill allows you to cook without adding fat.
If you want tasty and tasty scallops, you can use a non-stick pan that allows you to cook without fat. Add some vegetable broth, half an anchovy and chopped capers, and a drizzle of olive oil before serving. All with just 250 calories per serving.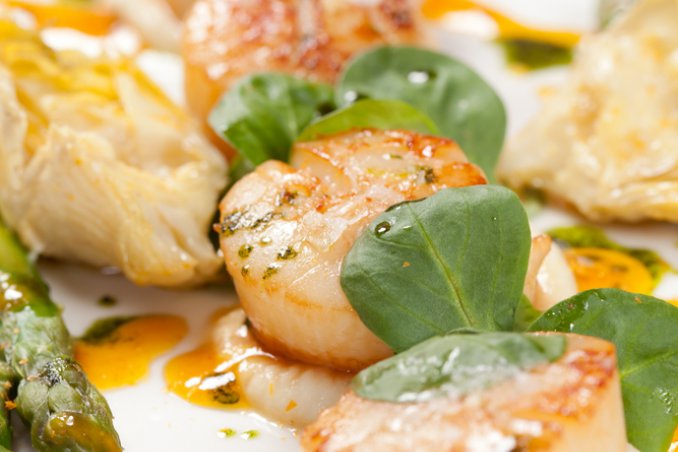 Even fish is an important ally for our health and our diet. Steam it with a little parsley, bay leaf, or white pepper berries, or in the oven. To make it tastier, do this; wet some baking paper with water and orange juice, squeeze it well, and place the fish on top; This way, the water's evaporation will allow the fish to cook using its own natural fats.
However, the vegetables should be eaten raw or steamed, but they resort to some small dressing trick. Try dressing your favorite vegetables with an emulsion obtained by mixing 1 tablespoon of low-fat yogurt with one of balsamic vinegar or mix a drizzle of extra virgin olive oil with orange or lemon juice and some pomegranate seeds.
Finally, if you like flans and don't want to give them up, here's how to replace the cheese (essential for binding the ingredients together) with another zero-calorie ingredient, use the whipped egg whites and 3 tablespoons of light ricotta; you will get a puffy and fragrant flan just the way you like it, but with only 100 calories per serving.
Adapted and translated by The Cop Cart Staff
Sources: Donnad