In summer, everything that restores us from the period's heat is a welcome gift for body and spirit. We choose fresher and less elaborate foods on the table, while the drinks are regularly declined in the "ice" version with iced mint tea that steals space in the refrigerator for other drinks.
This thirst-quenching delight is, in fact, an excellent natural remedy against the heat, thanks to the presence of water flavored with green, white, or black tea, plus slices of lemon or lime, brown sugar, and mint leaves. Exactly what it takes to give us relief from high temperatures, rehydrating, and raising the pressure, often under heels in the summer. Here is the recipe.
Boil a liter of water on the fire and prepare the other ingredients: 1 tablespoon of tea leaves (if you use the bags, you will need 3), 3 sprigs of mint with many leaves, 1-2 tablespoons of brown sugar, 1 lemon cut into slices.
Put in a teapot 2 sprigs of broken mint, the tea placed in a steel infuser and the brown sugar, then pour in the freshly boiled water, insert a slice of lemon, and cover. This way, you will preserve the temperature and essential oils of the ingredients. Depending on the tea chosen, respect the infusion times and remove the infuser, covering the teapot.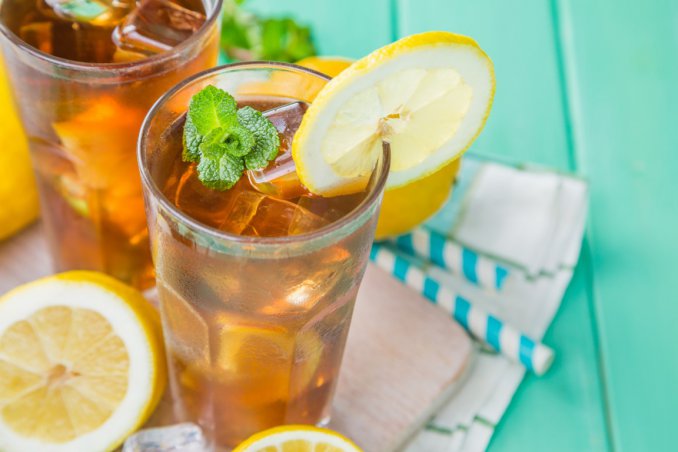 Let the mixture cool naturally, after which you filter it into a jug and add the remaining lemon slices and the sprig of mint. Keep your mint tea in the fridge for at least two hours before consuming it.
If you wanted to give the drink more freshness, try the Moroccan mint tea recipe instead. In this case, the variety of tea to use is gunpowder green tea, plus 30 mint leaves purified from the sprig and 3-4 tablespoons of brown sugar. Always for a liter of water.
The procedure involves putting a bottom of boiling water in the teapot and adding green tea, more hot water, then sugar and mint leaves, and pour the remaining water. The infusion should be continued for 10 minutes in total, then filter everything in the jug and wait for the mint tea to cool before putting it in the fridge.
When serving, decorate the glasses with a few mint leaves and ice.
Adapted and translated by The Cop Cart Staff
Sources: Donnad