Thinking about vegan cuisine for a non-vegan is a real challenge. Certainly, there are many sacrifices on the table, but this does not mean that one should think that a vegetable menu is poor in recipes and ideas that satisfy the palate.
Indeed, many classics of traditional Italian cuisine lend themselves well to totally vegan variants, always tasty but lighter and more digestible. The world of pastry is full of ideas in this sense, such as vegan custard, a filling for desserts that can be made without using eggs and cow's milk.
You can choose alternative milk that is to your taste, from soy to oats to almond. Let's consider half a liter of cow milk, the grated rind of an organic lemon, a tablespoon of corn starch, a vanilla pod, two tablespoons of sugar, which can be reduced if the basic sauce is sweetened.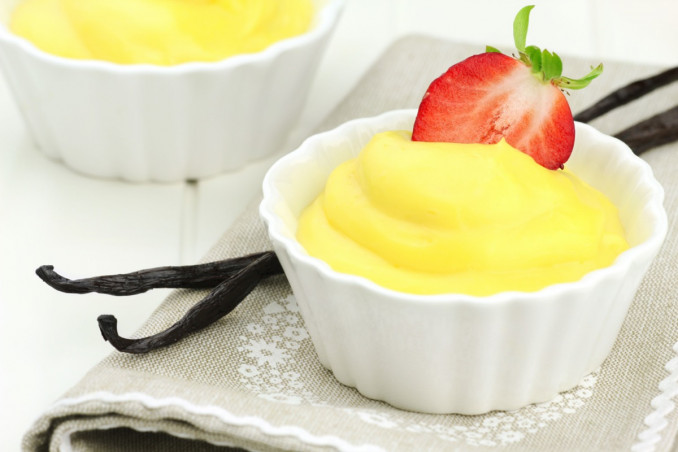 First, put the milk in a saucepan, keeping half a glass aside, which will be used later. Inside the saucepan, which in the meantime you will heat over medium heat, put sugar, the lemon zest, and the vanilla sticks, which you will have removed the seeds, to put aside in the milk.
If we want to give a color more similar to normal custard, use a tip of turmeric powder or a normal vegetable food coloring. Heat the mixture well and, in the meantime, pour the milk that you had set aside in the bowl where we have the cornstarch.
The corn powder will have to dissolve completely, or you run the risk of transferring the lumps in the cream after mixing them. When the vegetable milk with the aroma is boiling, turn off the flame and filter the liquid with a sieve to eliminate both the lemon peels and the vanilla sticks.
Pour the liquid into the saucepan, and this time, add the vegetable milk mixture with corn starch, bringing it back to the heat. Mix until the vegan custard thickens.
Adapted and translated by The Cop Cart Staff
Sources: Donnad