In autumn and winter, cabbage is one of the most popular vegetables used in the kitchen for many different recipes. But without a doubt, the cabbage rolls are a great classic, especially those stuffed with potatoes, which can also be customized if necessary with our favorite ingredients, putting on the table an always different dish.
A good way to stuff the cabbage leaves is with potatoes and pumpkin, chopped parsley and pecorino, for a vegetarian roll. But some make this dish even more autumnal, adding pieces of boiled chestnuts, giving even more consistency to the dish, and making it more nutritious.
To make good cabbage rolls with a mouth-watering potato filling, blanch about 8 cabbage leaves for half a kilo of potatoes in a saucepan as a first step. If you want to make them with pumpkin, the latter's quantity will be about 250gr, plus keep a clove of garlic, nutmeg, parsley, and parmesan on the work surface.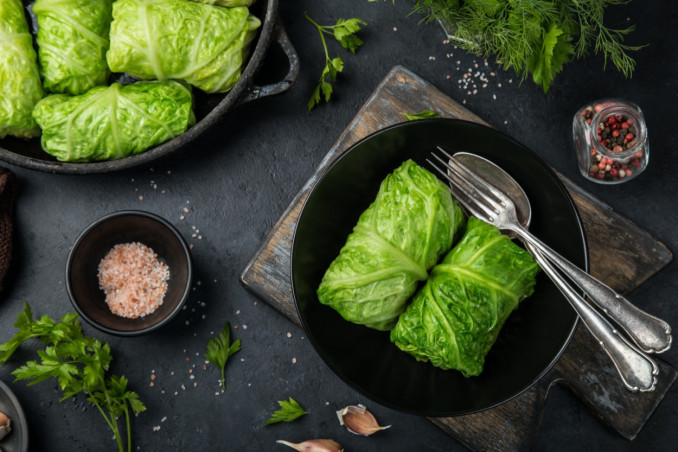 Put water and ice in a bowl and dip the blanched cabbage leaves for a few seconds to stop cooking and keep them colored. After that, place them on cotton cloths to dry, and in the meantime, Take care of the potatoes that you are going to peel and make into small pieces, then dividing the latter into two different cups.
One part, about 2/3, will, in fact, be reduced to a puree, adding salt, pepper, nutmeg, parsley, and parmesan to taste; the other you will have to saute in a pan with garlic and oil, together with the pumpkin cut into small pieces. As soon as the pumpkin and potatoes are cooked and browned, assemble everything.
Put a little puree on a cabbage leaf and then the diced potatoes and pumpkin, cover with more puree, and wrap the leaf. Your rolls will then be placed on an oiled baking tray and brushed with other extra virgin olive oil before being baked at 180° C for about twenty minutes.
For a stringy filling, we also add a piece of mozzarella in the filling.
Adapted and translated by The Cop Cart Staff
Sources: Donnad