Companies of all sizes need easy-to-use document management applications that will help them operate effectively, without complex training at the start and problems in the process. Microsoft office applications are continuously improved to make working with texts, spreadsheets, presentations, and other documents faster and more comfortable. Office Home & Business 2019 and Office 365 Business Standard from Microsoft are the business line's current versions.
Microsoft Office Home and Business 2019 includes classic office programs: Word, Excel, PowerPoint, and Outlook. You pay a one-time purchase for the purchase and can use the package until you decide to upgrade to the next version.
Microsoft 365 Business Standard enables premium versions of Word, Excel, PowerPoint, OneNote, and Outlook, business services such as business mail and cloud storage, and additional security features. Microsoft Teams, a powerful tool for team communication (including remote communication and work), is also included. The product is available by subscription: you buy a license (for example, for a year) and get the latest, updated versions of the programs.
Both products are available for Apple computers. And their current versions include many new useful functions in applications. Let's consider some of them.
Make work on multiple devices really convenient.
With a Microsoft 365 Business Standard subscription, you can install office software not only on your MacBook or iMac. The apps included in the subscription will also be available on your other computers, smartphones, or tablets: up to five devices of each type are supported.
Thus, you can start to deal with documents on the office computer, continue from your smartphone on the road, and at home finish work with the iPad. Switching is seamless: you can start editing where you left off, regardless of device.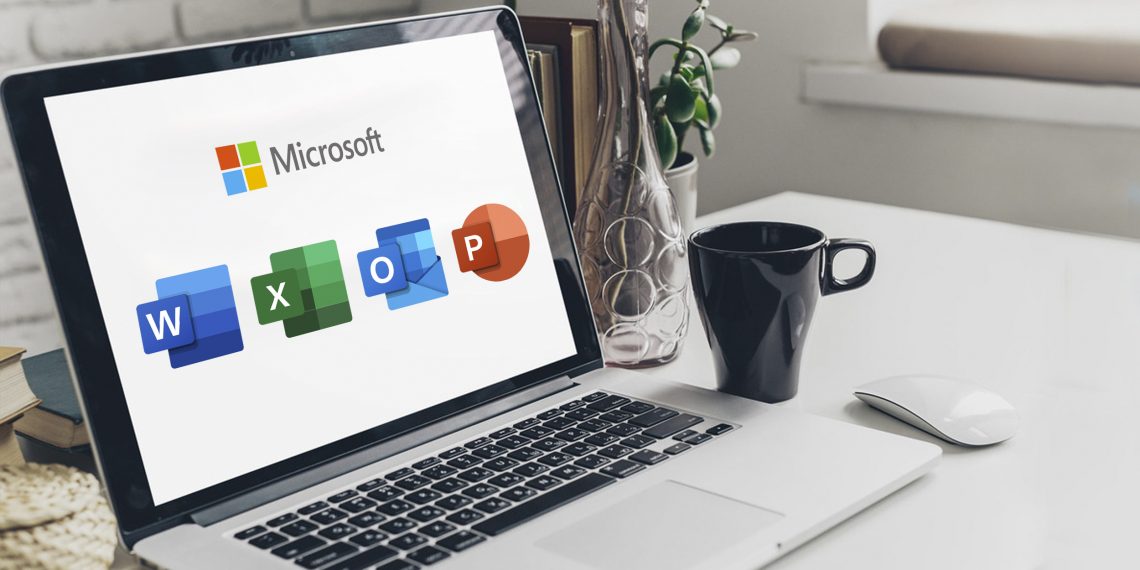 Helps build visual diagrams and clear graphs
The human brain perceives visual information faster and more fully than pages of text or tables of numbers. Bright diagrams and logical graphs make the document clearer: with them, the reader, at a glance, will be able to figure out what you wanted to say and draw the necessary conclusions.
Excel paid special attention to the creation of graphs and charts. With powerful tools, you can illustrate any document and communicate information more effectively to colleagues, clients, or partners. The latest versions of Excel, including Excel 2019, have new chart types and other useful features.
Make documents more human.
It is easy to add icons to documents in current versions of Microsoft Office applications – small schematic images. The collection of icons contains popular objects, from cars and electronics to analytics tools and interface elements, from professions and emoticons to puzzles and communications.
Icons help create clear instructions, tutorials, presentations. One icon can replace several words at once: you save space on the page and make the document easier to read.
The collection of icons is broken down by topic. You can choose the most suitable option or use a word search. It will find the right icon, even if you misspelled the word.
Allow preparing documents for people with special needs.
If you're preparing documents for people with special needs, the Accessibility Checker comes in handy. She looks for common problems in documents and helps to solve them.
Microsoft Office Accessibility Checker analyzes section titles, slide headers, table structure, and document colors. For example, it reminds you that all images must be duplicated with text. If a person starts reading the document out loud from the screen, they will know what is shown in the illustration. Learning test: artificial intelligence is constantly being improved and works more and more efficiently.
Translate documents into popular world languages
Documents in foreign languages, especially with specific vocabulary, can be confusing. And even if you are fluent in the language, the manual translation will take a long time. Hiring a professional translator is long and expensive, and translating a text document or spreadsheet in online services is inconvenient – formatting will suffer.
You can translate the entire document or just a selection in the latest versions of Office 2019 and Microsoft 365 for Mac. It helps out when you don't quite understand what the text is about. Also, you do not have to copy fragments of documents anywhere and then restore their structure.
Helps to highlight changes
PowerPoint's Transform transition brings the differences between two consecutive slides to life. It will help animate changes in business process diagrams, demonstrate how a whole is created from parts, how the state of objects changes, or how your company's performance is growing.
The tool is located on the Transitions tab. To show the dynamics changes, you should first copy the slide and edit it. You can work with text, pictures, shapes, tables, and other objects, vary their size and color and move them around the screen. Then you need to select the Transform transition – the tool will automatically create an effective transition between slides. If necessary, you can also define special effects for animating objects of different types.
Supports inserting an online video into presentations
In the new version of PowerPoint, you can embed online videos, for example, from YouTube or Vimeo, into presentations. They will help illustrate your slides without the distraction of switching between presentation and browser.
In this case, the size of the document will hardly change. The video will still be stored on the Web, but you can play it anytime right from your presentation.
Know how to read documents aloud.
Word and OneNote documents can be automatically read aloud. To improve the text's understanding, especially in a foreign language, the system can highlight verbs, nouns, and adjectives and place spaces between syllables.
You can listen to how the program speaks your document if your eyes are tired or better at hearing information.
It allows you to edit tables conveniently.
The new version of Excel for Mac has made it even easier to work with spreadsheets. Thus, you can select a large section and then deselect individual lines. The highlighted cells can then be copied to a new table or another document.
If you often use Excel, you probably have come across situations where you accidentally highlight unnecessary things. Undoing the last action will not help in this case. But if you hold down the Cmd button, you can deselect the mistakenly selected cells by simply clicking on them.
Filter data in multi-user mode
Co-authoring documents is a great practice: it reduces approvals and speeds up workflows. For example, if you need to filter data in a table at the same time as colleagues, this can be inconvenient.
In the web version of Excel in Microsoft 365 for Mac, you can create your own document view. Then the filters you apply will not interfere with your colleagues' work with the document.
Allows you to set flexible settings
In Outlook 2019 for Mac, you can customize gestures for faster mail handling. For example, by scrolling to the left, you can mark an email as read, move it to the archive or delete, and set the action you need more often.
Personalizing your toolbars also helps speed up your email experience. Once you configure everything you need, you will spend less time on the usual operations.
Supports action messages
Quick Steps are available in Outlook in Microsoft 365 for Mac. You can approve attendee requests, submit surveys, and more with one click without switching between your email client and third-party applications.
For business, this will actually reduce the time that every day is spent on performing routine operations. This means that it will increase work efficiency and reduce costs.
Adapted and translated by The Cop Cart Staff
Sources: Life hacker