Installing beautiful floors is essential to giving the right face to a beautiful home. When you pass the entrance to an apartment, your eye first goes to the floor. Therefore, there is a need to pay attention to the beauty and the usefulness of a certain surface type.
If you think about the outside, porous floors are usually in rough marble, concrete, terracotta, or stone; they are beautiful to look at and useful, as they are resistant to external agents, non-slip (perfect if there are children and older adults in the house), and when they are dirty, the dirt is less visible than on other types of floors; it also prevents water from penetrating so they dry out quickly.
This type of surface also needs regular cleaning. But their resistance and porosity make them rather difficult to clean. When and how to proceed? Every day, sweep, and to clean it thoroughly, every fortnight. Here are some steps to follow so as not to get too tired.
How to clean porous outdoor floors
First, sweep with a hard-bristled broom, fill a bucket of water with two tablespoons of dish soap and half a glass of vinegar. Immerse the broom in the mixture, wet the floor well, and scrub (do not use a rag or mop because they do not slide well on the rough surface and do not pull away from the dirt easily).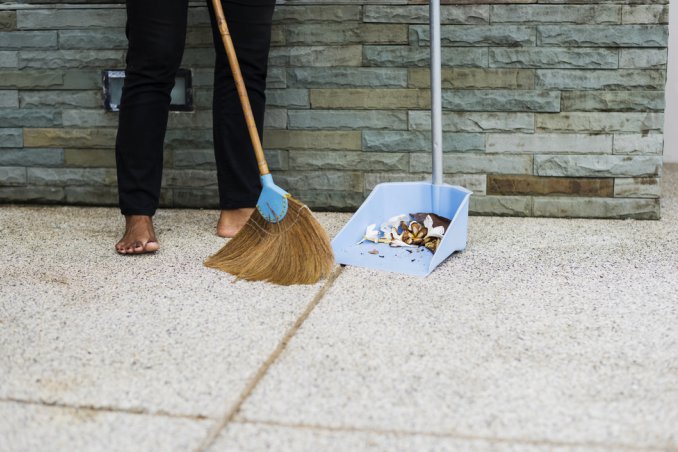 If the water in the bucket has turned black, repeat the operation. To rinse the soap well, use water and baking soda. To dry, pass the mop in cotton.
If the floor is dull, use half a bucket of warm water, half a glass of vinegar, and a quarter of a glass of denatured ethyl alcohol to polish it: put the mop in the mixture, squeeze well and pass on the floor without rinsing.
Adapted and translated by The Cop Cart Staff
Sources: Donnad