Learn how to make this extraordinarily soft yeast pastry with a delicious cinnamon aroma. Cream of cheese makes them even more delicious. These buns are a real American classic.
Ingredients for the dough
Butter…115g for greasing
Milk…480ml
Sugar…100g
Dry active yeast…7g
Flour…625g
The baking powder…1 tsp
Salt…2 tsp
Ingredients for toppings
Butter…170 г
Brown sugar…150 to 160 g
Ground cinnamon…2 tbsp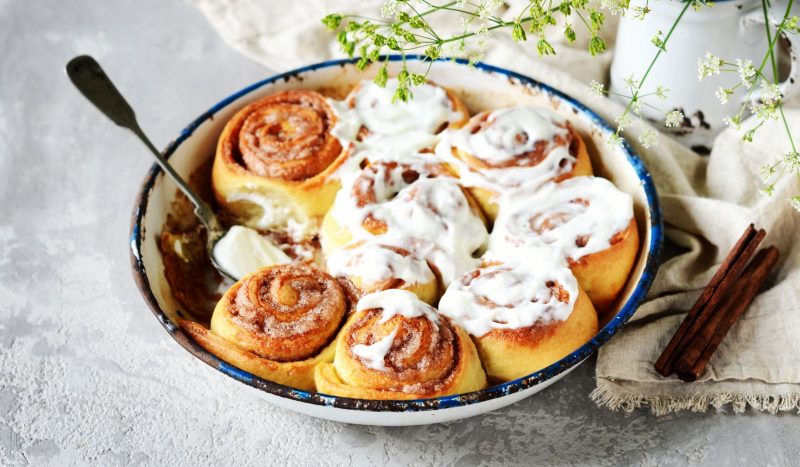 Ingredients for cream
Cream cheese…110 г
Butter…2 tbsp
Milk…2 tbsp
Vanilla extract…1 tsp
Sugar powder…125 г
Cooking
 Melt the butter and cool slightly to make it warm.
 In a large bowl, pour warm milk, add the butter and sugar and stir.
 Sprinkle the milk with yeast and leave for 1 minute.
 Sprinkle with 500g of flour and mix thoroughly.
 Cover the bowl with a towel and place in a warm place for 1 hour.
 During this time, the dough will increase almost 2 times. If not, leave it for another half an hour.
 Then pour the baking powder, salt, and 95g flour into the dough. Stir.
 Place the dough on the table and sprinkle it with the remaining flour.
 Knead the dough with your hands, stirring the flour. It should be homogeneous and not pester your hands and desk.
 Roll it into a rectangular layer about 1 cm thick.
 Evenly grease the layer with softened oil, sprinkle with brown sugar and cinnamon. Lightly push them into the dough.
Starting on the long side, twist the dough with a roll.
Cut it into halves. Then divide each into 7 identical parts about 4 cm wide.
Grease two round baking tind with butter.
Place one roll down in the center of each shape. Place six more around.
If you only have rectangular shapes, put the rolls in rows to touch each other slightly.
16․ Cover each form with cling film and leave it for 30 minutes in a warm place.
17․ Take the tape away. Bake the buns in a preheated oven for 25 to 30 minutes. They should be golden.
18․Meanwhile put all the ingredients for the cream in a bowl. The oil should be melted. Whisk until the mass is homogeneous.
Vanilla extract can be replaced with a pinch of vanilla.
19․ While the buns are still warm, pour in the form of cream.
Adapted and translated by The Cop Cart Staff
Sources: Life hacker