Pallets are a wooden material used in construction that we can take advantage of with a little imagination. There are many interior furniture that we can recreate with pallets, such as a table for a living room or a chillout area.
Today it is easy to find very cheap tablets on the market, but it isn't easy to have a home with a character that stands out from the rest. If you learn to make a table with pallets, you will give your space personality.
Steps to follow:
Step One
Pick up discarded pallets. You do not need to buy them, as it is easy to find some on the street in areas that are under construction. But also ask for some in certain industries that recycle them constantly.
Step Two
With 2 pallets, it will be enough. Try to have the same dimensions to be able to prop them up correctly.
Step Three
Pallets weigh more than you think. Get help to get them home, or it will be a tiring task.
Step Four
With sandpaper coarse and fine, sandpaper wood chips to free her.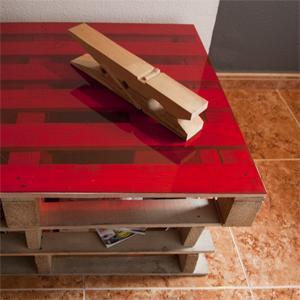 Step Five
To give the pinewood a special touch, you can give it a skinny coat of off-white paint, or if you prefer to preserve the natural tone, apply a lowered coat of colorless matte wood varnish.
Buy 4 silicone wheels with brakes. When it comes to cleaning, they will be efficient to move the table away, clean the dust and scrub the floor.
Step Seven
Place one pallet on the other. You can glue them with wood glue. It is always better to apply it and wait a few minutes before hooking the pieces.
Step Eight
You can buy a glass or methacrylate plate of the exact size of the pallets for the upper part. I recommend methacrylate because it does not break or is sharp, although you must be careful not to scratch.
Step Nine
If you want to give your table a modern touch, go for a transparent red methacrylate sheet.
Take advantage of the bottom of the pallets as a magazine rack. You will see how practical!
More Tips
If you live in a student flat or a loft, this can be an economical solution to your needs.
Adapted and translated by The Cop Cart Staff
Sources: Uncomo