One of the disadvantages of using desktop computers is their portability. To do things on our computers, we must be in close proximity, which forces us to be in front of our desktops most of the time.
Through the Unified Remote app, we can have the luxury of controlling our computers using our phones.
Discover the one-and-only remote control app for our computers. Learn about Unified Remote features below.
Unified Remote – The Phone to Computer Remote Control App
Unified Remote Compatibility
Keyboard and Mouse
Other Basic Features
Media Apps
Other Things to Know About Unified Remote
Unified Remote – The Phone to Computer Remote Control App
We usually connect our phones to our computers for file transfer purposes. But, the Unified Remote app adds another reason why we should connect our phones and computers.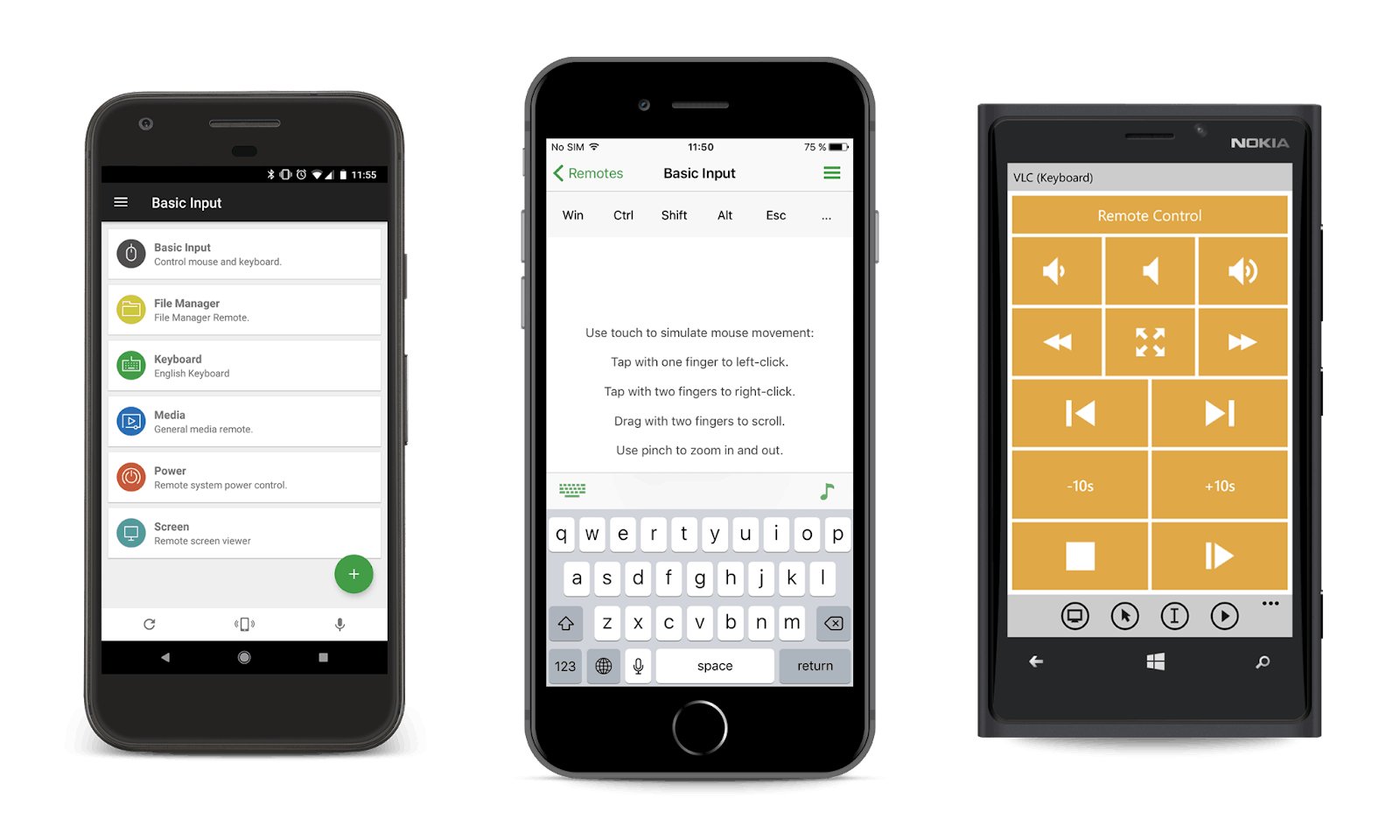 Unified Remote claims that it is the one-and-only remote control app for our computers. It turns our phone into a remote control device allowing us to do the basic tasks we commonly do on our computers.
The app will let us do basic tasks such as playing music or watching shows.
There are other 90+ programs that Unified Intents developed for the app. With these programs, we will not be limited to being constantly in front of our computers to finish tasks.
Connecting Our Phones
The Unified Remote app is user-friendly due to its intuitive features, including the setting up process. First, we need to install the Unified Remote app either from the Google Play Store or the iOS App Store.
Once we have the app, we can connect our phones to our computers to set them up as remote control devices. Unified Remote only requires our phones to be directly linked through Wi-Fi or Bluetooth using an automatic server detection.
For Wi-Fi, open your phone's personal hotspot and connect it or the device to the same server. On the other hand, you can just pair the phone and computer through Bluetooth.
Unified Remote Compatibility
People might wonder whether their phones are compatible with the app and their computer devices. Thankfully, the Unified Remote app supports cross-platform compatibility.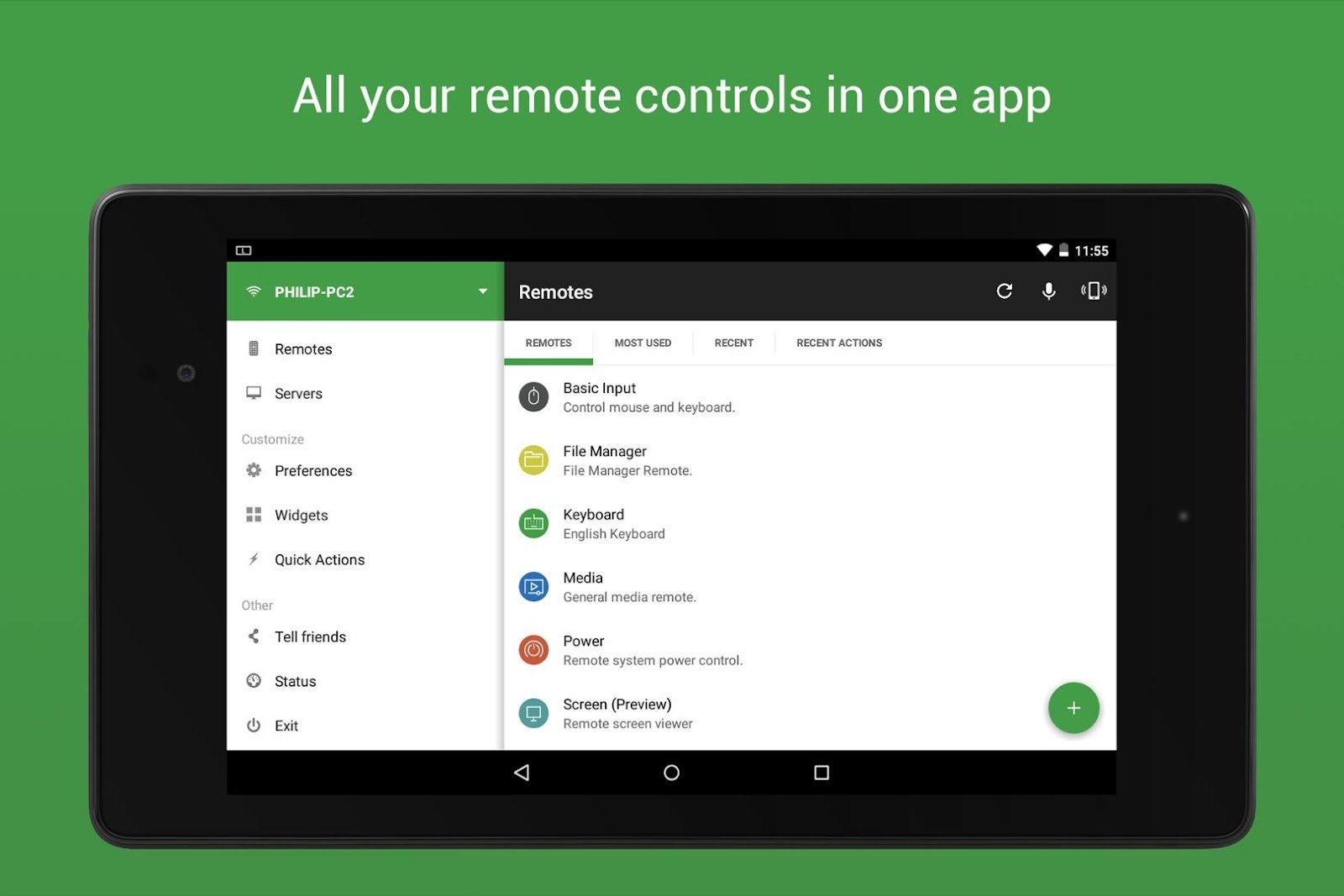 It can be installed on both Android and iOS phones. For computers, the app is supported on Windows, Mac, and Linux computers.
The app can also be utilized on Raspberry Pi and Arduino Yun devices.
Android users can control their Linux computers using Unified Remote, and iOS users can manage their Windows devices.
Protecting Our Devices
One of the most frequent questions from new users of Unified Remote is how they can add additional protection and security to their computers and phones while using the app.
I also had this concern since anyone using the same Wi-Fi server could control my computer remotely. The team answers this concern by providing an option for additional security by adding passwords if we choose.
Moreover, they provide high-end server password protection and encryption to prevent other people from accessing and controlling our computers.
Keyboard and Mouse
The keyboard and mouse are essential parts of our computers to complete tasks because they control whatever we want to be opened, closed, or typed. The Unified Remote offers highly intuitive keyboard and mouse functions for us to enjoy.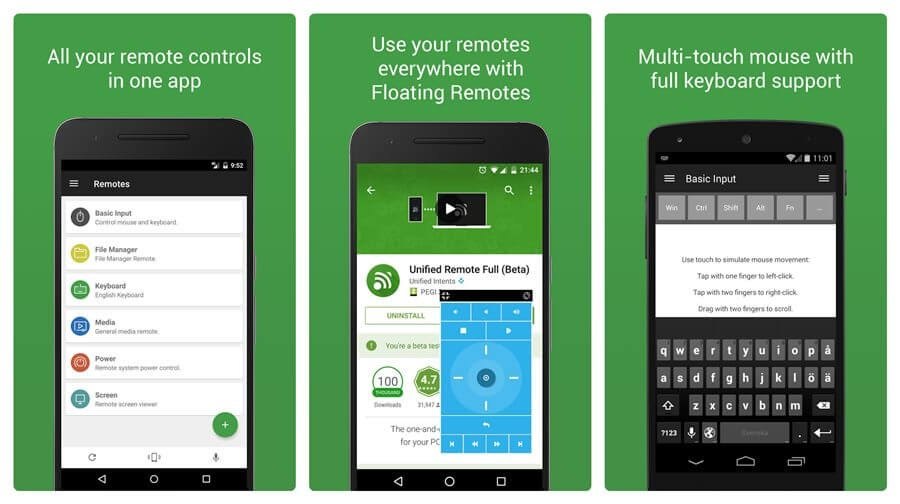 To successfully deliver the remote feature of the app, the keyboard and mouse functions are vital. We can now open files, type a message, select a text, open and close applications, all from our phones.
The keyboard and mouse functions are displayed right on the home screen of the app. For the mouse, the entire phone screen will become the mouse pad to properly direct the pointer. The phone can be set up as a single or multi-touch mouse.
The keyboard will automatically appear if the app detects that we need to type or provide text on the screen. If we need to send a message, chat, or email, for instance. The app supports standard, third-party, and custom keyboards.
Screen Mirroring and Adjusting Volumes
Another two key features of the Unified Remote app are screen mirroring and volume adjustment. The screen mirroring feature reflects the computer screen on our phones, making it possible for us to do tasks even if we are not in front of our computers.
Moreover, we now have the option to close our monitors because our phones will perform their function. I often do this when I need to leave the computer chair to do other tasks.
Unified Remote also allows us to adjust the volume on our computers, for example, when we're listening to music or watching a show.
Other Basic Features
True to its mission to provide access to our computers even if we are far from our devices, the Unified Remote app offers other essential features to perform commands using our phones.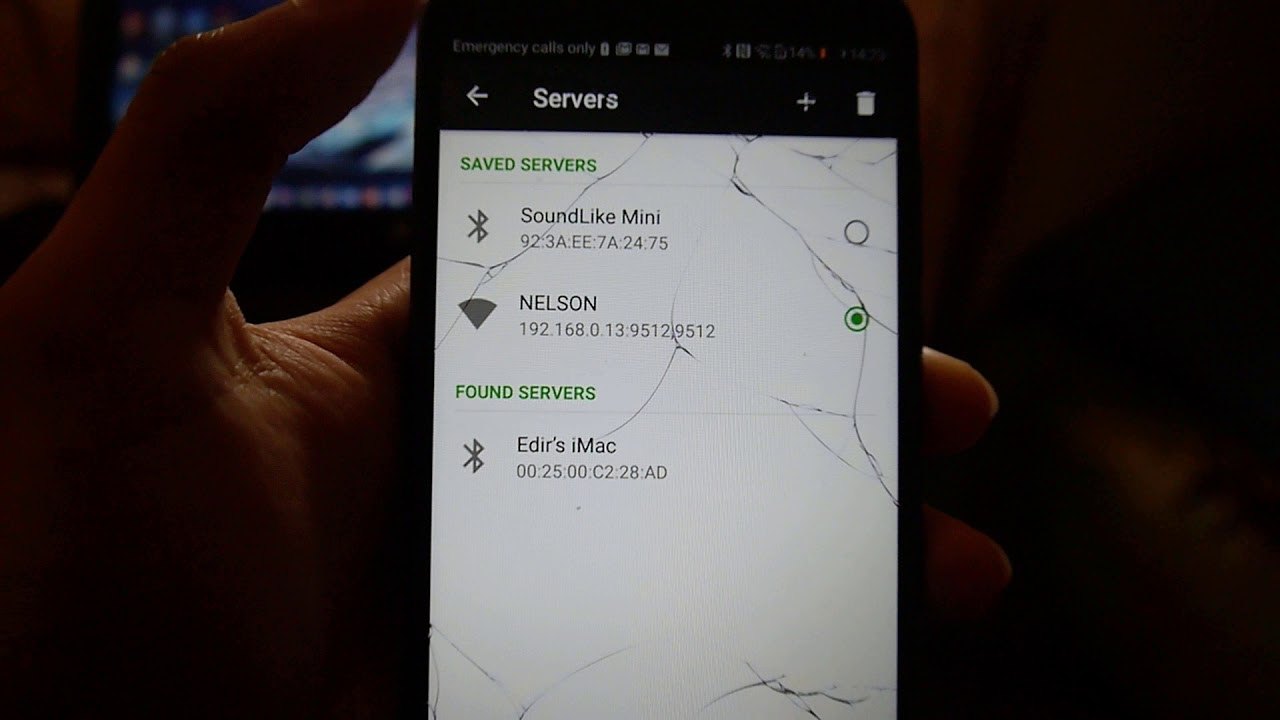 If we forget to turn off our computers, we do not need to get up and do it directly. We can turn off, sleep, and restart our computers from the app. We can also access our Task Manager.
As I mentioned earlier, we can access our computer files through the app. So, we can open, copy, send, or delete these files.
We just have to be careful with this because the files we can see on our phones are not backups but the actual files. Avoid accidental deletion.
Using the Presentation Apps
We often use our computer or laptop devices for work, especially when conducting presentations during meetings or conferences. A clicker is a must so that we can freely move the presentation slides from a distance.
The Unified Remote app can also serve as a clicker device because we can access our presentations through our phones. Unified Remote supports apps like Google Presentation, Keynote, and PowerPoint.
During the presentation, we can just hold our phones to control the slides, allowing us to move freely during the meeting.
Media Apps
The remote control feature of the Unified Remote app goes beyond the basic features of a computer. Unified Remote supports several apps that we can control and access, such as media player apps.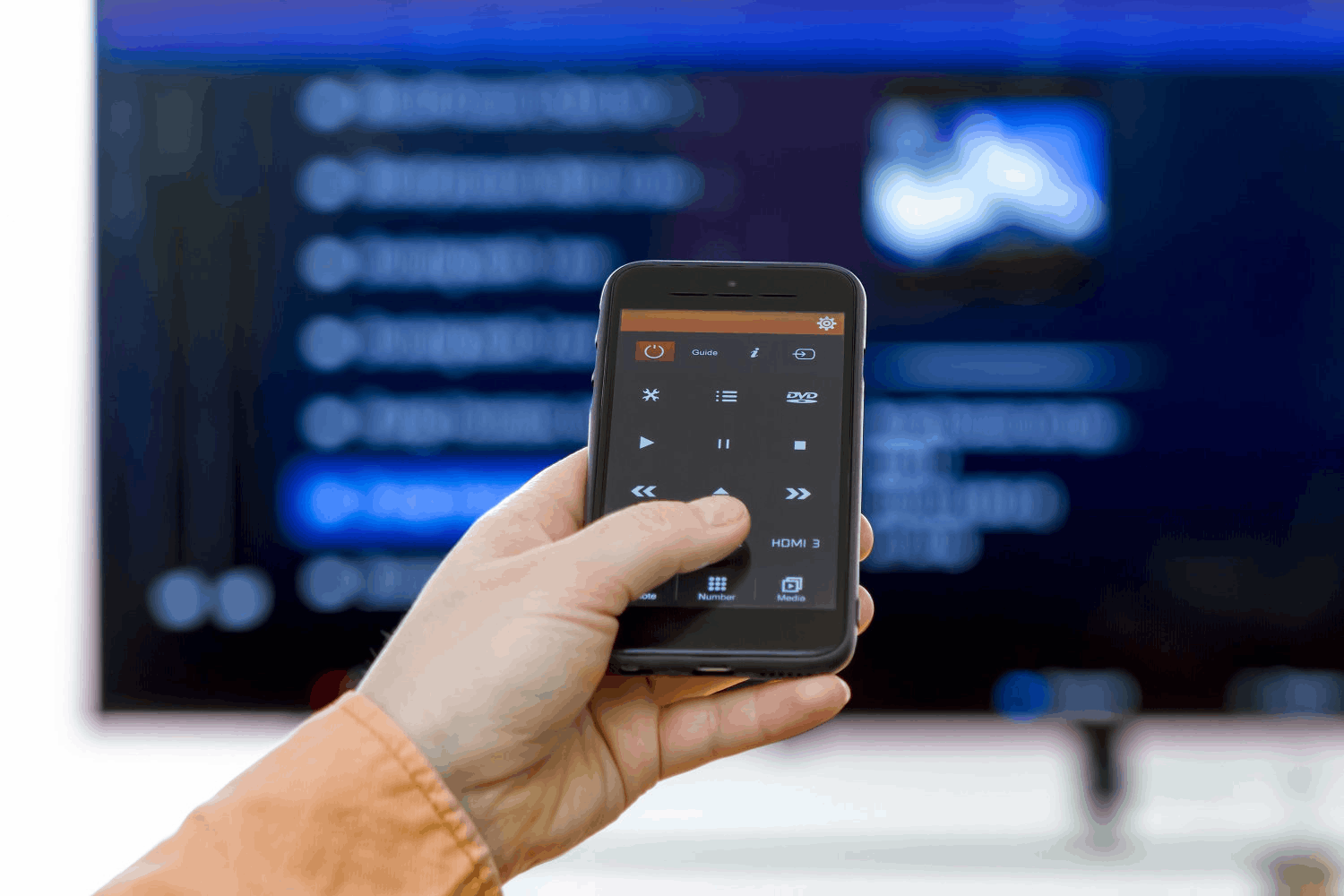 We can open music apps like Spotify, iTunes, Google Music, Winamp, and others using the app. All the commands and tasks on these apps are shown on the phone screen to control them remotely.
This feature also works with video player apps like BS PLayer, VLC, PotPLayer, and Windows Media Player.
All the buttons, tools, and functions on the specific app are available to use from the screen of our phones.
Browsing and Streaming on Unified Remote
In addition to the already long list of apps that Unified Remote supports, we can also browse the internet and stream videos.
Unified Remote supports Chrome, Firefox, Internet Explorer, and Opera web browsers. Since we can mirror our screens, we can immediately read and see whatever we look for on these browsers.
The app also supports Hulu, Netflix, and YouTube streaming, letting us view them directly from our phones.
Other Things to Know About Unified Remote
When installing the Unified Remote app, there are some important things to note for a better user experience. First, we need to understand that not all 90+ programs are available across the different platforms, devices, and operating systems.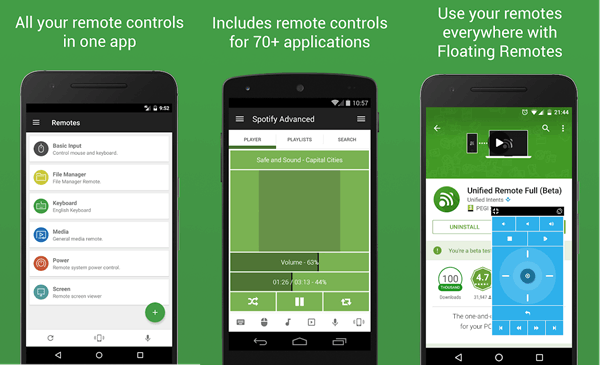 Before downloading the app, check Unified Remote's website, where they list all the programs supported by the app. We can also learn the limitations of some operating systems that may affect our experience on the Unified Remote app.
The next one is that you must grant the app permission to access several areas on our devices. The app needs full network access for our server connection, including Wi-Fi and Bluetooth. Unified Remote will also install shortcuts for the launcher and will also control near-field communication (NFC).
With the constant updates on the app, we are no longer limited to controlling the apps mentioned above. Unified Remote can now also connect to Keen IR Blaster, GlobalCache IR Blaster, Flic Wireless Button, Telldus/TellStick, and USB-UIRT Blaster.
Availing the Full Version
Even though there are 90+ programs pre-installed and supported on the Unified Remote app, we cannot access them all with the free version. Since the app uses the freemium model, we can enjoy a limited number of programs.
To access the other programs and other premium features, we need to purchase the full version. It is just a one-time payment of $4.99.
However, according to the team, the app may change its full version price depending on the upcoming updates and upgrades on the features and functions.
Conclusion
The Unified Remote app allows us to remotely access our computer screens from our phones. It has several features that make it possible to accomplish tasks on our computer without being in front of it.
The app has essential programs like keyboard, mouse, screen mirror, volumes, and many more. In addition, we can control media apps when we are listening to music, streaming videos, or watching a show.