ECOLOGY – The hut at the back of the garden is becoming more and more popular. Here's what to do for a successful experience.
For a one-off event or to do without a flushing toilet permanently, you have perhaps considered installing a dry toilet in your garden? These eco-friendly toilets that work without water can even feed your garden by producing compost.
It is also a solution to install toilets easily since no major work is necessary. Convenient! But be careful not to embark on the great dry toilet adventure without having some basics.
Can all gardens accommodate pit toilets? For journalist Patricia Beucher, journalist and author of Construire des toilets compost (Ed. Ulmer, 2017), the answer is yes, provided you have at least 100 m2 of the land " for regular use." Indeed, your garden must be large enough to accommodate a composting area, as Sylvain Réau, manager of Toilettes and Co, a company selling, renting, and providing dry toilets, reminds us.
The Composting Area: Guide to Good Practices
The site of the Ecological Sanitation Network (RAE) provides a document which details good practices concerning the installation of a composting area in your garden. Among the recommendations concerning the dimensions of an area, " 3 bins of 1 m3 each should be sufficient for a family of 4-5 people using a litter toilet system and mixing dry toilet waste and organic kitchen and garden waste in the same composters." 
Regarding the location, the RAE recommends installing the composting bins under a tree, "which will protect them from the hot summer heat." Also important, if the land is sloping: plan to build a small platform with a channel " to divert runoff " in case of rain, which could damage the compost.
What Type of Dry Toilet Should you Install in your Garden?
Whether you plan to build your dry toilets yourself or buy them ready-made, it remains to be seen, ready to use. Know, to begin with, that there are two types of dry toilets:
sawdust toilets, where stool and urine are mixed in the same container (If you call in a professional, " a dry toilet cubicle costs between 1,500 and 2,000 euros ", explains Sylvain Réau)
separation toilets, where urine is separated from the stool (but this system is more complicated to install and more expensive; Sylvain Réau does not recommend it in a garden).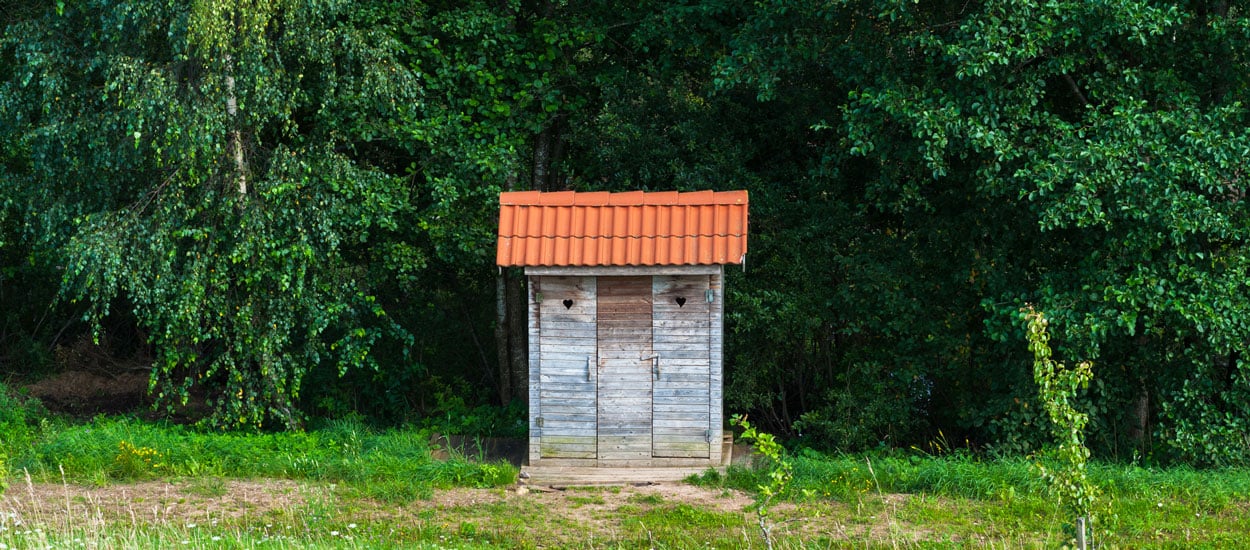 These toilets will cost you significantly less if you build them yourself. Here's a video tutorial to give you a taste of how to do it.
And what does the regulation say regarding the installation of dry toilets in the garden?
According to the site 60 million consumers, in principle, no prior declaration is necessary when setting up a dry toilet. " However, if you wish to install an outdoor toilet, it may be necessary to obtain a building permit if the construction exceeds the dimensions fixed by article R.421-2 of the town planning code (12 m in height and 5 m² in the area). " Huge toilets in short!
Less Maintenance than a Wet Toilet
Once installed in your garden, be careful not to neglect maintenance. A litter system requires regular cleaning and checking the chip supply without forgetting the emptying in the composter. However, Sylvain Réau assures him, " it requires less maintenance than water toilets, mainly because of the problem of less tartar."
Last advice, avoid installing your cabin in full sun. The summer, with the greenhouse effect, it is hot. So depending on how long you plan to stay on the throne, it can become more or less pleasant.
Finally, if your garden is really too small or you don't have access to the outside, why not install a dry toilet. Indoor! In Bordeaux, 35 volunteers test the dry toilets in apartments. We are talking about it right here.
Adapted and translated by The Cop Cart Staff
Sources: 18h39