With the pandemic shutting us off from the outside world, people are increasingly migrating towards virtual entertainment sources. From online comedy shows to online cocktail workshops, we are constantly scouring for the next virtual dopamine rush.
In the course of trying to find ways to enjoy myself virtually along with my loved ones, I came across this absolute winner of an app called the StarChat – Group Voice Chat Room. Understanding how the app functions just took a little while, and the next moment, I'm already having a virtual party with my best friends, each from our own homes.
This article consists of everything that you will ever need to know about the StarChat App and how to use it to make the best of your quarantine.
StarChat – What Is All The Noise About?
Features – The Best In Town
How To Download StarChat Easily
How To Use The App And Have The Best Time
Downsides – What You Should Watch Out for
Tips To Use The App Better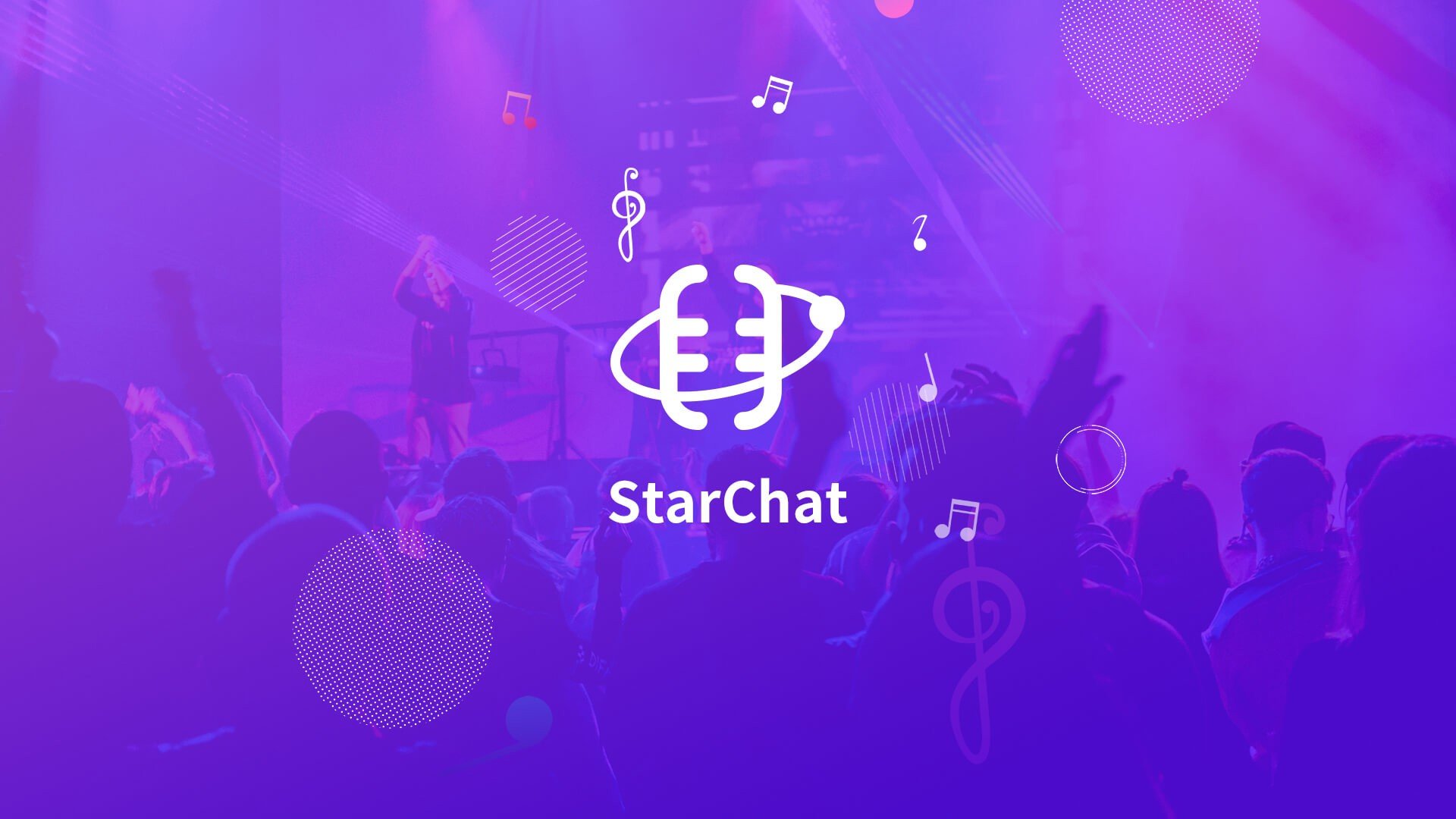 StarChat – What Is All The Noise About?
With over a million downloads since its release in 2019, the StarChat – Group Voice Chat Room app is already quite popular in the Entertainment sector. It is developed and released by Star Chat International Limited and is available for Android and iOS devices.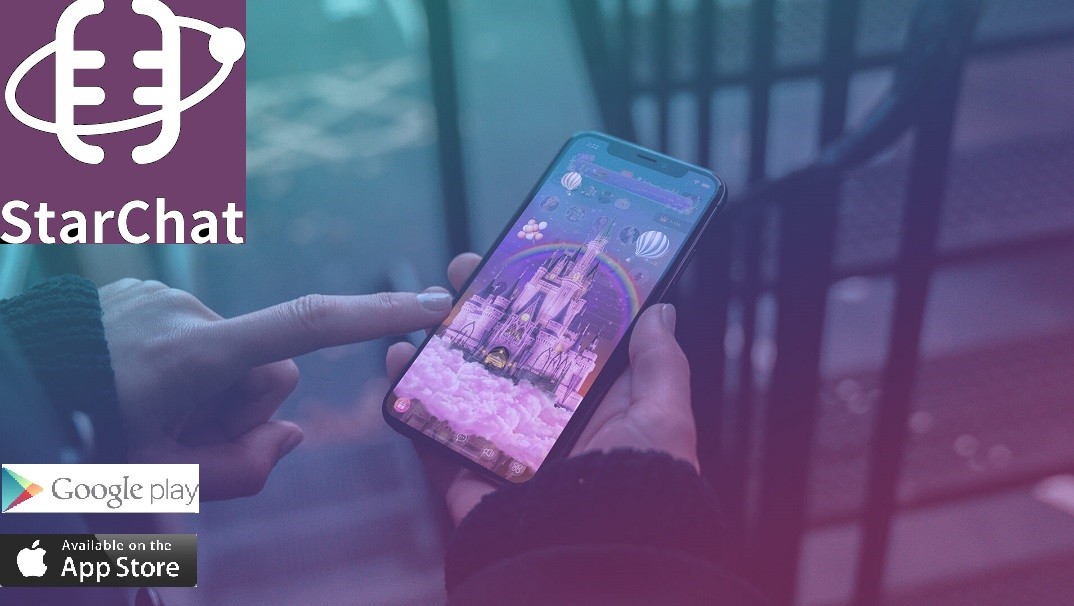 The StarChat app is primarily designed for teenagers but can be easily used and enjoyed by anyone (for example, me!) The app lets you create a room to invite your friends or family and have the time of your lives!
What Does The App Offer?
As the name suggests, the StarChat – Group Voice Chat Room app lets you arrange online parties with a group of people. The app is enabled with voice chat to exchange voice messages with each other and within the group.
The app even allows you to share songs with one another and vibe to music together. It also includes other fun features like online games to play with your friends and even sing along to the karaoke of your favorite songs!
Features – The Best In Town
Even if you have never heard of the app before, its long list of exciting features is sure to blow you off your feet. For starters, the app allows you to create your own private room with your friends. Entry into your room is protected by a password, thus ensuring complete privacy.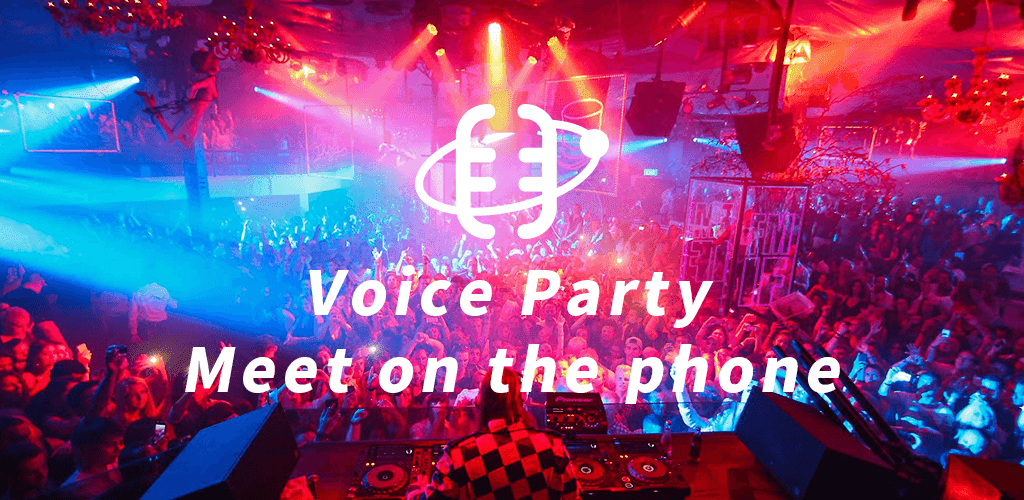 The top feature of the app is the Online Party option, which comes as a relief for us homebound extroverts. The reason for hosting an online party on the app can be just about anything. Like at real parties, you can bring along presents and thoroughly enjoy yourselves.
If you think the app is only limited to voice chat, you are highly mistaken! The StarChat app allows you to share text, pictures, and even virtual gifts among yourselves. You can also participate in online games on the app with your friends and sing karaoke with them.
What Else Can You Expect?
It is available in over 45 countries across the world. This means that it is always possible to connect, talk, and celebrate no matter where you and your friends are.
Additionally, like most social media apps, the StarChat app comprises several public rooms with ongoing discussions about different topics. Depending on what interests you, you can join any of these rooms, participate in live chats and make new friends.
When I have time to kill, I join rooms on random topics and throw in my two cents here and there. The best feature is that in addition to learning something new every time, I can also leave a room whenever I want without offending anyone.
How To Download StarChat Easily
As mentioned above in the app description, the StarChat – Group Voice Chat Room app is available for both Android and iOS. Navigate to the appropriate app store on your device and search for StarChat – Group Voice Chat Room to download the app. For it to be installed on your device, click the Install option.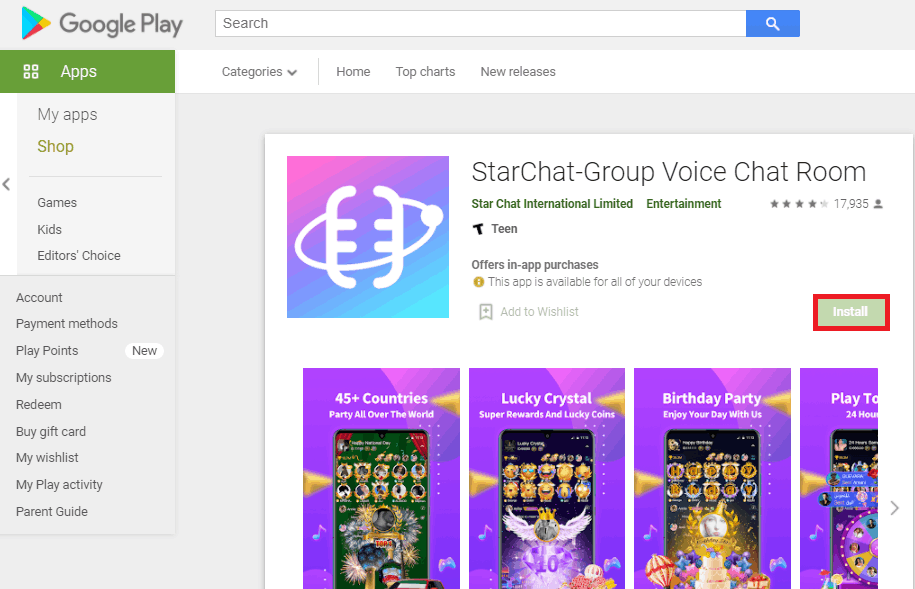 The app has stellar reviews and ratings, boasting 4.2 stars in the Google Play Store and 4.4 in the Apple App Store. The app requires Android version 4.4 and above to function correctly.
The app's latest update is dated July 29, 2021, which is recent enough to eliminate existing bugs and difficulties.
Setting Up The App
Post-installation, setting up the app is child's play. You must first sign in to the app using any of the following options: your Google, Facebook, Snapchat, or WeChat account or through your mobile number. Next, you are assigned a username and unique ID, after which you are good to go!
The StarChat – Group Voice Chat Room app is entirely free to download and use. However, it includes certain in-app purchases. These purchases can range anywhere between $0.99 to $199.99 per item and are usually used for buying rewards, increasing rank, unlocking features, and so on.
How To Use The App And Have The Best Time
The app has one of the most simple and smooth interfaces that I've ever come across. The app incorporates a variety of options, but the manner in which they have been organized makes navigation easier than ever. What I fancy most about the app is this uncomplicated arrangement.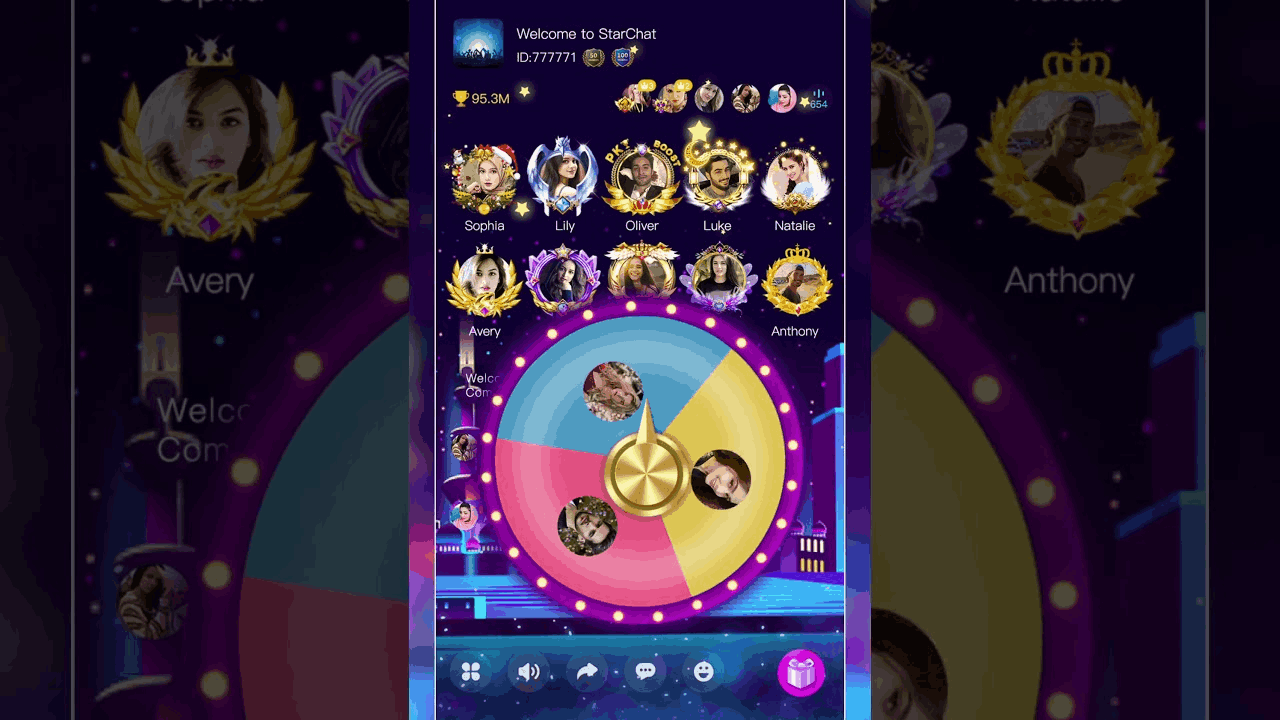 On opening the app, the screen displays several popular users that you can follow to earn rewards. The app has four sections: Room, Discover, Message, and Me. Your most recent Rooms, Rooms that you follow, games, and popular Rooms on the app – everything is listed under this room tab.
The Discover tab has on display a selection of games and contests across countries, from Lucky Draws to War Games and even Ludo. It also has a Couples option, featuring couple-oriented fun. Each of these helps you earn rewards in various forms and add new friends.
Getting Deeper Into The Action
Although I understood the basics of the app in less than ten minutes, it took me slightly longer to get the hang of the app's deeper details. The Message tab contains all your messages and your list of friends.
The Me tab has several options such as Aristocracy, Guild, Medal, and so on that might intimidate you at first. But we got you covered! The Aristocracy option consists of several ranks from the Viscount progressing on to the King, each with its own special privileges.
As far as Guilds are concerned, either you can create your own or join somebody else's. The Wallet option displays the gold coins and diamonds that you possess, while the Earn Gold option lets you perform fun tasks to earn coins.
Downsides – What You Should Watch Out for
The design of the app is such that sometimes, the user's focus shifts from harmless entertainment to toxicity. This poisonous behavior in the rooms may include online bullying or hyper-addiction to gaining followers and rewards instead of simple enjoyment.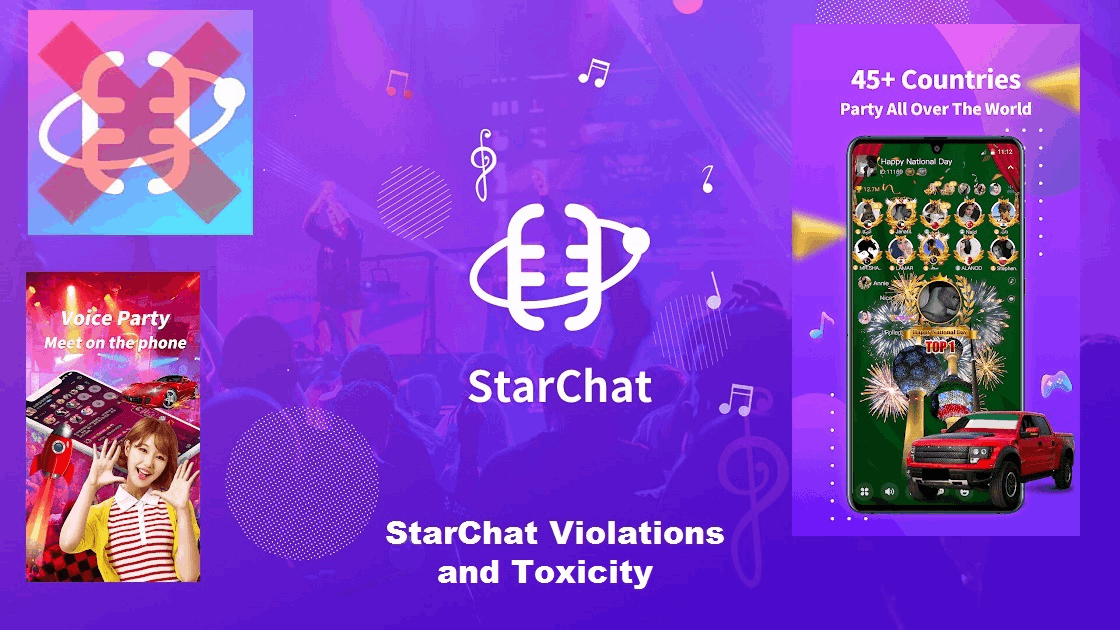 Most allegations against the app, as observed in the negative reviews on app stores, are personal. With all its attractive features, catchy design, and variety, I could not find much to criticize about the app.
Bully Admins
A major reason for complaints among regular users is the presence of certain bully admins on the app. Instead of facilitating smooth communication and entertainment among the users, these admins have been accused of favoring certain users, arbitrarily banning some users, and so on.
Even though I love joining new rooms and meeting new people, I'm always cautious about who I'm interacting with. If you feel uncomfortable in the environment or see any red flags (like the ones mentioned above), it's better to look for better places.
Tips To Use The App Better
During the course of all the months that I have been using the app, I have learned a great deal. One of the biggest ways that the app has benefited me is by providing personal insights into different cultures and traditions.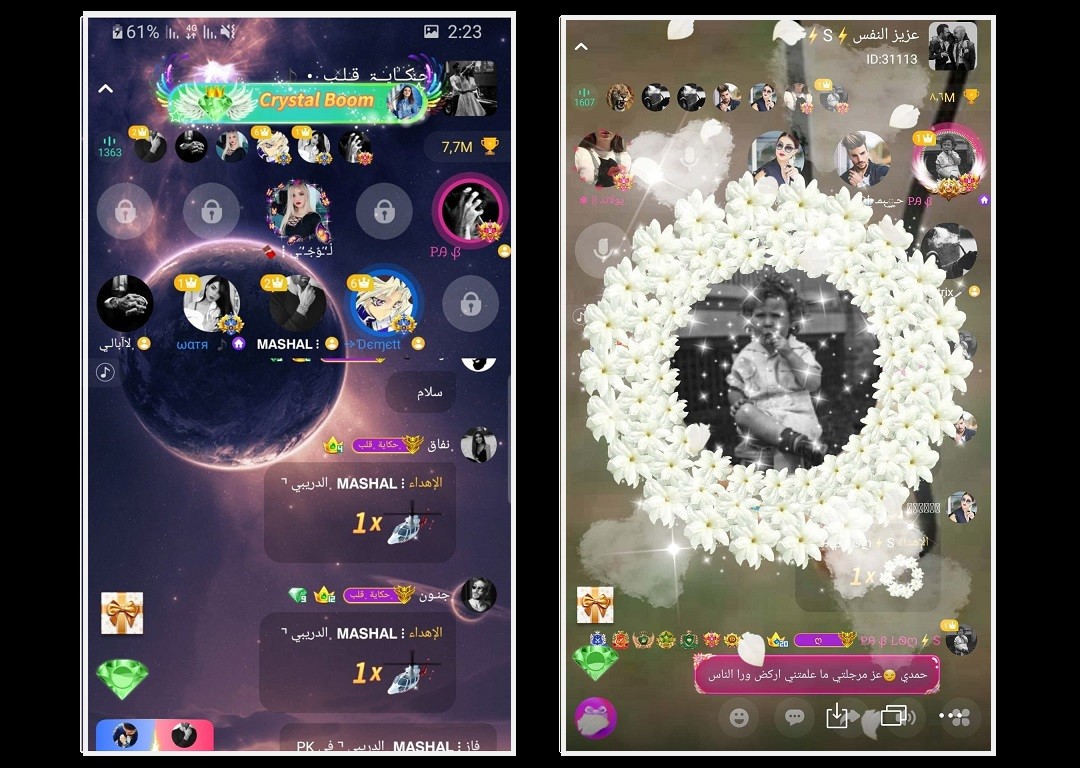 In all this time, I have gathered quite a few tips on using and navigating through the app better. The first piece of advice is to become familiar with the host of features of the app instead of stumbling upon one or the other as you go by.
Another crucial thing that I have learned on the app the hard way is to be polite and courteous. This preserves the general positivity among the people you are interacting with and helps you gain more fans and friends.
Ever The Opportunist
To be successful and popular on the app, you have to constantly look for new, lucrative opportunities. You have to be proactive and not shy away from new people and conversations. Grabbing these opportunities helps you rise in the ranks, earn more gold coins and medals.
As mentioned earlier, the app allows you to complete different tasks in exchange for coins. These tasks are categorized under Daily Tasks, and Growth Tasks and are often simple and fun to complete. Your coins and reward earnings increase as you complete more assignments!
Conclusion
Overall, my experience with the app has been an extremely positive one. Through this app, I have not only made several new friends from across the world, but I have also discovered a whole new world of fun – all inside a single app on my phone.
With most of the world has moved online, it is only natural for entertainment to move online too and for us to follow suit. Using the StarChat – Group Voice Chat Room App, you can make the best out of your online entertainment experience.