Being a sneakerhead myself, buying a pair of original sneakers has never been easier since multiple online shopping channels and websites have appeared. However, the problem with shopping online, as we all know, is the chance of getting scammed.
In the case of buying sneakers online, the problem is that I would often get scammed with cheap knockoffs until I found a legit app called the GOAT app. GOAT is absolutely trying to improve the sneaker-buying experience by providing its users an authentic pair of sneakers.
In today's article, I am going to talk about the GOAT app in detail and also enlighten you about my experience shopping with the app. Additionally, I would also like to highlight some amazing features about the app that I totally fell for, and I hope you will too.
The GOAT "Greatest of All Time" App
Global Luxury Brands All Under One Roof
Authenticity Assurance
How to Use the GOAT Sneaker Shopping App
Costs to be Incurred by Sellers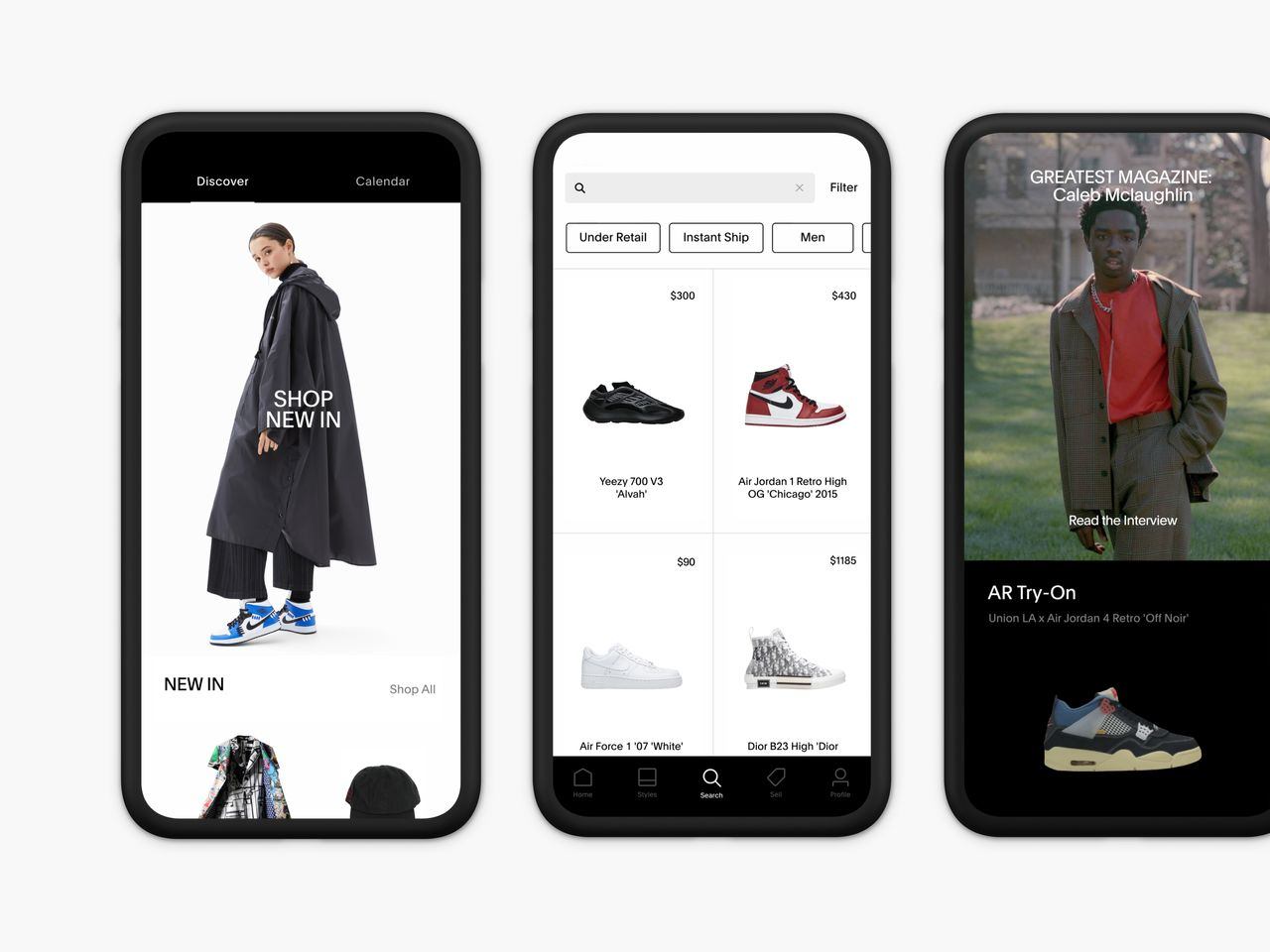 The GOAT App
GOAT, standing for "GREATEST OF ALL TIME," is a global online marketplace for the greatest sneakers from the past and present. Not just for sneakers, the app also allows me to shop new and used apparel and accessories from around the world.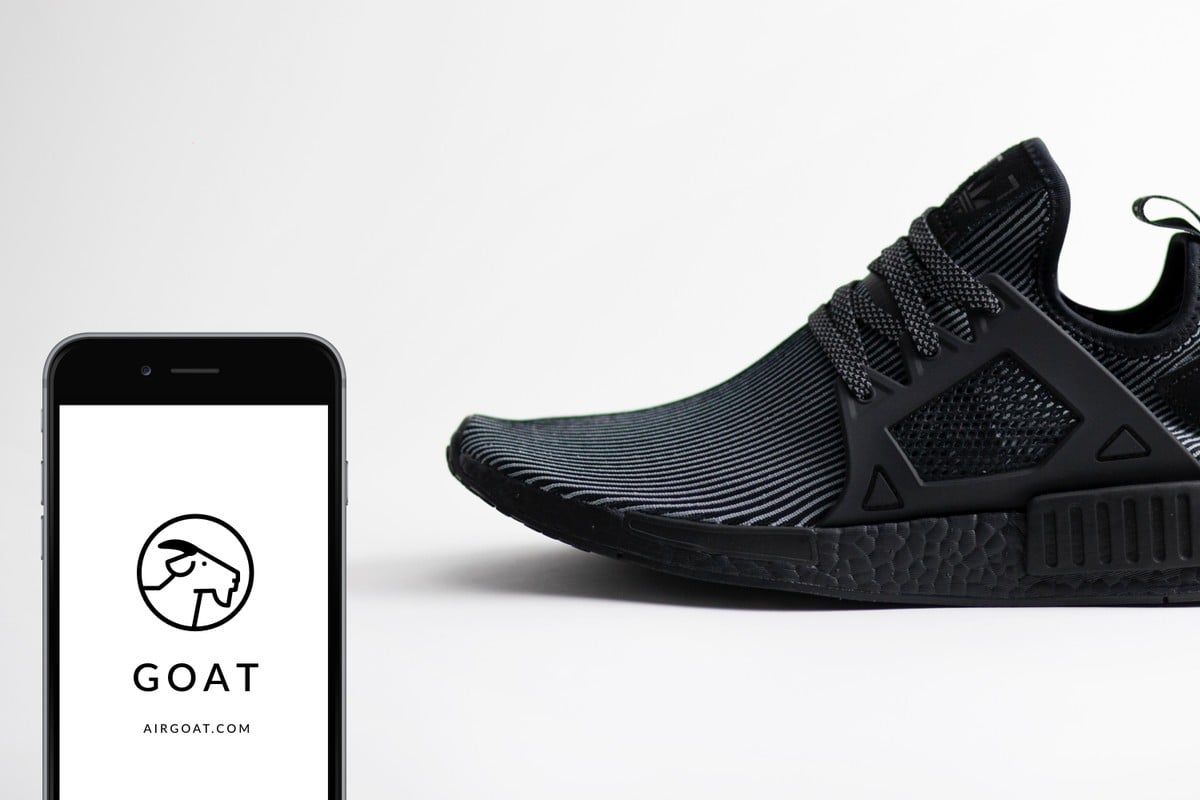 The best part about GOAT is that not only does it act as a marketplace for shoes, but the platform also verifies whether the shoes are authentic or not. In addition to that, GOAT also offers cleaning and refurbishing services for the used sneakers sold on the platform.
GOAT was founded in 2015 by Eddy Lu and Daishin Sugano, two UC Berkeley graduates. The LA-based sneaker reseller platform has grown to over 30 million shoppers, and more than 600,000 sellers worldwide.
Moreover, the company ships shoes to more than 150 countries – quite the expansion!
The Idea Behind GOAT
It all started when Los Angeles entrepreneur Daishin Sugano got scammed by an eBay sneaker reseller. Sugano had ordered the Air Jordan 5 Retro Grapes on eBay, which, when he received and unboxed them, turned out to be totally fake.
Sugano shared his terrible experience with his fellow grad and friend Eddy Lu. Both Sugano and Lu had ditched their corporate jobs to become entrepreneurs in 2007. After a series of failed startups, the duo came up with the amazing idea of GOAT.
The idea behind GOAT was to build a reseller platform, which was trusted by sneakerheads – no counterfeits and no purchases that mysteriously never get delivered. What started as a simple idea is today a company valued at $3.7 billion.
Global Luxury Brands All Under One Roof
When the company was first launched, it was completely focused on sneakers. Today the company is expanding its selection to include brand-new apparel and accessories.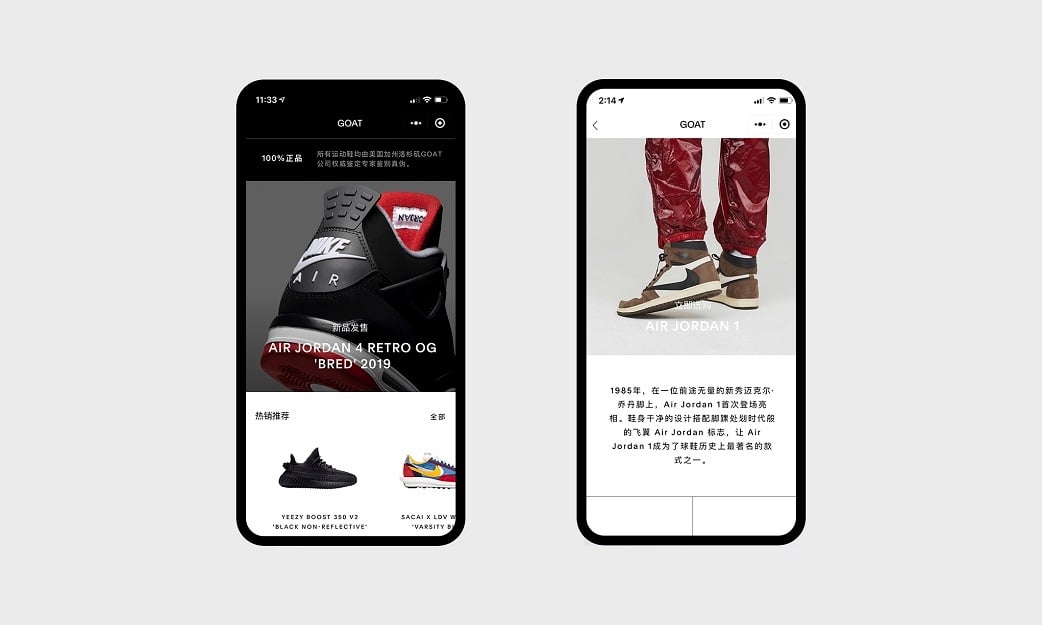 GOAT partners with global brands, retailers, and boutiques to offer its users new season items at incredibly low retail prices.
Currently, GOAT has over 50 brands and plans to increase by the year's end. Luxury brands with partnerships with GOAT include Stussy, Saint Laurent, and Acne Studios among others.
As for the sneakers, I can explore over 2 million listings from designer brands namely, Nike, Air Jordan, Yeezy, Adidas, and more.
Latest Releases Updates
One thing I love about the GOAT app is I never have to miss any new sneaker releases.
Whenever the brands launch a new pair of sneakers, I can set the app to send me instant notifications.
Apart from tracking upcoming releases and getting notifications, I can also save my most wanted styles to a wish list or even put sneakers I already own up for sale.
Authenticity Assurance
From the very beginning, GOAT's prime focus and core element has always been product authenticity. Before GOAT, I was very leery of buying shoes online especially when ordering a brand new pair of Air Jordans – there were always chances of getting scammed with a counterfeit.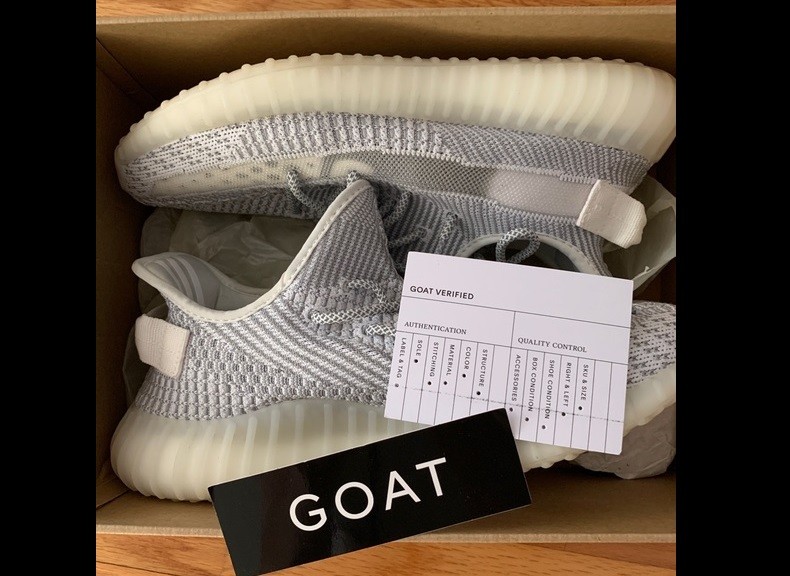 The company aims to sell only authentic products from the world's premium brands. GOAT is also responsible for verifying the authenticity of the product. They make sure that the product is authentic and is as described when it reaches the customers.
For this process, the platform uses means such as machine learning technology, digital authentication, and in-hand verification among others.
In addition to these means, GOAT also has in-house authentication specialists. These experts go through mandatory training and are trained to inspect every inch of details of the shoe – from label and stitching to texture and color.
All New AR Try-On Technology
GOAT recently released an industry-first, augmented-reality try-on technology which allows users to virtually try on its shoes before purchasing. This feature allows over 20 million GOAT users to get to visually see how the shoe 'fits' from wherever they are.
The first sneaker to make its debut on GOAT's AR feature is the Travis Scott x Air Jordan 1 Retro High OG Mocha. To access the AR feature on an iOS device, users need to update their GOAT app through the homepage.
On the other hand, if you are an Android user like me, the AR feature can be directly viewed through the shoe's product page.
How to Use the GOAT Sneaker Shopping App
Now let me come to the major part – how to use the app which begins by downloading it. I am an Android user, and it was easy to find the app on the Google Play Store. Apple users can easily find the app on the iOS App Store.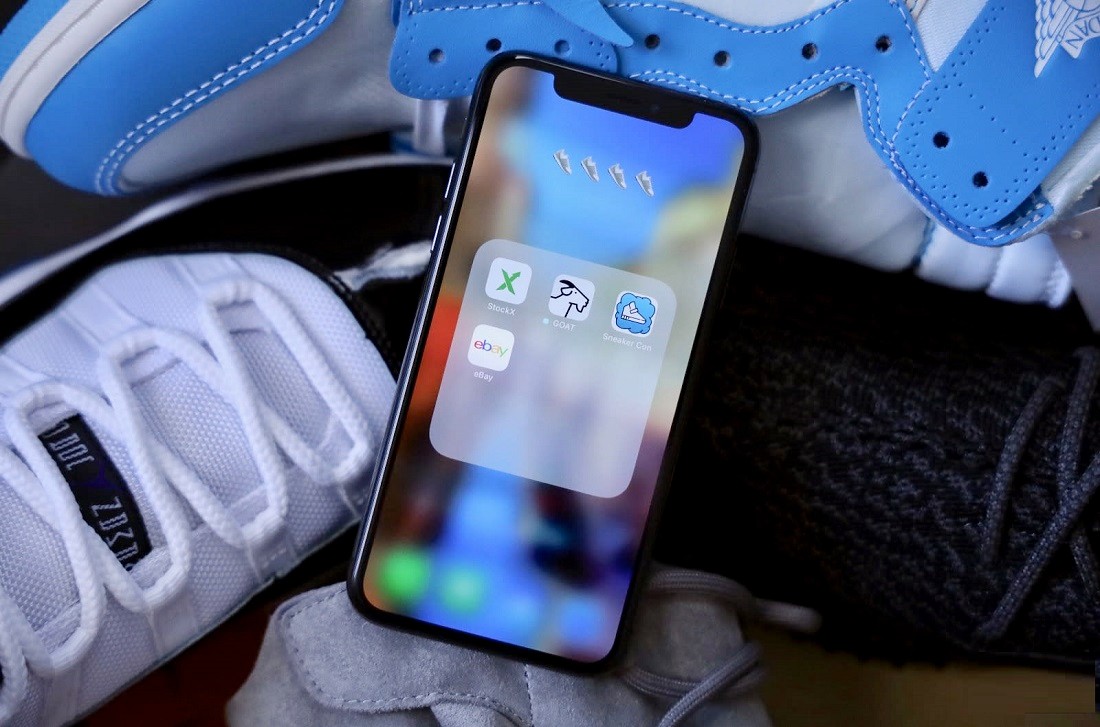 The first thing I did after downloading and installing the app on my phone was to create an account, or I could also browse the products as a guest. I signed up using my Google ID – you can do the same or with any email address.
After signing up, I found that the app had an easy to use user interface, which is also very easy to use. There is the Discover Section, where I could view the product under multiple categories, including Just Dropped products, Trending, Most Wanted, and by brand.
I could also search for a particular shoe or brand using the Search Section. There also is a separate Sell Section, if I want to sell any products.
Fees to Use GOAT as a Shopper
When it comes to using the GOAT sneaker shopping app as a shopper, you can use the app for free.
I as a buyer only had to pay for the shoes I purchased and any standard shipping charges.
Costs to Be Incurred by Seller
On the other hand, if I wanted to sell products on GOAT, I have to pay some extra fees to the platform. These fees are named as the Seller fee and Commission fees.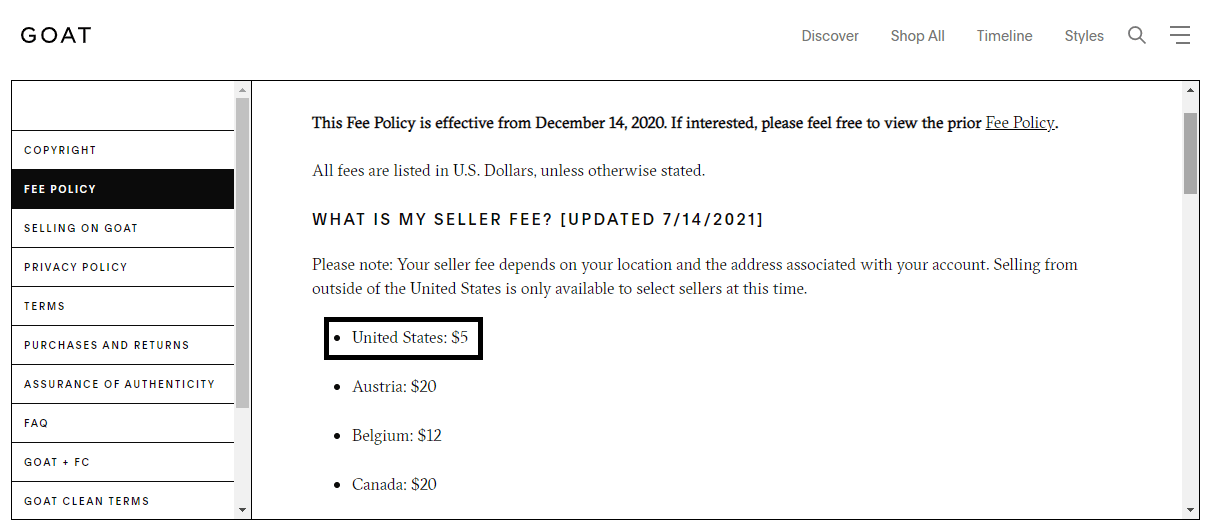 Seller fees can range from $5 to $30, depending on the seller's location. For instance, if you are a seller from the United States or Germany, you have to pay a seller fee of just $5.
On the contrary, if you are a seller residing in Malaysia, Portugal, or Singapore, the seller fee goes up to $20. Besides the seller fee, GOAT also charges an extra commission for every sale made. The commission fee is 9.5% plus the seller fee, for a seller who has a good rating.
Depending upon the seller's rating, commission sometimes also can go to a maximum of 25% plus seller fee. Note that the commission is deducted from the listing price of the product.
Seller Rating
Every seller at GOAT starts with a rating point of 90, with a standard commission fee of 9.5%. As mentioned above, based on the seller's rating point, the commission fee can go as high as 25%.
The rating point depends upon the number of canceled sales and verification issues. A seller's rating is deducted by 10 points for each canceled sale.
On the contrary, 2 points shall be added for each successful sale made. This ensures that a standard of good sellers is upheld on the app, keeping it a trustworthy place to buy authentic sneakers.
The Bottom Line
I ordered a brand new pair of Yeezy Boost 350 V2 Infant Bred for just $235 on GOAT a few days back, while other online channels were selling the same pair with a price tag of over $300. Personally speaking, I find the GOAT app absolutely amazing and very useful for my online sneaker shopping.
The best part about the platform is its authenticity assurance feature, which guarantees to deliver a 100% authentic pair of sneakers to the buyer. I give the platform and the app 5/5 star ratings, based on my personal experience. If you love sneakers and would like to have a verified and safe buying experience, download GOAT and try it out today.