A few decades ago, the carpet was one of the most popular options among lovers of trendy interior design. The soft fabric flooring fell into disuse a little due to the high degree of care and maintenance it needed.
Yet a carpet is still a great choice for children's bedrooms and being present in the 70s / 80s style homes. Because you know, it will be even more difficult to keep it clean than the classic porcelain stoneware floor, but the feeling of comfort that resting your feet on the soft floor has no equal. Here is how to clean it in case it gets stained.
To prevent the carpet from becoming a receptacle for dirt and bacteria, we are sorry to say, but hygiene must be super accurate. In fact, you should vacuum at least daily to eliminate all traces of dust and any allergens. Still, approximately every 5-6 days, a deeper cleaning with special products should be provided.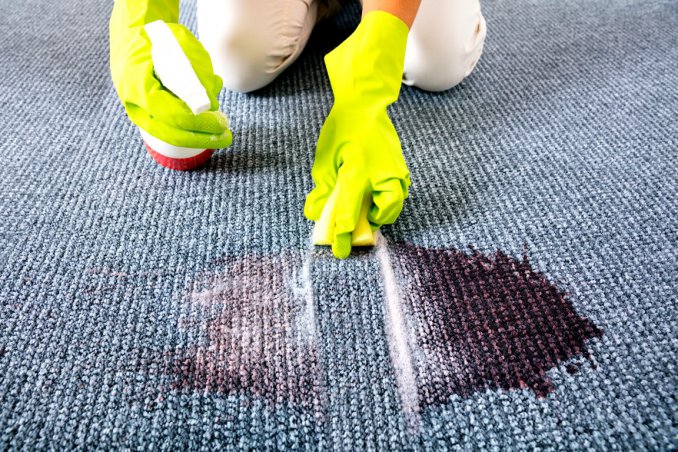 But what if the carpet gets stained? If it comes to liquids such as freshly poured wine or coffee, the first step is to dry quickly without dabbing or rubbing, avoid spreading the stain. With an old white towel, try to remove the first layer of dirt from the outside to the inside of the stain.
At this point, spray on your carpet a specific stain remover product for colored carpets or floors in colored fabric, easily available in supermarkets. It is important never to use bleach or ammonia or detergents that contain them, which can discolor the carpet and leave unsightly marks.
After moistening the fabric with the specific stain remover, let it act for a few minutes and then use a piece of white absorbent paper (be careful not to use those with drawings because they could fade) to dry. Repeat the process if necessary, spraying a little more stain remover.
In the last step, wet a cloth with distilled water and dab the treated area to eliminate detergent residues, then dry again with absorbent paper and pass the electric broom to prevent the carpet fibers from being crushed.
If the stain results from food are fallen to the ground, precede the process described above by recovering the solid residues, using latex gloves and absorbent cloth. If the floor gives off a bad smell, pour some baking soda and let it act for a few minutes before vacuuming away.
Then we use the fabric stain remover as usual.
Adapted and translated by The Cop Cart Staff
Sources: Donnad