You slept in your hiking pants, oblivious to what the dawn has in store for you. But all your plans had to be canceled and there were no last-minute 'bad weather' refunds either. Fret not, you are not alone. I have been there many times.
But no more, the Overdrop app is here to avoid such disasters in the future. Overdrop keeps you updated about the precise weather forecast of any location of your choice. Your own "pocket meteorologist" now ensures that you are never left without an umbrella or sunscreen.
It's the ultimate weather app, and if you want to see what it has to offer, keep reading to learn everything I have to share about the Overdrop app.
About Overdrop
More Features
How the App works
Home Screen
How Much Does it Cost?
Tips to Make the Most of the App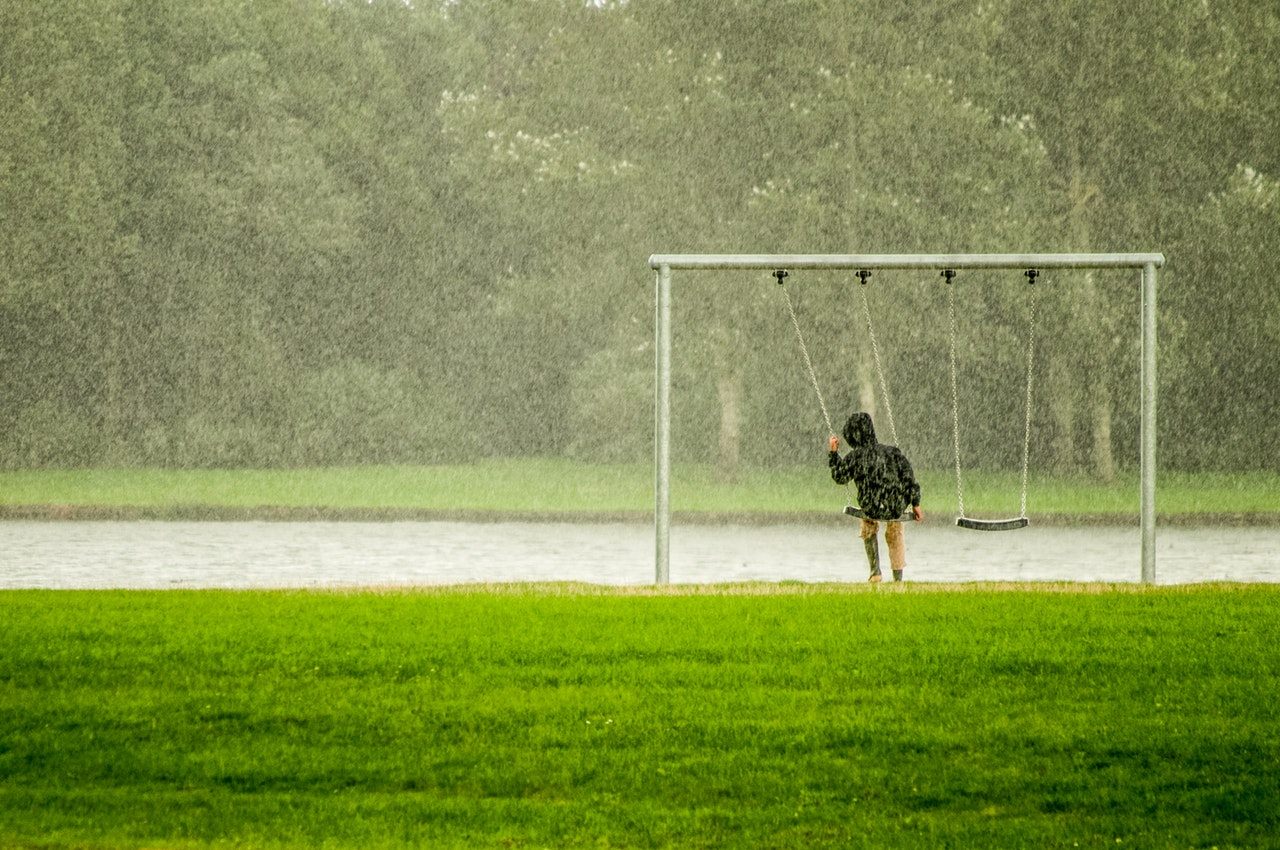 About Overdrop
Overdrop Weather is driven by leading weather prediction providers such as Dark Sky Weather, AccuWeather, and WeatherBit, to always keep you posted on up-to-the-minute weather and forecasts.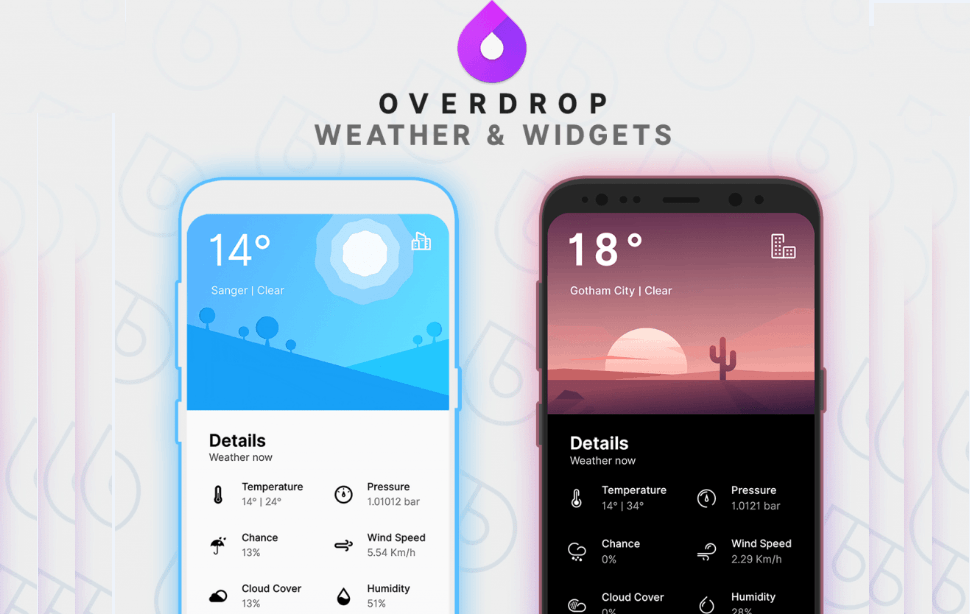 Keep on top of the weather with extreme condition warnings with the Dark Sky API. The user interface is easy to use and clear. A complete overview including current weather, feels like, humidity, wind direction, a 24-hour outlook (with wind, temperature, and rain forecasts), and a 7-day forecast are all available at a glance.
Overdrop offers a variety of themes, a simple interface, and continuous reminders. I have also set up weather warnings to be alerted when extreme weather is approaching my area. It takes all my tension away and you can plan your important events ahead.
The App's Features
Hyperlocal Forecast in Great Detail: Having Overdrop Weather means I never get stuck in a storm as it provides live weather updates. If it's raining or shining, the detailed weather forecasts provide quick access to temperature including "feels like". Other details include wind direction, thunder, hail, snow, visibility, pressure, humidity, UV index, and cloud cover.
24 Hour Weather Outlook: The temperature, wind, and rain graphs make it easy to interpret the weather of the coming days. Visual details on timelines make it easier to identify changes. Hurricanes, for example, are indicated by a hump in the rain graph, and heatwaves as humps in the temperature graph.
Seven Day Weather Outlook: With predictions for the next seven days, I can plan up to a week ahead. What's coming up next, whether it's sunlight, winds, or freezing cold, is crystal clear thanks to informative icons and short overviews.
Radar, Widgets, and Warnings
Weather Radar: To remain one step ahead, use the radar guide. The weather radar, which is powered by the Global Forecast System shows past, present, and predicted precipitation quantities. So you can quickly see if it's raining, or if it's going to rain, anywhere on the planet.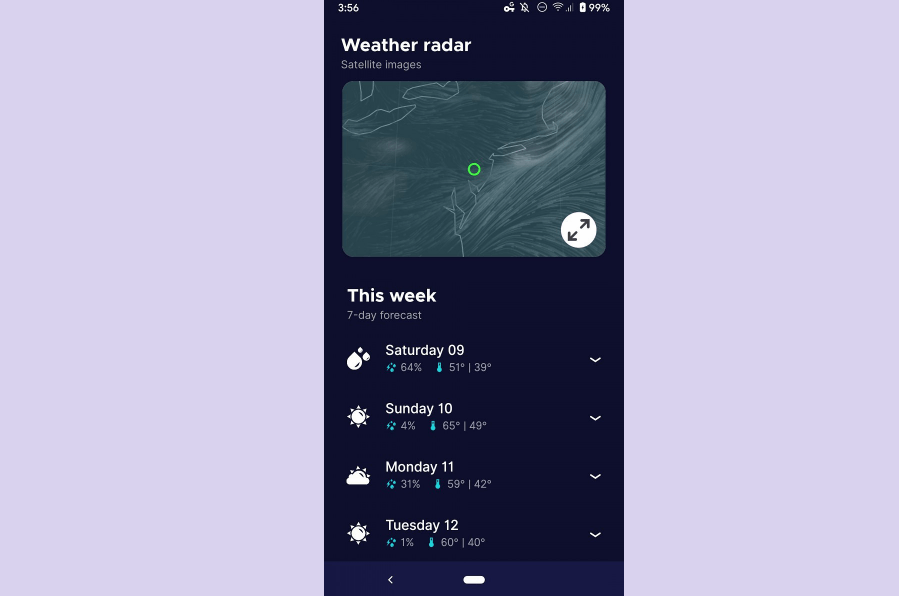 Home Screen Widgets: With Overdrop's information-rich widgets, I can check the weather right from my home screen. If you need the outlook for the next three hours or the next five days, you can choose from a variety of types and sizes. I can customize my home screen from over fifty stunning widgets with six different looks ranging from white to OLED black.
Privacy: Overdrop Weather has built-in anonymity, so my location data is never shared. It is also not linked to my Google Account or other sign-in services.
Severe Weather Warnings: A comprehensive weather index warns you about potential dangers such as severe storms, allowing me to remain safe. Overdrop Weather often sends important updates to your notifications, so that you don't miss any warning.
Comparing Overdrop with Other Alternatives
When it comes to picking a weather source, certain weather applications don't provide any choices. For certain people, that is fine, but it's far better to have an app that lets you swap between sources, and that's just what Overdrop does.
Overdrop gives me the latest weather data from the main tab, with more updates accessible through a drop-down arrow. During the initial configuration, the app has a friendly look with several themes to pick from. You may also choose to include a permanent message in your status bar that displays the latest weather conditions.
Like most other apps it is free to download, but you will be subjected to advertisements throughout. If you wish to remove these promotions, purchase the pro version from the 'About' section of app settings.
How the App Works
Data from around the globe from weather stations and satellites gather information about the environment, such as humidity and temperature.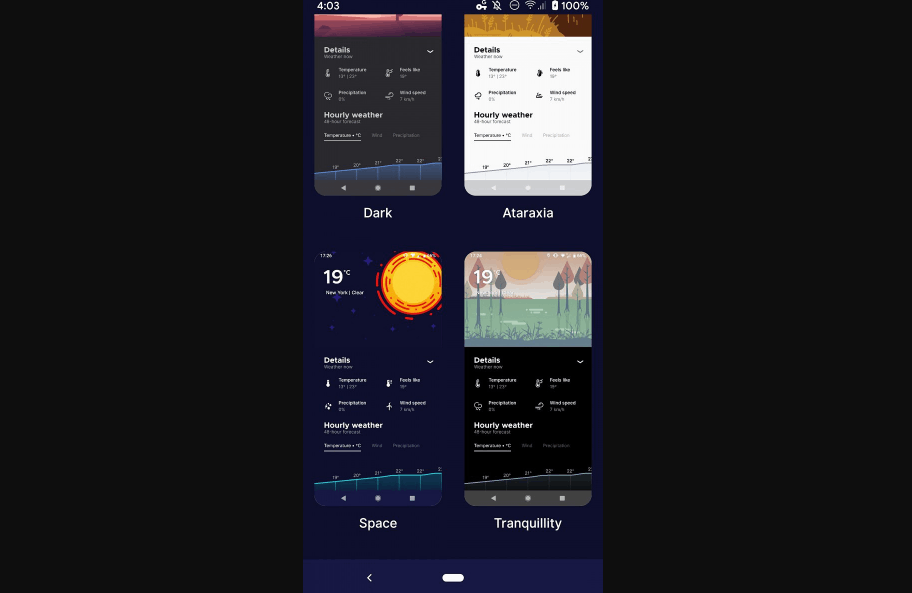 This information is fed to powerful supercomputers to begin the forecasting process, in which reliable and high-resolution maps are created to help with accurate prediction.
The maps depict the relationship between pressure, temperature, and precipitation in a specific region. Over 2 billion people around the world depend on AccuWeather for the most up-to-date weather information.
The AccuWeather API (used by Overdrop) offers the requisite data in seconds, thanks to hundreds of thousands of real-time weather observatories on land, sea, and air.
How to Install the App
The Google Play Store and Apple Store have versions of the Overdrop app. Getting Overdrop on your device is as simple as downloading and installing any other app from the App Store. The software is compatible with Android and iOS smartphones and tablets.
I discovered that there are two methods for setting up the location- either manually or by enabling device location access. I then signed up for the Pro version by choosing the desired plan and proceeding with the payment. You can also click on 'Continue' to access the basic version of the app.
Having the app installed and running, using it is fairly simple. Let me help you understand it in the following two simple areas.
Home Screen
The home screen displays basic information such as temperature and location. Tap on the 'Details' option and a tab drops down with a rain forecast, visibility, UV index and other details.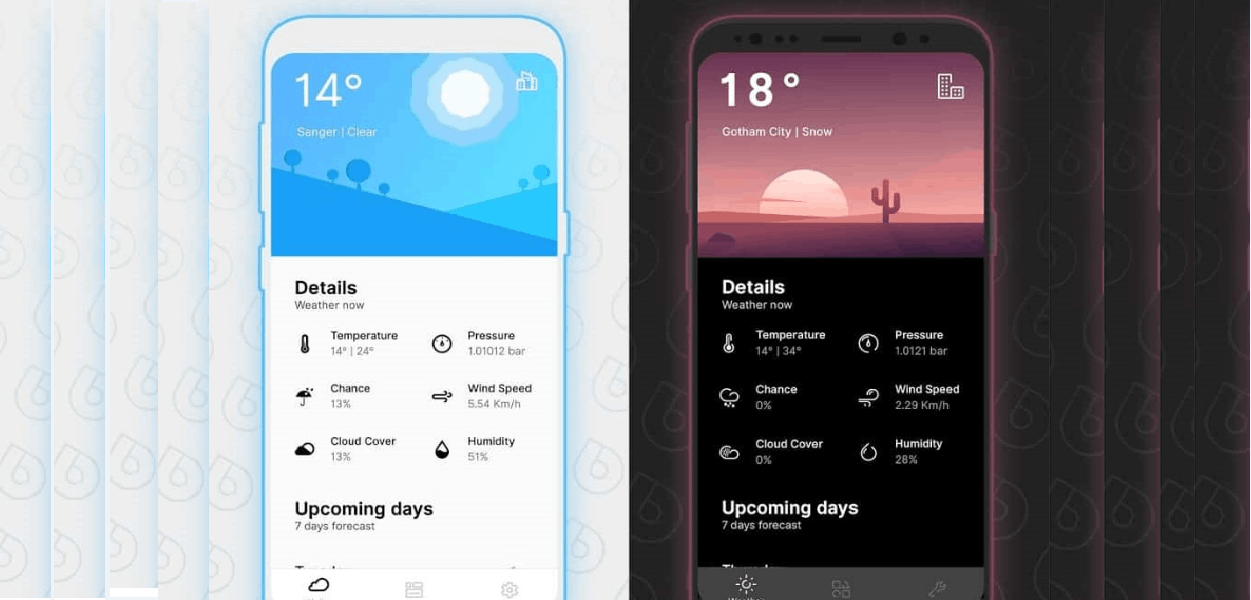 When scrolling down, one sees weather patterns by the hour in tabs of wind, temperature, and precipitation. Depending on the circumstances and location, you can see extreme weather information at the top of the screen.
The weather radar provides satellite images of the map and you can easily your way pinch in and out of it. It is a visual representation of precipitation on the map. The scroll ends in a weekly format ideal for planning ahead.
Location Settings
The search icon on the top right enables us to move around the globe. Type in the name of the place of your interest in the search bar and press enter. This automatically saves the location in the 'Saved Places' tab below.
You can now select a city from this tab or enable location access if you haven't already. Simply swipe left on a city to remove it from the 'Saved Places'.
How Much Does it Cost?
Overdrop has a free basic version with fewer features, available to everyone for download. The paid versions cost $7.50 for a lifetime license, $2.19 per year, or $0.99 per month.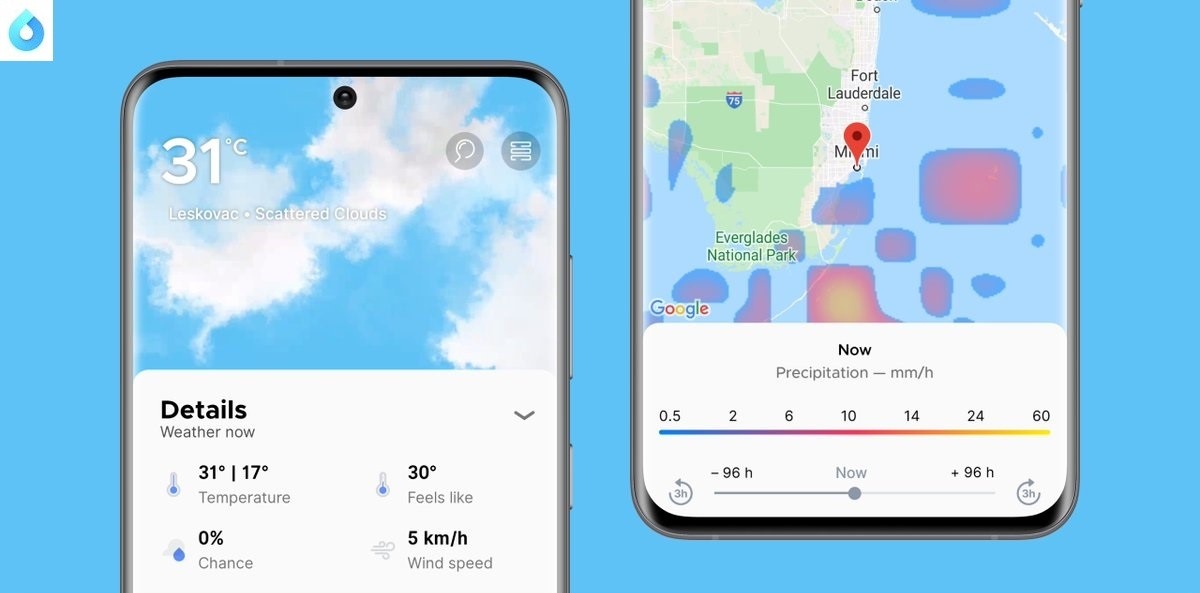 A three-day free trial is available to see if it's the right fit for you. You will not be fined if you cancel during the three-day timeframe. The paid options delete advertisements, allow you to select your data source, and include a few additional features.
Downsides
However, in keeping with its simple nature, Overdrop lacks more sophisticated features such as radar or air quality information. It supports hourly forecasts for only the next two days, unlike other apps which predict up to ten days.
Another slight gripe I have is the widget's lack of natural-looking weather icons. Overdrop does not have a free version either which makes it a bit less popular among the masses.
Tips to Make the Most of Overdrop
Unit Settings: Overdrop allows its users to customize the app to best suit their standard scale. Switch between Celsius and Fahrenheit by selecting the desired preference from the settings menu.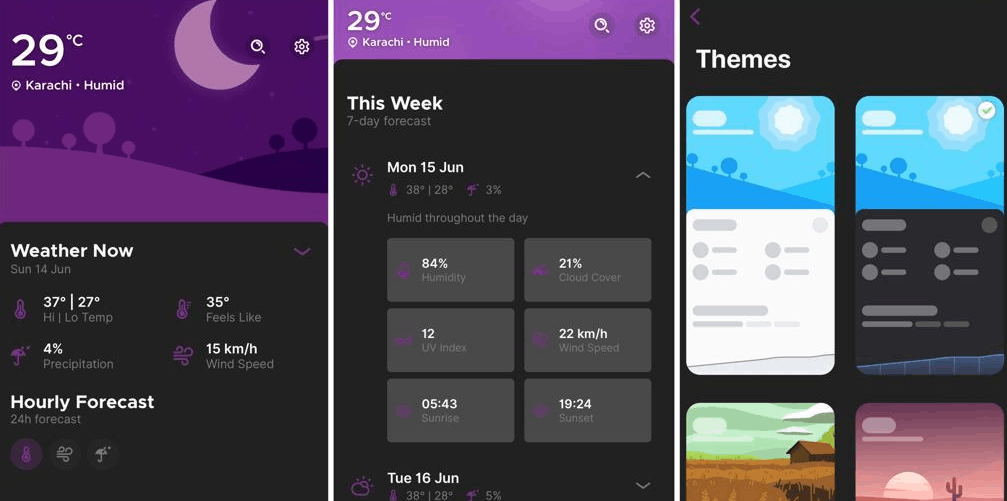 Other parameters like pressure, wind speed, and hour format can also be similarly selected for a tailor-made experience.
I can select from a wide variety of widgets provided to best suit my style. From tidy single line pictorial bars to beautiful broad banners with date and time information as well. Tap on the desired layout and a pop-up tutorial appears to explain its use.
To select a widget, long-press the home screen button. Now simply drag and drop the desired widget from the Overdrop drawer from this menu.
Themes and Weather Provider
Select from the wide variety of themes provided to reduce eye strain, adapt brightness to actual lighting conditions, and more.
The themes provided not only make screen usage easier in low-light situations but also ensure longer battery hours. Reducing the exposure to unhealthy blue light by opting for darker themes has never been easier.
Weather Provider: Select from the various providers to find the best fit for your city. Weather Bit, AccuWeather and others in the field, offer you the most precise weather predictions at your fingertips. AccuWeather requires to be unlocked using a pro subscription whereas others can be availed for free.
Conclusion
Overdrop prioritizes speed and simplicity while still including a variety of useful features.
A personalized, responsive experience is now only a tap away.