The dining room decoration involves a series of aspects that you must consider carefully before beginning work on the project. It is about harmonizing all the elements to achieve a pleasant and cozy set.
The objective is to create a pleasant and cozy room, where everything harmonizes, and all activities are carried out in the most comfortable way possible, even if space is limited.
Steps to follow:
Step One
The dining room is a gathering space where the family gathers to enjoy meals. Therefore it must provide enough space to eat comfortably and to circulate the table. The incorporation of shelves and shelves allows us to store objects and free us from side tables.
Step Two
The furniture in the dining room's decoration: The recommended furniture for small dining rooms are those with simple, straight lines and integrated shapes.
Step Three
The table is the dominant element in the dining room, you should always leave 70cm between the table and the rest of the furniture, and each diner requires 60cm of space. You can lean the table against one of the walls in small spaces, thereby losing one of the spaces for diners.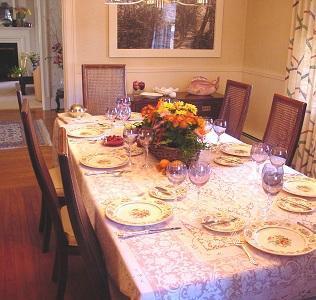 When the dining room is integrated into the kitchen, they will be separated by a serving hatch or bar. When it is integrated into the living room, you can separate it from it using a low cabinet.
Step Five
For the decoration of the dining room, we will use light colors, which can be white, or pastel tones, or warm but light tones, since they add energy to the environment, but you must choose them to cause a feeling of spaciousness.
Step Six
If the dining room is the first room in the house, it also acts as a hall. To delimit the access area, you can place a low cabinet next to the door or a coat rack, an umbrella stand, a closet for coats, depending on the space you have.
Step Seven
The curtains can be combined with the cushions of the chairs, with what you will gain inhomogeneity.
It is necessary to have at least one sideboard for the dishes, which can be replaced or complemented by the shelves.
Adapted and translated by The Cop Cart Staff
Sources: Uncomo