Many times, the irruption of an unpleasant smell inside the car makes us feel really bad, causing dizziness or headaches.
If you are tired of traveling smelling tobacco, closed or surrounded by dust particles that sneak through the vents. In this article, we will advise the best air fresheners for your car.
Aerosol Air Fresheners
They are delightful to use. A couple of touches and the entire car will be enveloped in the fragrance of your choice: lavender, vanilla, strawberry, jasmine, etc. One of its benefits is that it is one of the forms of air fresheners that offers the widest range of perfumes.
In addition to its intensity. And immediacy,  imagine yourself on a long journey traveling with your baby without the possibility of stopping to change the diaper. In cases like this, it is great to have one of these sprays on hand since it disguises the bad smell in a matter of seconds.
However, its durationIt is limited, only a few hours. It may be advisable that you accompany it with another more durable option if you opt for this type of air freshener. However, there is a small trick to extend the perfume's lifespan: spray it on the rugs or interior upholstery to adheres to the fibers of the fabrics.
Attached to the Ventilation Grille
Many people choose this type of air freshener. It is a small container with a liquid perfume that is hooked onto the ventilation grille so that when starting the car, if we keep it open, the smell permeates every corner of the vehicle during the trip.
It is a comfortable and long-lasting method (every time you start the car, that pleasant perfume comes out), although some find it to be too powerful and even cause them to feel lightheaded.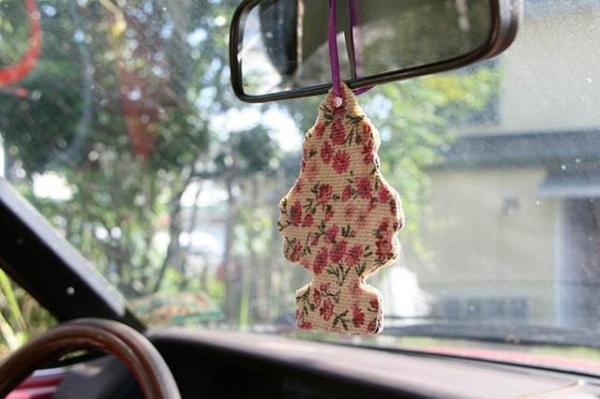 Air Fresheners
This type of product has become fashionable in recent years, is easy to find in any perfumery store, naturist, or even in markets. They are usually very effective. For small cars, a few minutes are enough for the car to be fully perfumed, and due to the fact that they frequently come with caps that have an odor dispenser, you can control the aroma.
They are usually placed under the seats or in the gap under the radio, and their biggest disadvantage is that if you forget to close the lid, it may have lost its effectiveness in a few days.
Hanging Air Fresheners
Who doesn't remember spending half a two-hour trip watching the green pine sway? Hanging air fresheners are the pioneers in the world of car perfume. There are not as many varieties of smell as those in the previous options, and the passenger in the back seat may not even notice it, but they have an advantage, which is that they serve as a decorative element.
There are soccer teams shaped like fruits, cartoons, etc. If you have small children, do not rule it out, you may avoid for a few minutes that they repeat incessantly that of "have we arrived yet?"
Electric Air Fresheners
It is an option very similar to the grid, but in this case, it is plugged into the car's cigarette lighter. In this way, it does not interfere with the car's aesthetics, such as the grille, and there is no risk of disengaging and spilling on the floor of the car.
It produces a long-lasting smell and also includes the possibility of regulating it through the dosing mechanism.
The Latest Invention: Ionizers
It is the latest cry when it comes to eliminating bad odors from our car. It is connected to the lighter and is designed to enjoy clean air without odors and in a completely silent way.
Also read: How to Remove Dog Smell from Your Car
The big difference between conventional air fresheners is that their objective is not to mask bad odors but to eliminate them. It is also handy for travelers allergic to dust and other chemical particles that flow inside the car.
Adapted and translated by The Cop Cart Staff
Sources: Uncomo