Almost half of the world's population is fond of video games: today, there are more than 3 billion gamers in the world, three Billion People Worldwide Now Play Video Games, New Report Shows. To join their ranks, you must have a good gaming computer. Together with Softline, we figure out what is important for a gaming PC and select different budget options.
How a gaming PC differs from a regular one
To deliver high FPS (frames per second) and decent quality images, the computer must continuously perform complex calculations. Intersections of objects, shadows, and effects can be represented mathematically and ultimately determine the color each specific pixel on the screen will be.
Also, the computer should be comfortable to play with. Therefore, a gaming PC needs:
A powerful processor – so that you can do a lot of computations in real-time.
A large amount of RAM – so that there is enough space for running applications and storing prepared data for calculations.
Discrete Graphics – For maximum graphics performance. The discrete graphics card has a powerful graphics chip and its own memory, and a separate cooling system. The built-in video card is always weaker than the discrete one, so it is not suitable for modern games.
A good power supply – so that its power is sufficient for the efficient operation of the processor, video card, and other components.
Good cooling – effectively dissipate heat from the processor and graphics card and ensure consistently high system performance.
Spacious case – so that you can comfortably place and fix all the components, and there is enough air for high-quality cooling.
High refresh rate monitor – to ensure smooth images even in the most dynamic scenes.
Mechanical keyboard – so as not to fail at the most crucial moment. Mechanical models can withstand 10–20 times more pressure than membrane models and are also more sensitive.
Wired gaming mouse – to assign actions to additional buttons, more accurately navigate the game world, respond faster, and not get tired during hours of sessions.
High-quality headset – to communicate with teammates in real-time, hear even the quietest knocks and rustles, and immerse yourself in the gaming atmosphere.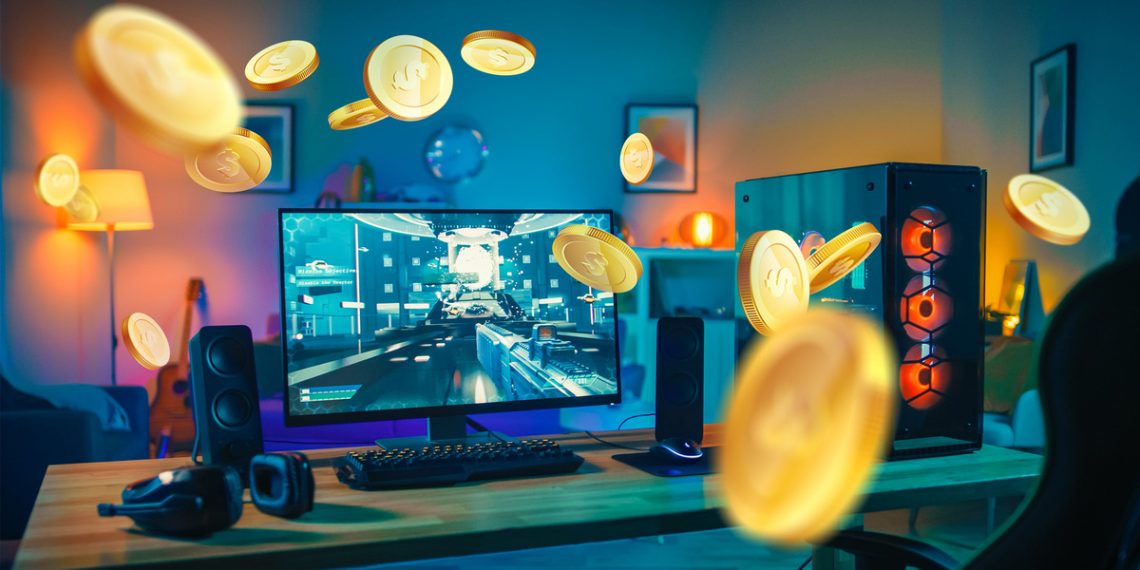 What characteristics do you need?
Ideally, a new gaming computer would "pull everything at once," "just fly," and "produce 100,500 FPS at maximum speed" – these are the phrases that consultants hear on the selection of equipment. But what about specifics: technology, numbers, generations?
Try to build on the characteristics of the game in which you plan to fight first. On the official website, developers usually provide specific data: minimum system requirements (it will start, but it will not be very comfortable to play) and recommended (you can count on a vigorous game at medium graphics settings).
Modern games, especially those with online access, are actively developing, and developers are constantly introducing new features. As a result, the requirements for performance grow, and it becomes uncomfortable to play on outdated PCs: the low frame rate makes the image "ragged," "stutter," and you do not have time to react to what is happening. We have to reduce the resolution, turn off shadows, and reduce the quality of rendering. Still, players on more recent hardware can easily get around you.
Therefore, it is worth making a margin for the future – to consider models with characteristics slightly higher than optimal. Of course, you can save money and plan an upgrade of equipment when it becomes not very convenient to play: add memory, change the processor, video card.
How to Build a Gaming PC for Different Budgets
Selecting and comparing configurations takes a lot of time, effort, and money. Plus, if you buy one of them, the net gain in productivity will be small. Finally, old and new components may not be compatible.
We decided to take popular gaming PC budgets and see what the market has to offer today. The configuration included all the necessary components for assembling a system unit: a gaming motherboard, processor, video card, cooling system, power supply, RAM, hard disk, a stylish case, as well, as Windows OS – in short, a turnkey solution.
Up to 80 thousand rubles
A system that will be a pleasure to play Fortnite and World of Tanks on can be built with the latest generation Intel Core i5 processor and a fresh entry-level GeForce graphics card. Intel has four classes of Core processors:
i3 – entry-level models, focused more on office tasks;
i5 and i7 – mid-range, good performance, and adequate price;
i9 – advanced level, maximum power, but high cost.
The current generation of Intel Core processors is the tenth. Look at the first (or first two) digits in the processor model to determine which processor belongs to. The higher the generation, the wider the possibilities.
To fit within the budget, we'd recommend a 9th Gen Intel Core i5 or better. You can take a tray-version (not a box) and a separate cooling system – more powerful than the standard one and with beautiful backlighting.
Accordingly, choose a motherboard for the LGA 1151 socket to be compatible with the processor and other components. Stable but inexpensive options can be found at Gigabyte's B360 AORUS Gaming series.
In conjunction with the processor – at least 8 GB of DDR4 RAM, preferably in two modules (strips). Usually, motherboards have several RAM slots, so if you want to increase the volume, insert another module. It's great if the memory is RGB-backlit – you can customize it to make the system unit look really cool.
We recommend models from Gigabyte based on Nvidia GeForce GTX 16-series chips (1650 and so on) for entry-level video cards. These are graphics adapters with 4GB fast GDDR5 video memory. They are based on the breakthrough architecture of NVIDIA Turing: it provided a two-fold increase in performance compared to the GeForce GTX 950 and 70% compared to the GTX 1050 in new games.
For permanent data storage, you should take a small SDD and a larger HDD. An SDD, or solid-state hard drive, is essentially a large flash drive that will allow you to boot your OS and games quickly. And on an HDD, a traditional hard drive, every gigabyte of storage space is cheaper. Our kit will definitely fit a 256 GB SDD and 1 TB HDD.
You will also need an entry-level cooling system, a mid-size chassis, and a 600W or more PSU. All this can be found at CoolerMaster – the manufacturer offers some of the best options on the market in terms of efficiency, reliability, and price.
Finally, you should immediately order Windows 10 Home Plus Single Language. This is a budget option, but if you want to expand your license, you can do it in a couple of minutes.
Of course, such a computer is significantly more expensive than a standard PC, usually bought at home for work and watching movies. But the performance here is also an order of magnitude higher, and it will last for several years of active gaming.
Up to 150 thousand rubles
There are many more options in such a budget: you can look at processors and video cards of a higher class and choose a larger amount of memory – operational and permanent.
Replacing the processor and motherboard is a time-consuming process, making sense to choose components that will not have to be changed after a year. The latest 10th Gen Intel Core i7 processor in a tray and liquid cooling, such as the Cooler Master MASTERLIQUID series with customizable RGB lighting, is the right choice for inspiring gaming. Its capabilities will last for at least five years.
An LGA 1200 socket processor requires a matching motherboard. The variants from the Gigabyte B460 AORUS Pro series are a great solution.
Gigabyte graphics cards based on GeForce RTX 2060 series chips can do much more than models from the GTX family. They support real-time ray tracing and hardware neural network technologies. Due to this, the GeForce RTX 2060 is up to 6 times more powerful than its predecessors: they provide stunningly realistic graphics and high FPS in top games, such as Far Cry 5, PUBG, Assassin's Creed Odyssey, Battlefield V, Tom Clancy's Rainbow Six Siege, Anthem, Metro: Exodus and others, at maximum settings.
At least 16 GB of RAM is the standard for this configuration. You should also take more permanent memory: a 512 GB SSD and a 2 TB HDD (preferably with a rotation speed of 5,400 rpm) should be enough for all current games.
A power supply unit with a capacity of 700 W or more can be included in the case, but you can order accessories separately – this is a matter of taste. Do not forget about Windows 10 Home: the license guarantees timely updates, comfortable and safe work.
Up to 300 thousand rubles
With such a budget, you will definitely be able to assemble the computer of your dreams: you can go to the online store and add everything new and powerful to the cart.
If the processor, then the Intel Core i9 of the tenth generation – and, of course, a highly efficient liquid cooling system like Cooler Master MASTERLIQUID to it. This means a motherboard based on an LGA 1200 socket, for example, a model from the Gigabyte Z490 AORUS Ultra series.
If the memory, then immediately 32 GB DDR4: four modules of 8 GB with cool RGB ‑ backlighting. If it is a hard drive, then a 1 TB SSD and 4 TB HDD also. If the OS, then Windows 10 Pro. If the case, then an impressive one with a 750 W power supply onboard.
And, of course, Gigabyte's top-end GeForce RTX 3080 graphics card for record-breaking performance in the most recent games. These graphics cards include updated RT and Tensor cores, fresh streaming multiprocessors, and 10GB of G6X high-speed memory. Thanks to the support of anti-aliasing technologies with deep machine learning technologies, such video cards provide even the most demanding games like Death Strandings and Watch Dogs: Legion from 60 FPS in 4K resolution at maximum settings in complex scenes and streaming with practically no frame rate drop.
GeForce RTX 3080 is now extremely difficult to find on sale – the demand is often greater than the supply. But you can order a powerful gaming PC with it right now – in the optimal configuration.
What about the monitor
A good monitor is a must-have for a gamer. You probably plan to replace the system unit and leave the monitor the same for now. To play it comfortably, check its specifications: perhaps a low refresh rate or a high response speed will not allow the system to reveal all its features.
A modern gaming monitor is:
support for high frame rates – exactly at least 60 Hz (1 Hz – 1 frame per second), and better 120, 144, or even 240 Hz;
support for G ‑ SYNC / FreeSync – technology for synchronizing the frame rate that the Nvidia video card gives out and the monitor refresh rate;
high resolution – at least Full HD (1,920 x 1,080 pixels), or better 4K (3,840 x 2,160 pixels);
minimum response speed – ideally 1 ms, in reality – 5–6 ms is considered a good result;
diagonal and aspect ratio – from 24 inches for monitors with an aspect ratio of 16: 9, but for full immersion, we recommend looking at wide monitors – with an aspect ratio of 32: 9 and, accordingly, a diagonal of 28 inches;
matrix – IPS or TN, depending on which games you prefer. IPS has a bright picture and the widest viewing angles but a long response time – the matrix is ​​suitable for single-player story games. TN has a shorter response time. Such a matrix is ​​optimal for online shooters and similar games;
brightness – from 250-300 cd / m²;
contrast – from 1000: 1.
Adapted and translated by The Cop Cart Staff
Sources: Life hacker