The evenings are enjoyable at the moment, which prompts us to stay outside longer. But beware of minor bad weather that can happen without warning!
So to make the most of these little moments of happiness in the great outdoors, here are our professional tips for fitting out your terrace or balcony accordingly!
Protect the Terrace from the Rain
In some regions, the early evening is synonymous with humidity … which you want to protect yourself to finish dinner. Several options are then available to you: arbor, shade cloth, large parasol.
" The idea is to choose a water-repellent or waterproof material, which will prevent dew from spreading underneath," explains Jérémy Hérard. Founder of the Notes de Styles network. And which will shield you from the rain if it decides to sprinkle on you!
If your area is windy, the decorator recommends a removable system, which you can store away when the wind picks up.
Install a Heat Source
Autumn evenings are cooler than summer. To avoid shivering, install a heat source. Apart from outdoor heaters, there are other systems to warm the atmosphere.
"At the moment, the brazier is trendy on the terraces" , notes Alain Carnaby, head of the garden sector at Castorama d'Anglet. TBioethanolmodels, are very easy to control using a remote control, or more traditional wood models, in which you can also grill marshmallows.
The other trend is also the outdoor fireplace. As in your living room, you install your seats all around and enjoy the warmth of a comforting log fire.
Provide Comfortable Accessories that Resist Bad Weather
To withstand the small bad weather associated with the end of summer, Alain Carnaby recommends choosing furniture that will be resistant in all seasons.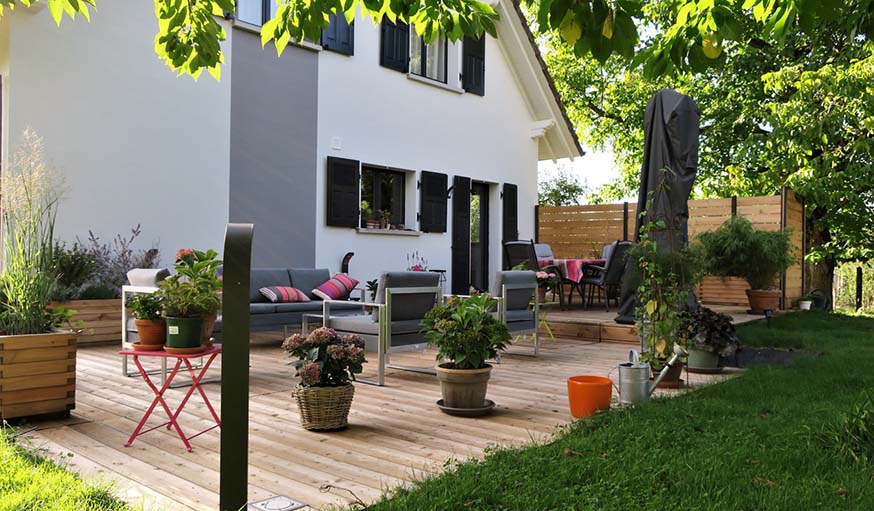 And to decorate your garden furniture, opt for materials that are also resistant! "For example, there are cushions in waterproof fabric that withstand showers," says Jérémy Hérard. The same goes for outdoor rugs, made of synthetic fibers or light garlands suitable for outdoors too.
Otherwise, plan to store tightly sealed against water and insects to have everything close at hand. For example, there are benches with an integrated trunk which does not take up additional space.
Adapted and translated by The Cop Cart Staff
Sources: 18h39