I used to feel very conscious about how I looked in photos. Before sharing my photos, I spend a good amount of time editing my photos to hide my imperfections. It wasn't easy because I never found apps that simplified photo editing.
With Sweet Selfie, I can edit my photos in just a few taps. Creating collages has also never been easier because of this app. Its beauty selfie camera is a feature that sets it apart from other apps, too.
Read on and discover what this app is all about and how it works. I'm sharing my experience using the Sweet Selfie app in this article.
Sweet Selfie – Take the Perfect Selfie
Key Features to Love
Best Editing Tools on Sweet Selfie
Real-Time Beauty with the Beauty Selfie Cam
Filters, Professional Photo Editing, and More
Capturing a Photo with Sweet Selfie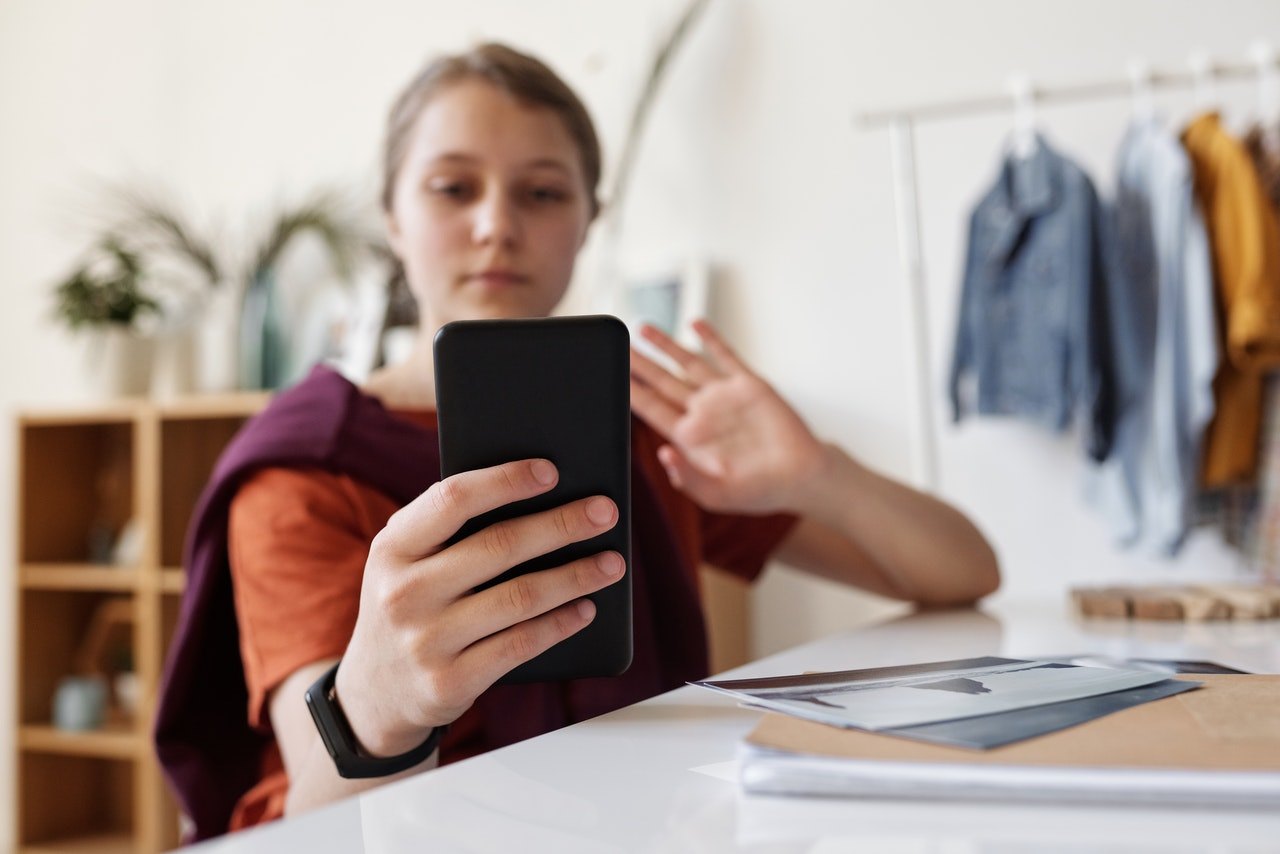 Sweet Selfie – Take the Perfect Selfie
The Sweet Selfie app is hands-down one of the best free selfie editor and beauty camera apps I have ever tried. With this app, I have access to face tuning, body retouching and resizing, background blurring, and tons of makeup effects that I can use to enhance my appearance in every photo!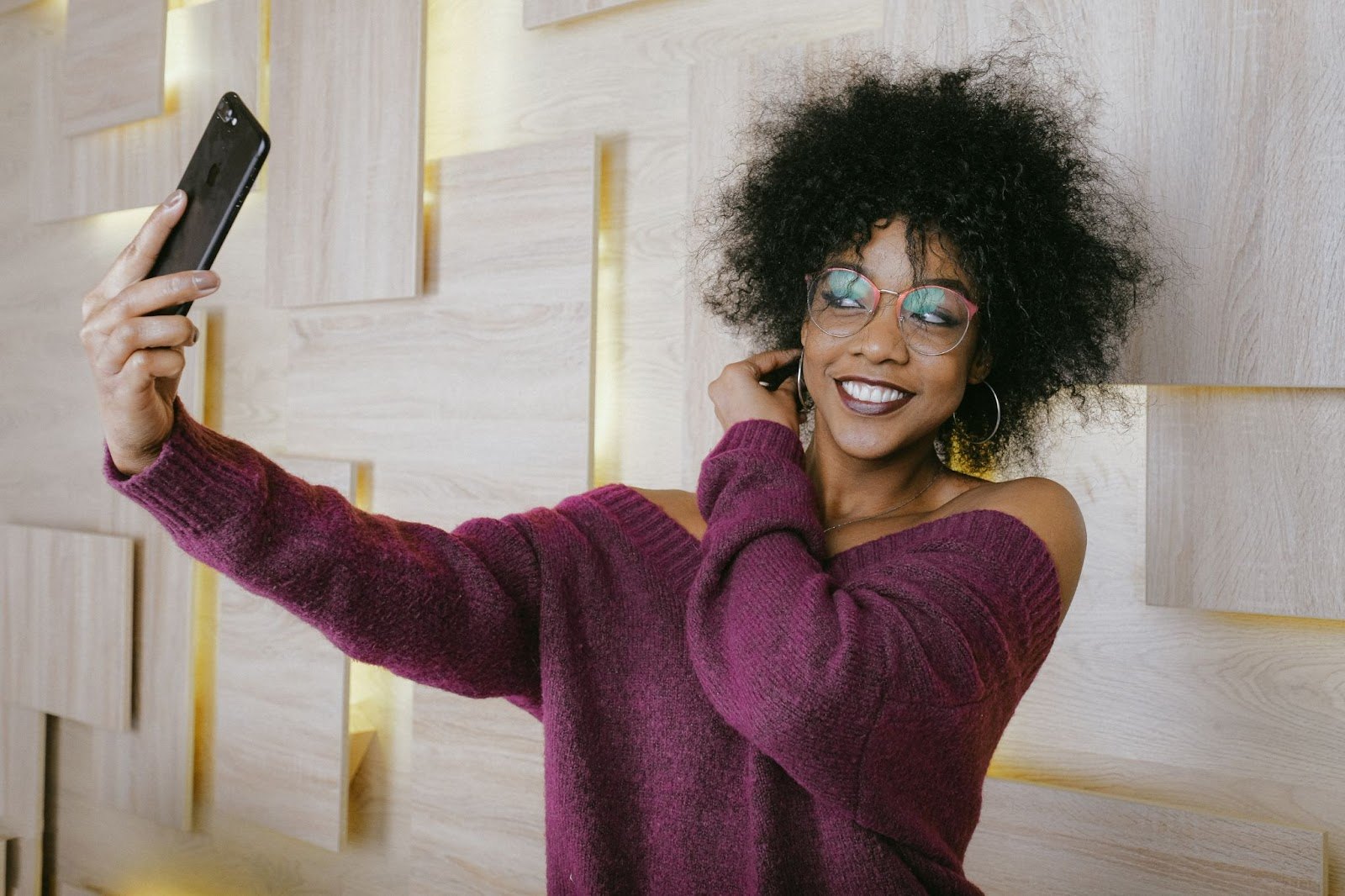 I used to spend so much time editing my photos after taking them. But thanks to Sweet Selfie, I can now snap the perfect selfie with its real-time beauty camera that features a lot of effects.
I can also choose from thousands of photo stickers and art filters that make my photos a lot more creative and fun.
Perhaps my favorite feature is the makeup camera that retouches my lips, applies blush on my cheeks, and adds color to my eyes. With the makeup camera, I can instantly see how I look with photo filters on and adjust the settings of the contour, highlights, and more.
Body Retouch – No Need for the Gym
Next to the real-time beauty camera, the Body Retouch function is my second favorite. I can retouch my body and facial features as I please with this feature.
Since I have very short legs, I usually feel shy in showing off my body. Thanks to the Body Retouch tool, I can elongate my legs and even adjust my waist size, breast size, and tone my muscles to make it look like I have strong muscles!
Key Features to Love
The Professional Photo Editor is what I use to achieve photos that look professional without using complex photo editors.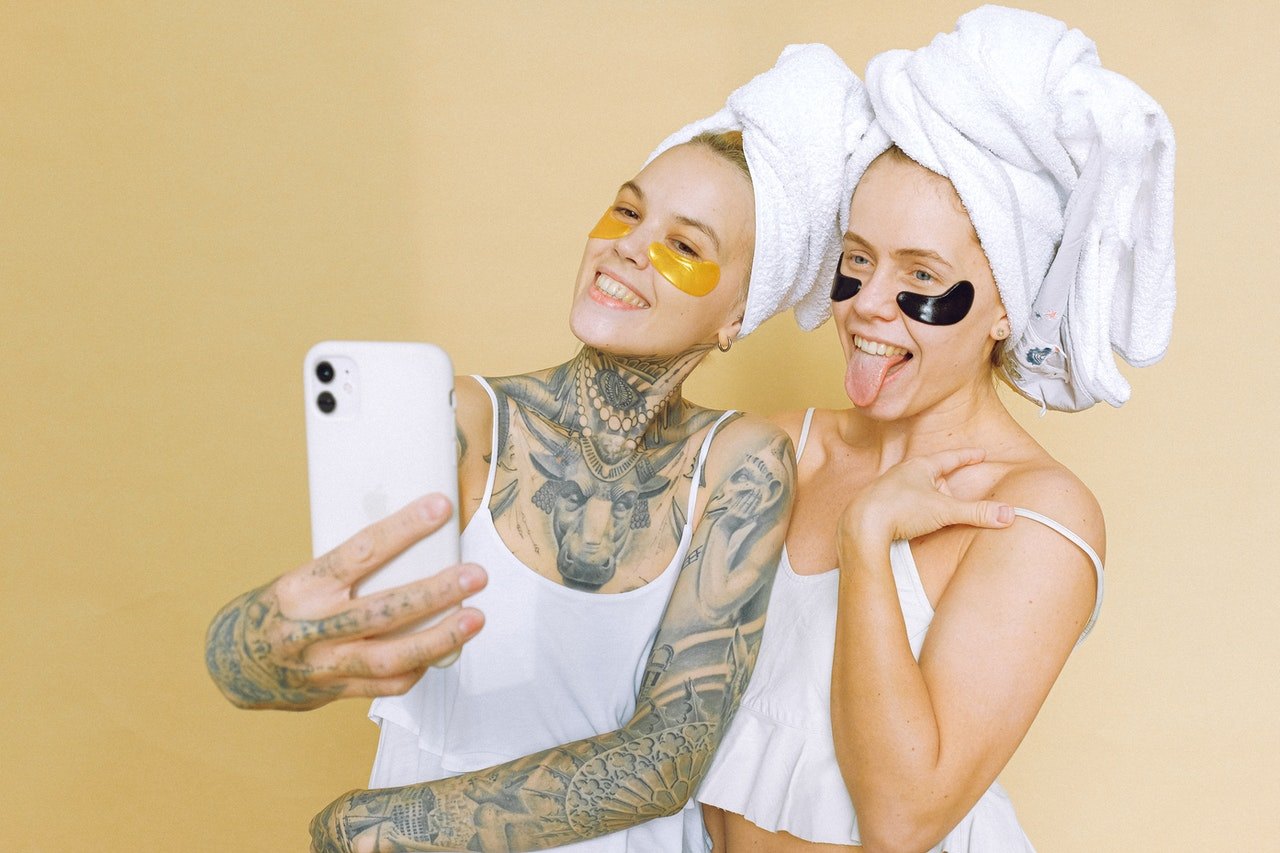 Sweet Selfie's photo editors include essential features, such as tools for blurring, cropping, changing the background, and adjusting exposure and light.
The Collage Maker and Photo Grid are other great features to create a cool photo collage. I do not usually like posting multiple photos, so when I have multiple photos to show, I use the app's Collage Maker to remix them into a cool photo collage.
I can also choose from many preset templates and layouts designed specifically for Instagram.
Creating Slideshows
Creating mini and short slideshows is easy with Sweet Selfie's music video templates.
Using this feature, I can remix and merge photos and turn them into short video clips or slideshows with some background music. This feature also works when I mix photos and video clips into one!
Best Editing Tools on Sweet Selfie
Other key features that I love include the background eraser, which helps me remove the backgrounds from photos.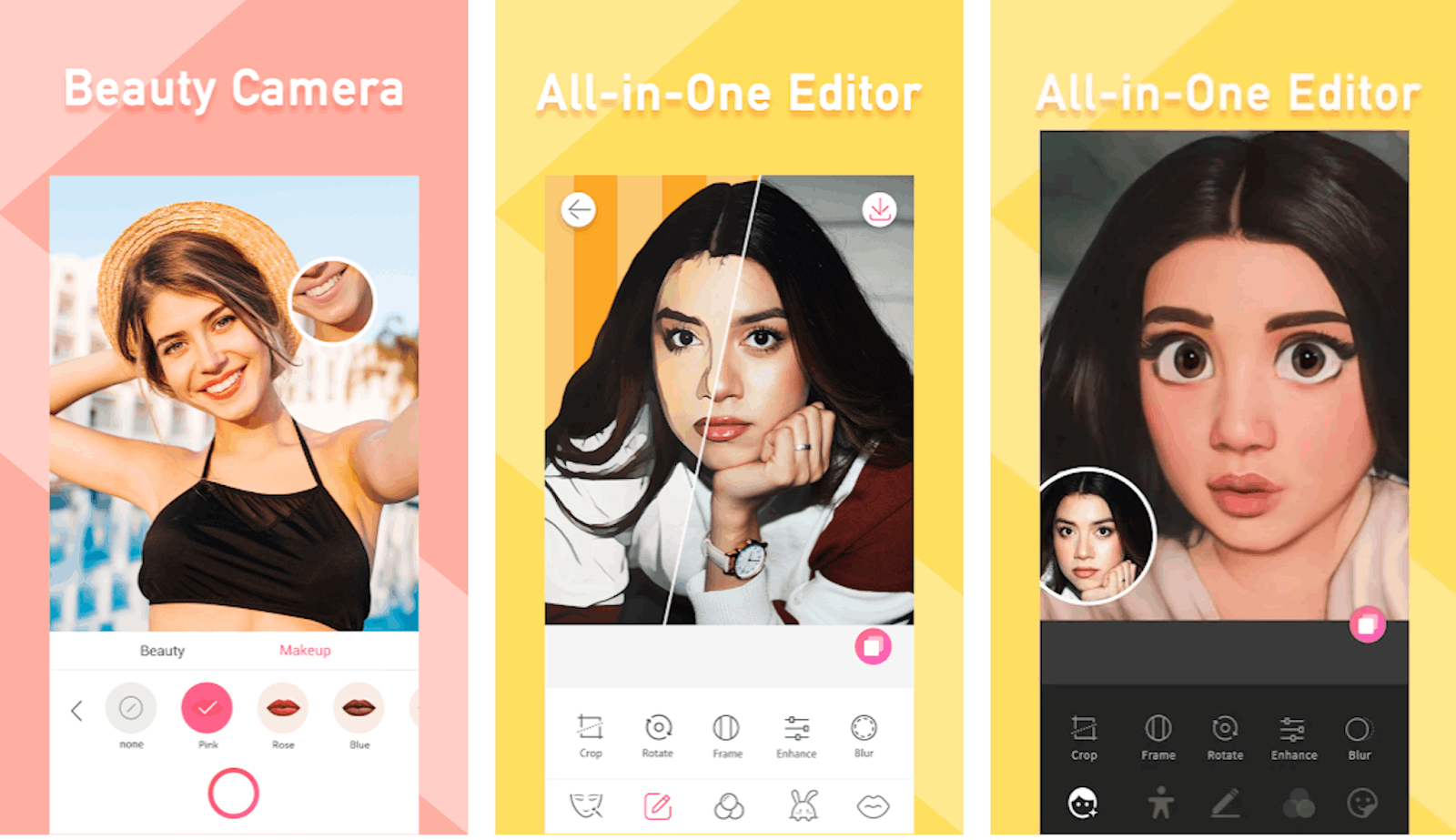 This feature honestly saves me a lot of time because finding a good background remover either takes time and skill or costs me some money. With Sweet Selfie, it is completely free.
The built-in selfie timer also helps me get the perfect hands-free shot, while the touch capture feature lets me take photos by tapping any part of the screen. With Sweet Selfie, there are no more missed moments and shots because I failed to touch the camera shutter button!
Getting Started with the Application
If you want to try this app, one of the top selfie photo editors and beauty camera applications from the Google Play Store in 2019, it is available for download at no charge.
It has a whopping 61 million downloads and an impressive 4.5-star rating on the platform.
For only $29 a year, I have access to the app's premium version and can enjoy a daily update on templates and filters. With a premium subscription, I gain unlimited access to all available templates, presets, and filters. Most of all, enjoy an ad-free experience while using the Sweet Selfie app.
Real-Time Beauty with the Beauty Selfie Cam
I love taking photos with the beauty selfie camera because it saves me time. I just click on the camera icon on the center of the lower part of my screen to start snapping the perfect selfies.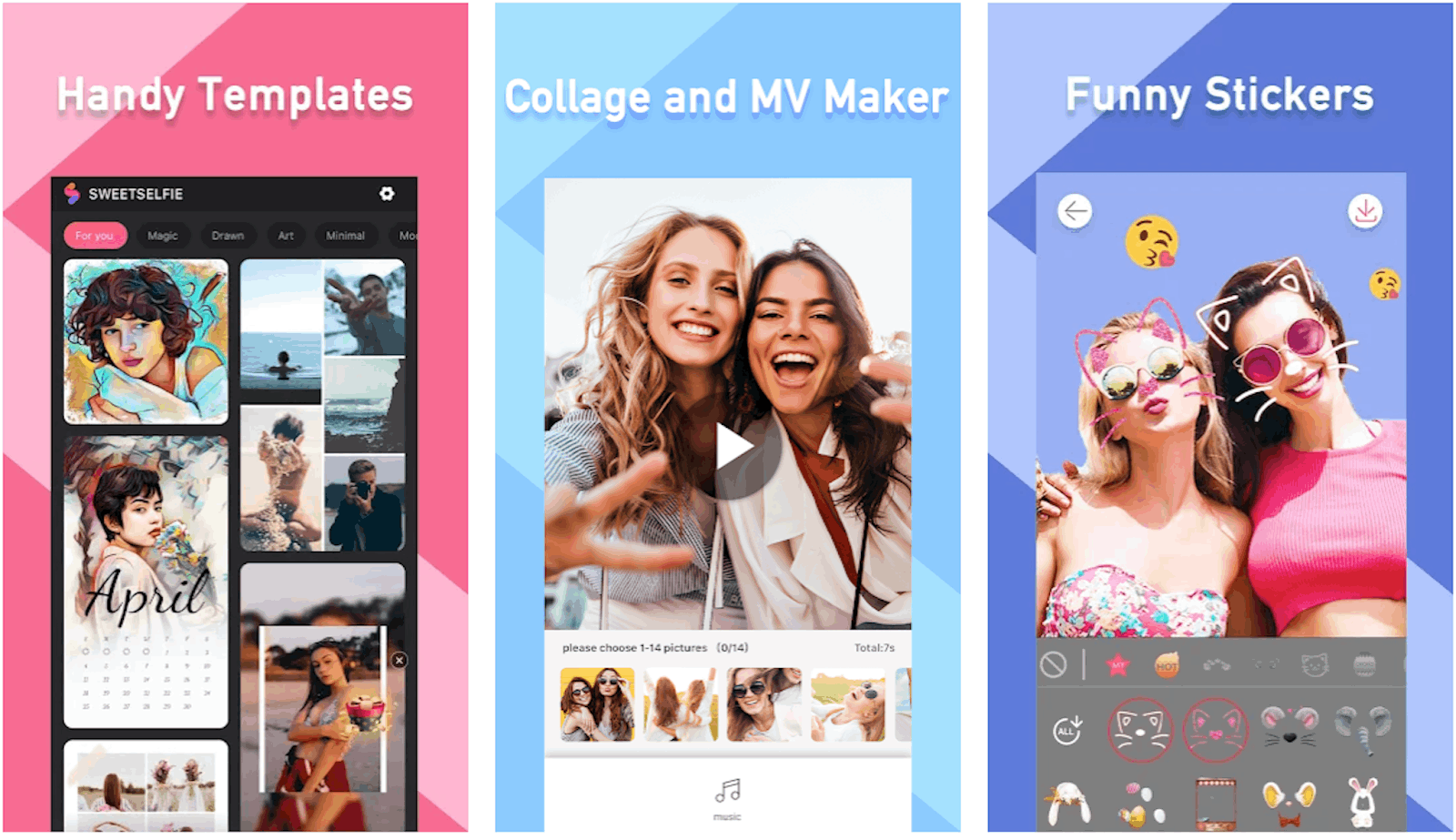 I immediately noticed three main features—the Stickers, Beautify mode, and the Filters. You can pick from a wide variety of stickers, ranging from playful and wacky stickers to gorgeous stickers. However, the stickers needed to be downloaded first before I can use them.
The Beautify mode has two main settings—Beauty and Makeup. Under the Beauty mode, settings such as skin smoothening and whitening, and face slimming are available. Because my eyes are small, I use the Enlarge Eye tool to make my eyes pop a bit more.
I also like how I can modify my face length, narrow my nose a bit more, and even modify the way my eyes slant. I also love using the tool to make my forehead smaller and modify the size of my smile and mouth. To do these things, I just move the slider to the right or the left until I reach my desired look.
The Makeup Section – Add Color and Life
After being satisfied with my bare face, I move to the Makeup section and add lipstick, blush, contour, eyebrows, and eye makeup.
What's great about this app is that I can instantly see how I look as I mix and match makeup looks. It doesn't take me long before I am satisfied with my overall look.
Filters, Professional Photo Editing, and More
There are many filters to choose from, too. There are over 20 categories, with more or less 10 filters under each category. I never run out of filters to use with Sweet Selfie, so my photos always look unique and great every single time!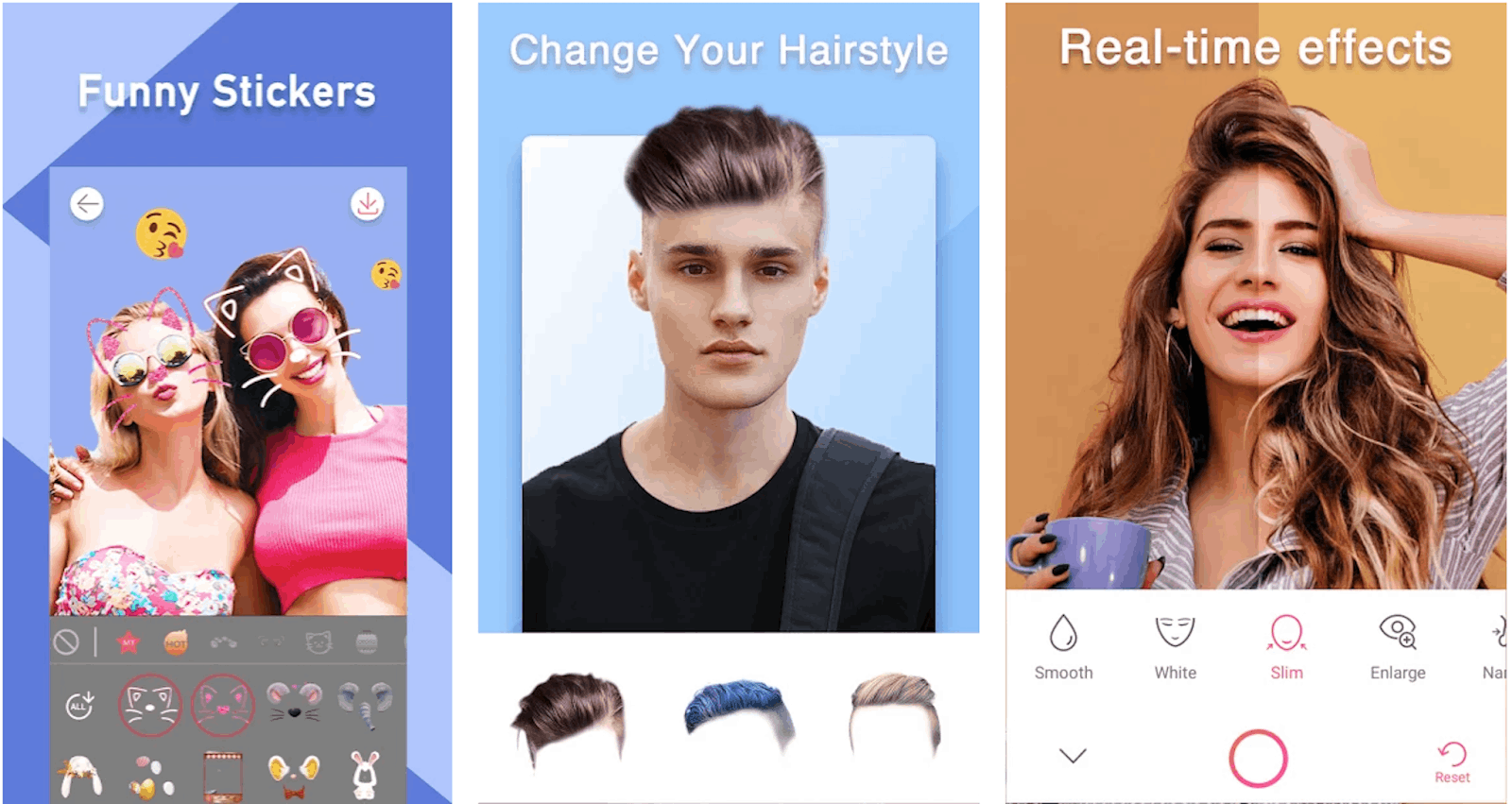 Other settings on the upper part of my screen are the photo size, flash settings, background blurring, and timer.
The timer can be set for three, five, or 10 seconds. Unfortunately, the background blur function cannot be modified, but it would have been great to set the intensity of the blurring effect and position where the focus is.
One-Touch Settings
The one-tap touch capture is not the default setting, so it must be switched on. To do this, I just tap on the three-dot icon on top of the screen and choose the icon with the index finger.
Capturing a Photo with Sweet Selfie
I press the big red button to capture either a video or a photo. After the photo has been captured, I can still refine and edit the photo by clicking the Edit icon. Otherwise, I press the red button with the arrow to download the photo on my gallery.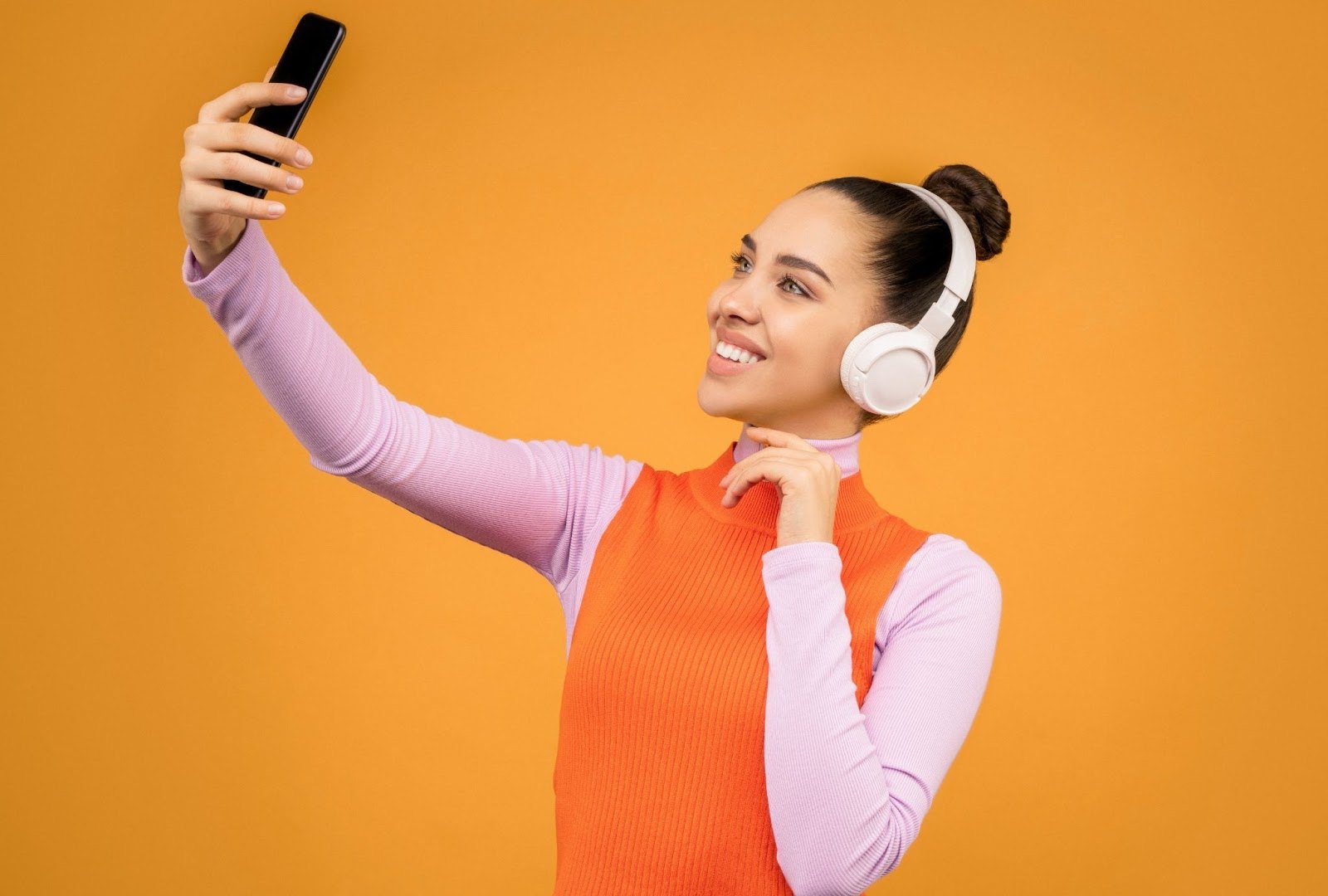 Options to share the media on platforms such as Messenger, Instagram, and Facebook also appear after I tap the Save button.
When I do not feel like going through all of the settings, I tap on the Auto button and let the app do the rest. Most of the time, the edited photo or video turns out fine, but sometimes the edits can go a little overboard, so I still refine and tune the photos.
With the right balance, I can get the perfect photo. It took me a while to figure out how to use the app and achieve the right balance for photos without them looking too edited or distorted.
Creating a Collage
I press the Collage icon beside the camera icon on the Home page to create a collage. I am asked to select up to nine photos.
After that, I chose from an array of grids. There are a lot of predesigned grids with colors, borders, and stickers to choose from. I tap on the plus icon to see more preset grids.
I usually go with the plain multi-grid collage to keep it simple. I check the position of the photos and try on multiple grids to see how the photos look. Creating a collage is simple because after I tap on my favorite grid, I press the download button on the upper right-hand corner and share it when I want to.
Conclusion
There is nothing wrong with looking good in photos to boost self-esteem and self-confidence. With the Sweet Selfie app, I have all the tools I need to help me achieve a perfect and sweet-looking selfie that I am proud to show people.
My overall experience in using this app has been so far great—I'm still using this app until now for all my photos. Choose for yourself whether you want to use this app and experience the magic of Sweet Selfie.