Changing your voice to someone else's and speaking in their tone is such a fun activity. We all have tried doing this in our school days, haven't we?! Even as adults, we often try to entertain kids with funny voices and make them laugh.
Well, what if there was an app that would alter or change your voice to other things like animals, aliens, zombies, robots, etc., while still maintaining the originality of your own voice?
Today, there are many apps available through which you can have fun by changing voices to a hamster speaking your words or in superman's voice! Wouldn't that be awesome? Then let's get started by learning how apps can change voices.
Voice Tooner
Super Voice Editor
Voice Changer With effects
Just4laugh
VoiceFX
Voice Changer – Superhero Voice Game, Sound Changer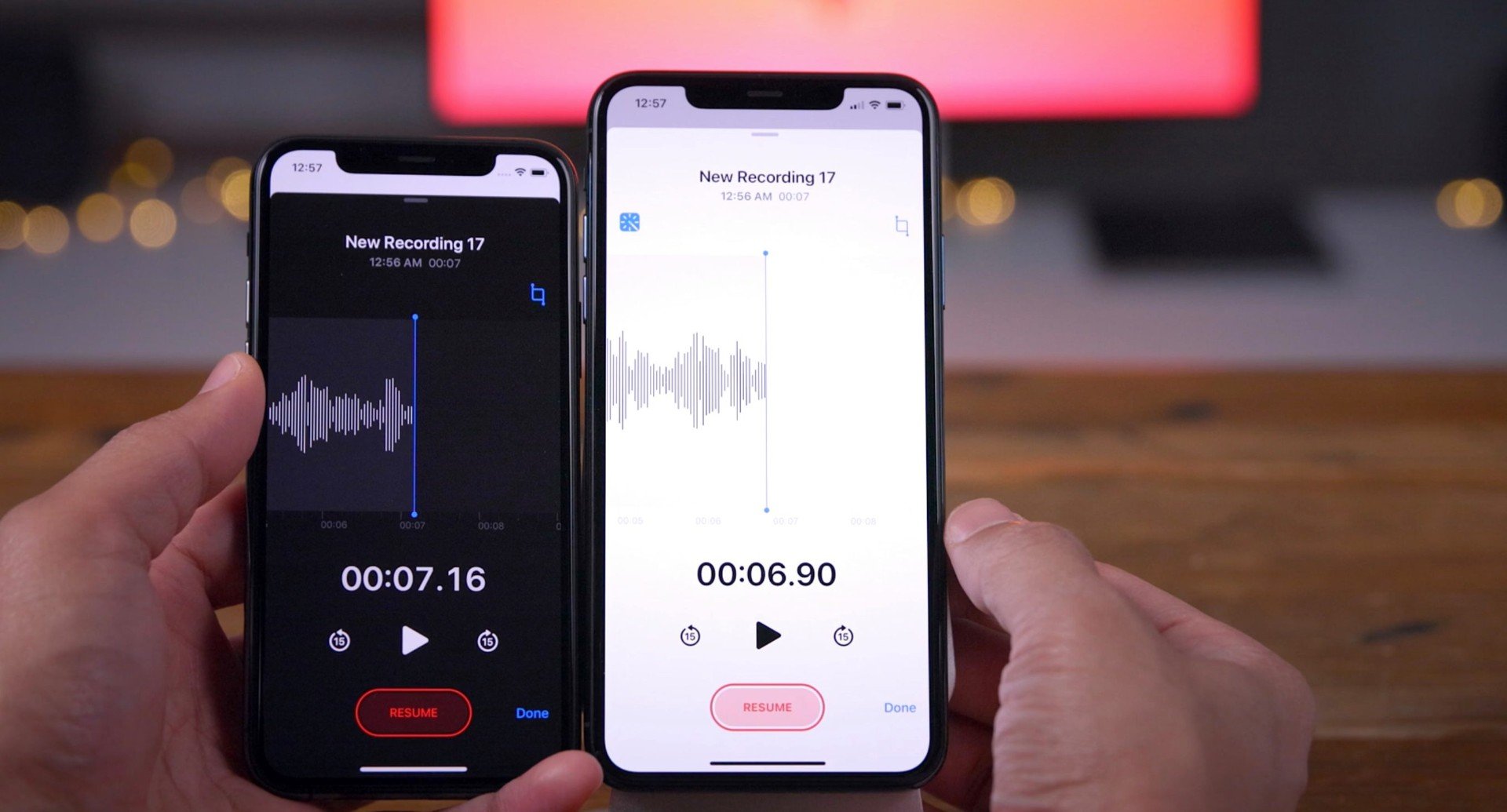 Voice Tooner
Voice Tooner is one of the best apps for changing voices, and it's all about fun and entertainment. The app was brought to light in 2017 by Baviux Apps and Games. Today, Voice Tooner tops the chart by far per user reviews, and they guarantee to provide us with unlimited joy.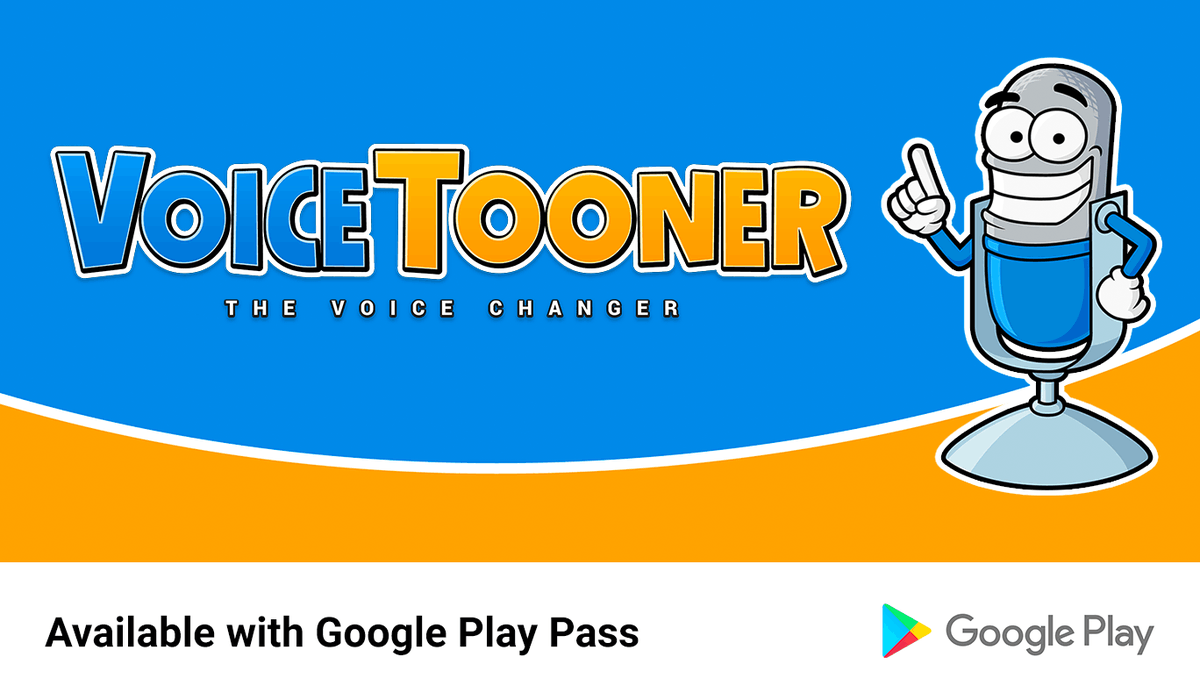 We tried the app and found it to be kid-friendly and very easy to use. The app works just like a recording device. Here's our experience of using it – when we clicked on the record option, it started recording as we spoke.
We could say anything we like in the app or even sing a song, which picked up the speech pattern pretty well. The exact same speech was spoken or sung back to us in different voices.
The app can be downloaded from Google Play Store for Android users or on the App Store for iOS users.
Voice Tooner – Key Features Uses
Is it possible that we can hear the sentence we just spoke in backward order? Yes, it is! This is one of the unique features of this app: the spoken words or the recorded song can be played backward.
We all have tried and enjoyed speaking by inhaling helium at parties. Those who have missed it can try this amazing feature in this app. The app also seamlessly allows us to share what you have created and bring a smile to your loved ones.
This app is mainly used at children's birthday parties to keep them entertained, in the music industry for sound effects, in YouTube videos for external voices, to make GIFs, and more.
Super Voice Editor
Yet another smart and funny voice changer app is Voice Editor. There are plenty of voice changers from male to female, robots to aliens, kids to adults, etc.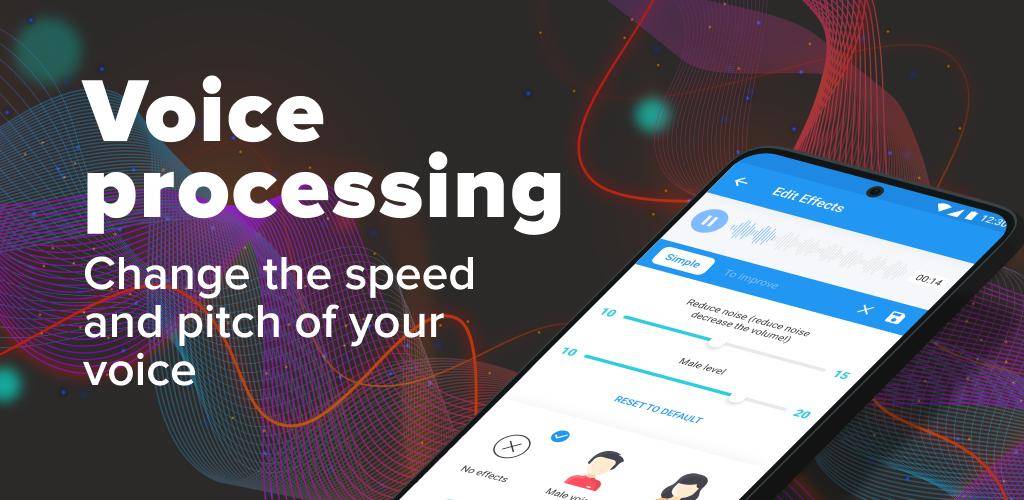 The app helps us to record the voice and change it to any other voice we like. Below the voice changer option, there is an option of changing the background scene of our voice.
We can also customize the pitch of our voice through this app. Sadly, this app is available only for Android users.
Super Voice Editor – Key Features And Uses
In this app, the features that we come across are panning of our voice, 3D rotation, tempo rate and pitch, and equalizer with bandwidth.
The most interesting feature is that it can change the voice by recording and using your device's existing audio (ex. songs).
This app can be best used for background effects like karaoke, studio, and theater. Moreover, it can be used to customize your voice or the audio and reverb it with dry, wet, room size, damp or width effect.
Voice Changer With Effects
As the name of the app itself suggests, here, the voices are changed with effects. This app consists of more than 40 different characters with unique voice clarity.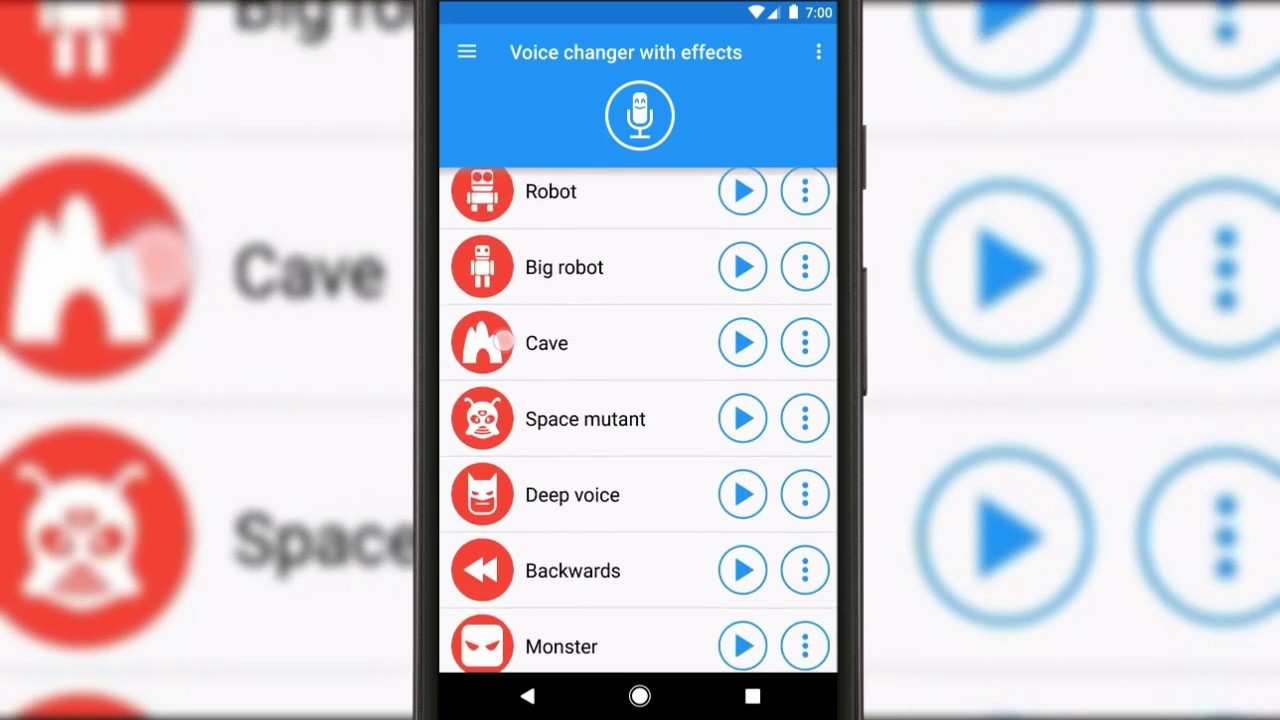 We can also share the modified voice with friends and family. An interesting trivia here is that this app was downloaded more than 100 million times and has the best reviews for any such app across the globe!
The Voice Changer with Effects app records the external voice and converts it into all the characters or effects it can provide, and presents it in a list at once.
We can click on the play button present in front of each voice in the list and play any effects any number of times. The app is available on Android as well as iOS platforms.
Voice Changer With Effects – Key Features And Uses
One of the most interesting features we can explore on this app are emotions – the voices are changed as per emotions like words spoken while crying or while being nervous. Another refreshing feature available on the app is the underwater effect. This helps you listen to the voice as spoken underwater!
Another feature is the piano effect – it alters your voice as per the key we play on the piano and overwrites it on the audio recording.
Just4laugh
We all have fooled our friends by calling and speaking in a different voice, but we always got caught. Not any more! Here is another chance for us to have more fun by using the Just4laugh app. This app changes the voice of the user perfectly to any other voice during a live call with the help of AI. It is one of the best voice changer apps across multiple countries.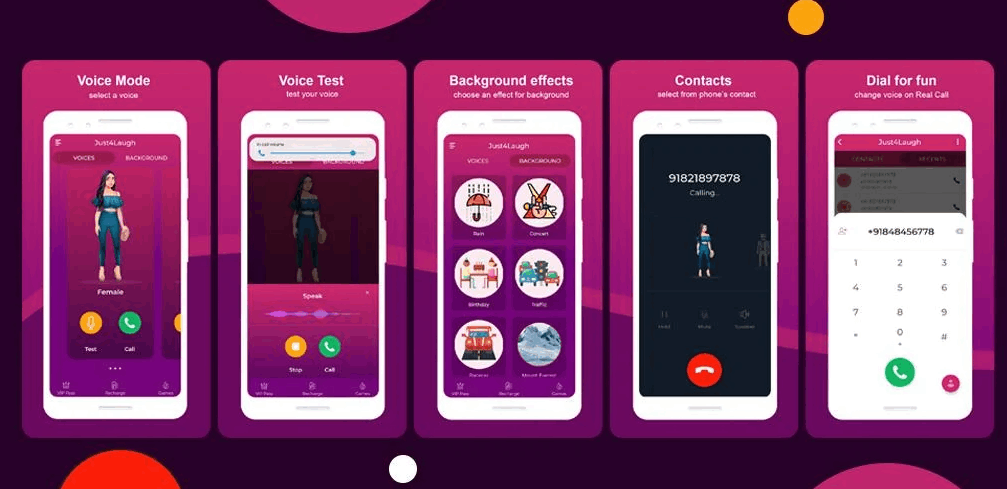 This app allows the user to call their contacts present in their phone book and helps to speak with them in different voices. A male voice can be converted into a female voice during the call or vice versa.
Well, we found this app to be super cool and interesting!! You can download the app from Google Play Store – it's worth a try!
Just4laugh – Key Features And Uses
A great and unique feature of this app is that we can change the background effect of the caller during the call, like rain, in concert, in traffic, etc. Your voice can even be changed to Don's voice!
Just4laugh is one app that makes it super easy to change voices to the other gender and other beings while on the go.
Just as the name of the app suggests, it can be used to have fun with friends and family. It is mainly used for pranking others for fun.
VoiceFX
VoiceFx is a voice changer app that lets us change the voice to the funniest voice that we can imagine. This app enables the user to live stream the voice to any web browser or media player.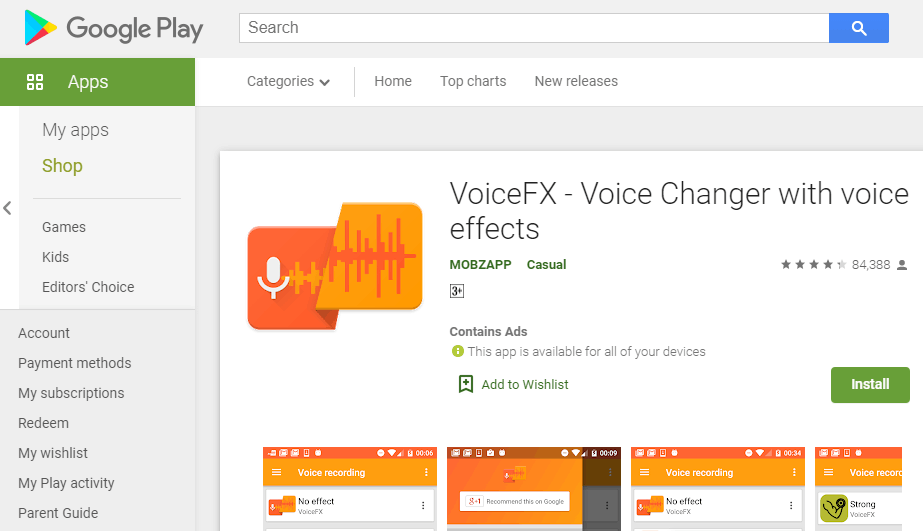 VoiceFX came into existence in 2016 and has been one of the most famous apps among many countries. By recording our voice, we can change the speed and change the quality of the audio with the help of the encoding bit rate option.
VoiceFX has a very user-friendly interface. One can even select and set the streaming port in the app settings. And guess what? The app is available both on Android as well as iOS platforms.
VoiceFX – Key Features And Uses
The features of VoiceFX are pretty amazing. This app contains a live playback option to change the voices live and save them in the app library.
We can also load music, change the voice of music, and share the Mp3 to any social media platform like Whatsapp and Facebook.
VoiceFX is mostly used in live streaming of the music or voice online by sharing the link to any other device browser anywhere in the world. This app is also used to auto-tune our recorded voice.
Voice Changer – Superhero Voice Game, Sound Changer
We can change our voice to that of our favorite movie character and impress our friends through this app. Super Voice Changer can record our voice and change it into robot, cartoon, animated heroes, female and baby effect. It is a perfect voice editor and voice filter.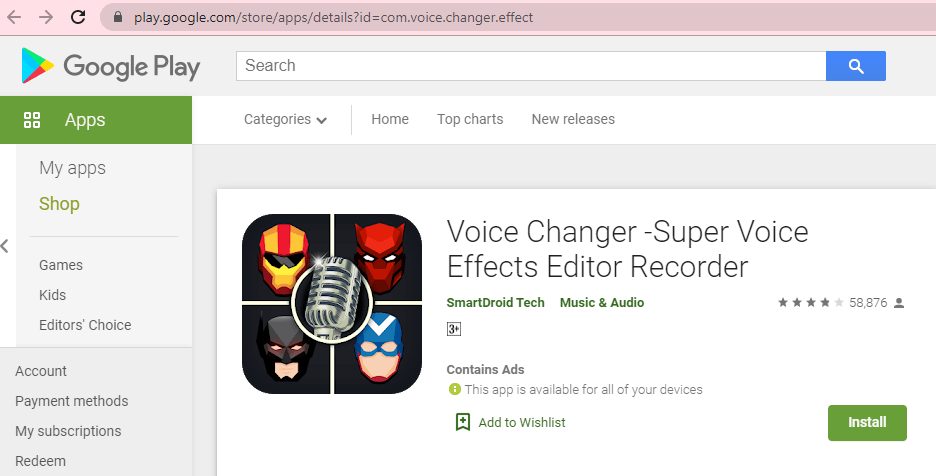 This app works just like a professional voice artist or a voice disguiser. These effects can also be applied both on recording and audio present in the device. It consists of a library to list all the changes made on the sounds and a separate list for original voices.
The app can be downloaded for free from Google Play Store.
Voice Changer – Key Features And Uses
A commonly used feature in this app is voice message which helps us send voice messages through any social media platform without compromising security.
It also consists of a feature called recording quality which lets us set the quality of the audio and can help store the saved files in the device to share easily.
It is used in multiple areas, especially in voice-changing studios, as it has a special quality of dual voices. Voice Changer can also be used to set your mobile ringtone by changing your voice pitch and speed!
Conclusion
There are multiple apps for changing voices. However, every app works more or less in a similar fashion. Their results and effects are unique compared to each other. Every feature has its own importance in the app and gives a unique output.
The best part is that these apps help change voices for fun and can be explored in other areas such as the music industry, film-making, editing, voice-overs, and more. Who would have thought changing voices can be so easy!