Facebook Messenger is one of the most popular texting apps in the world, and being so popular, lots of chatting is done on the platform. It holds a ton of messages and for people who frequent the app a lot, this can be where lots of important information is.
What then happens when you mistakenly delete some messages? Retrieving them would be the next thought that comes to mind, and is what would be discussed in detail in this post. 
Keep reading to find out how to recover your deleted messages from Facebook Messenger.
Methods of Recovering Messages

Restoring Archived Messages from iOS

Facebook Data Download on the App

Facebook Data Download on a PC

Using File Explorer to Retrieve Messages

Retrieving Messages Using Stellar Phoenix Data Recovery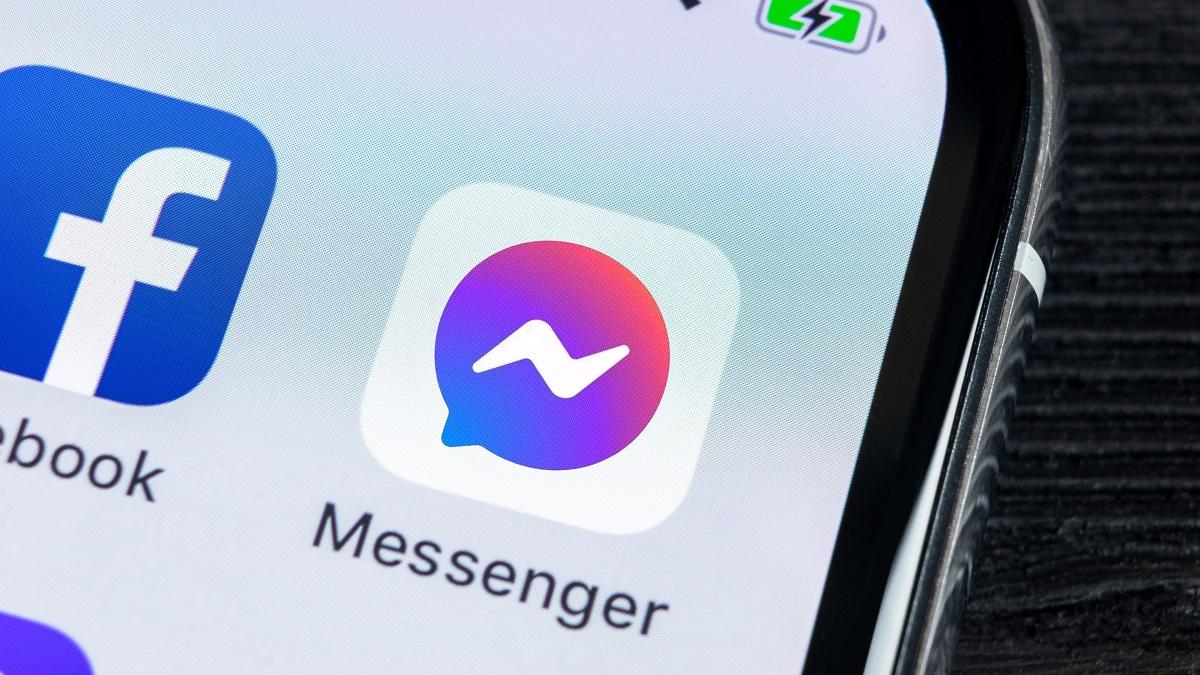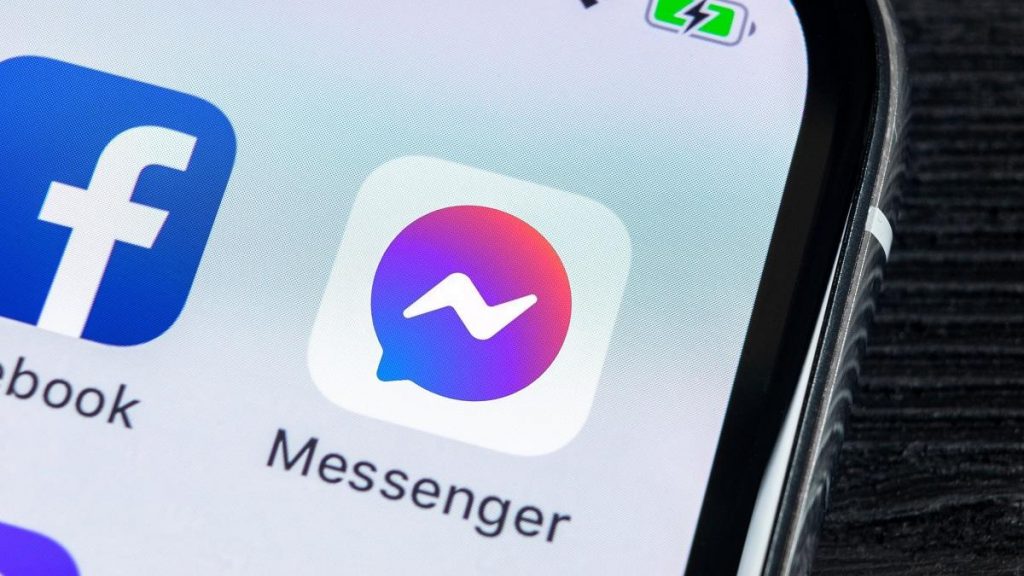 Methods of Recovering Messages
So, you have accidentally deleted a couple of chats or you cannot find them and believed you deleted them by mistake.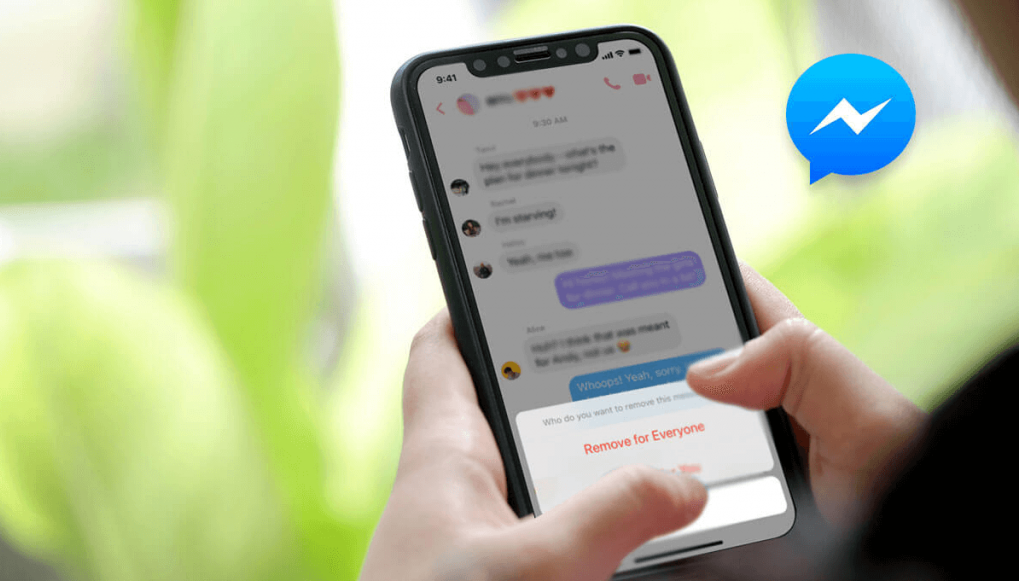 The good news is that you can even carry out this task across various devices. From your Windows PC, Mac, iOS, and Android phones, you have a range of devices to get back those old messages once again.
Let us dive into three of the major devices you can use to retrieve your messages: an Android mobile device, an iOS mobile device, and your PC. 
We'll also look at other methods for recovering messages, like using third-party restoration software available right on the app stores.
Archived Chats
Retrieving messages can be easy if those messages were archived beforehand. Messages on Messenger are not stored in the cloud unless you back them up. 
To avoid going through all this hassle of restoring deleted messages, it is best to back up your chats or archive them since archived messages can be easily restored.
Restoring Archived Messages from iOS
Sometimes, we think we deleted a message, but they were archived instead. Archived messages are hidden from you and are not found in your inbox. They can be restored easily though as they are not completely deleted and are still somewhere in the Messenger app.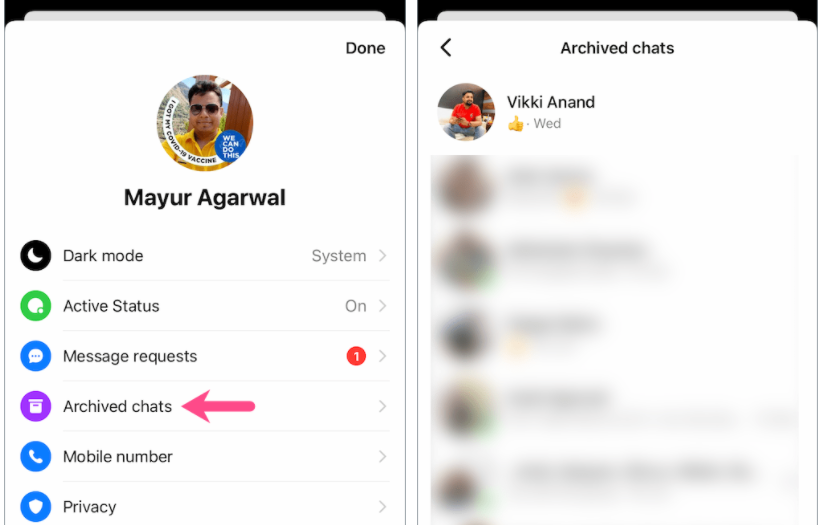 We know that iOS and Android have slightly different ways of operation due to their different operating systems. Let's take a look at how iOS users can retrieve their messages from Facebook Messenger.
To retrieve archived messages from your iPhone or iPad, first, launch the Messenger application. Next, tap the icon for your profile photo in the upper left corner of your screen. This shows a menu of available options.
Find the "Archived Chats" option which is located towards the middle of the page and click on it. A list of your archived chats would show on the screen from where you can select the chat you wish to unarchive. To unarchive, swipe from right to left to return the chat to your inbox.
Restoring Archived Messages from the Android App
For Android users, the process is very similar. From the Messenger app, it is pretty easy to restore messages. 
Type the chat name or group name you're looking for in the search field by clicking on it.
Then, select it and click on the "Unarchive" option to unarchive it, which thereafter, it will be found in your inbox.
Facebook Data Download on the App
Facebook keeps messages for an undefined time, so when push comes to shove, and you cannot find a message in the Archived section, it has probably been deleted. One way to restore these messages is by downloading Facebook data.
Downloading data can give you more than just messages. Your Facebook data contains all the details you have uploaded to Facebook.
Start by launching the Messenger app. Then click on the profile picture which is the image at the upper left of your screen. You must scroll down the list and then select the option that reads "Account Settings".
Selecting the Information You Want to Download
Thereafter, scroll through to the 'Your Facebook Information' section and select "Download Profile Information." 
In the list that appears look for messages and select the checkbox. Other checkboxes may be selected, so you have to deselect them so that only the data for messages are downloaded.
At the bottom of the page, click on "Create File." Facebook then starts downloading all your messages and alerts you when it is complete. Go through the long list and locate the chat you need to view it.
Facebook Data Download on a PC
If using your PC, open the Facebook website on your browser of choice to easily access Messenger. Then go to the "Messages" section and click on the "More" option. Locate "Archived" to find the archived messages option. Clicking on this recovers the archived text messages on Facebook Messenger.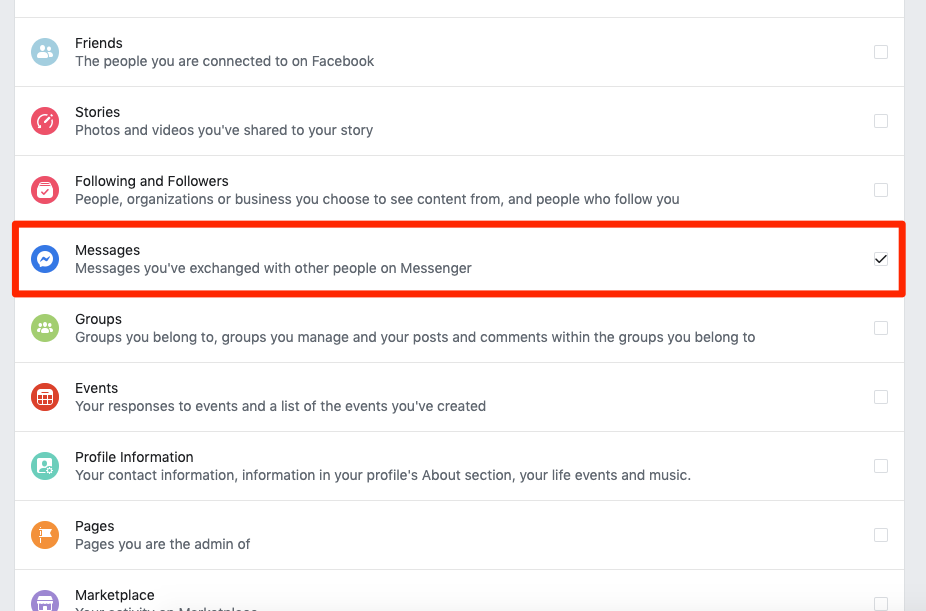 If your messages weren't archived, then from the Facebook home page, click the button in the far right corner that is a pointing-down arrow. From there click 'Settings & Privacy' and then 'Settings'.
Then you will see an option labeled 'Your Facebook Information' on the left-hand side. After selecting it, click the option "Download your information," and click on the "View" button.
Scroll down with the mouse until you find the "Messages" checkbox and select it to copy only your messages among other data. Then click 'Create file' to download a copy of your messages to your device.
Recovering the Messages
When you have a copy, you can rest assured of getting them back anytime. You can do that by logging into Facebook and selecting "Account Settings." Then, at the bottom of the screen, click "Download a copy of your Facebook data."
After that, click on "Start my Archive", "Request my Download," and "Start my Archive" again to gather your information. From the dialog box that appears afterward, click on the link at the bottom of it to begin your download which could take some time.
When that is over, you need to enter your password again. Next, click the "Download Archive" button and it will immediately download your information to your computer. To view, unzip the folder, and then open the file named "index". Click on the file named "Messages" and then you can access all your messages.
Using File Explorer to Retrieve Messages
Since the messages are somewhere on your Android device even though they have been deleted from the app, you just need to figure out how to extract them from your device.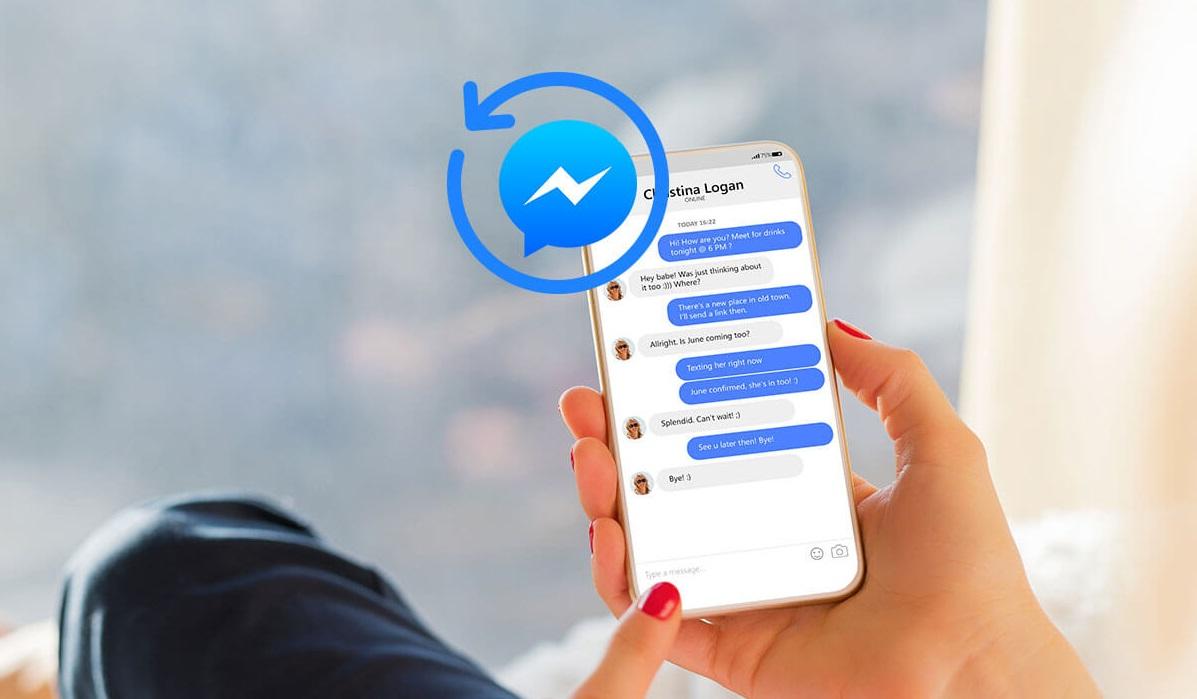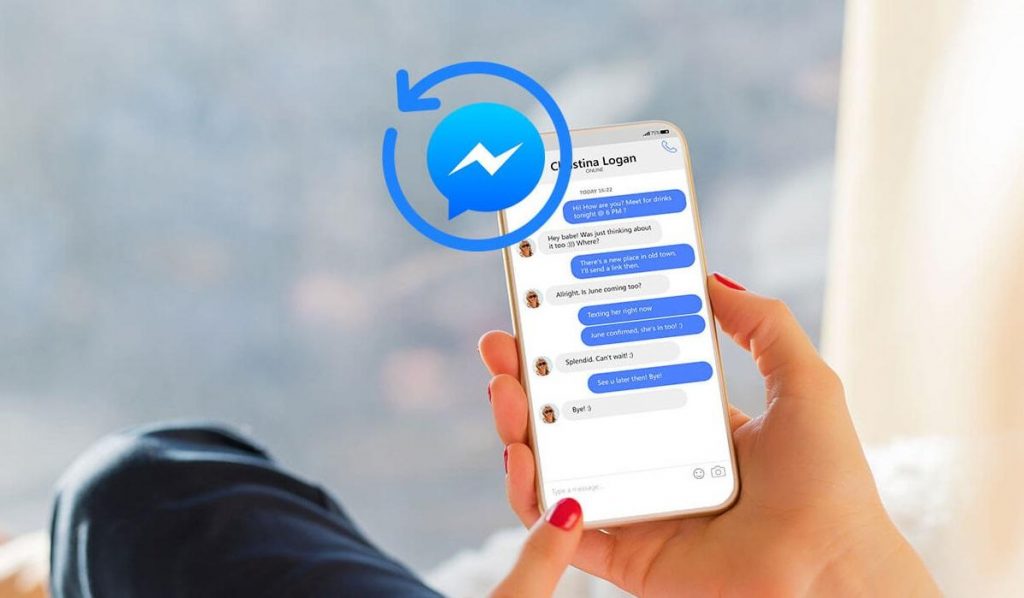 A helpful tool that can assist you with that is File Explorer.
Having this app on your device already would be great, otherwise, downloading it from the Google Play Store is no problem as well. 
After Installing File Explorer, open the app and get ready to rescue your messages.
Fetching Messages with File Explorer
The initial step is to head to your storage/SD card if you have one, otherwise your phone memory is where to look , and click on the "Android" folder. Open the "Data" folder which contains folders related to applications.
Next, choose the "com.facebook.orca" folder, and finally select the "Cache" folder, then finally, "fb_temp." This is where all Facebook messages are stored including the deleted messages.
From here, look for the message(s) that you want to recover and follow the process required by the app and your phone to recover it.
Retrieving Messages Using Stellar Phoenix Data Recovery
Using the Stellar Phoenix Data Recovery app is similar to using File Explorer. The addition is the download of similar software into your PC. When you have it downloaded, run the mobile application, and connect your mobile to your PC.


On your PC, start the software and it will undergo a deep scan of all your mobile phone content. 
Select the files you need from the preview, which in this case is from Facebook Messenger, and then specify 'Messages'. 
Download the selected file, and the file you requested will be saved in a PDF format.
How to Download the Stellar Phoenix Data Recovery App
You can easily download the Stellar Phoenix Data Recovery app onto your smartphone device. For Android users the app is available on the Google Play Store. 
Open the app store and look for 'Stellar Phoenix Data Recovery' by the developer Stellar Information Technology Pvt. Ltd. Select the correct result to go to the app's page and find the 'Install' button. Click it to begin downloading to your device.
Apple users can get the app from the App Store, under the name 'Stellar Data Recovery' by the developer 'STELLAR INFORMATION TECHNOLOGY PRIVATE LIMITED'. On it's app store page, click 'Get' to begin the installation process.
Conclusion
Deleting messages from Facebook Messenger can be a pain when you realize how important such messages are or when their urgency comes up. 
Through this post, the way by which you can fetch deleted messages was shared, and details were provided for devices like Android, iOS, and PC.