Online businesses continue to become the most profitable way of earning in this modern world. Many apps offer features that allow online sellers like me to sell but fail to deliver on their promises. Fortunately, I've come across the Etsy App and discovered so many fascinating things about it.
Etsy is a modern app that allows millions of online buyers and sellers to converge and form a community. The app creates a space where all of us can find, buy, and sell unique items.
It is understandable that many might be hesitant in joining the app. To help you learn more about what the Etsy App is all about, its pricing, and more, check out the article below.
An Online Marketplace for Everyone
Start Your Journey with the Standard Plan
Navigating Through the Etsy App Is Easier
Faster and Safer Transactions with Etsy Payments
Track Your Order, Get Delivery Notifications, and More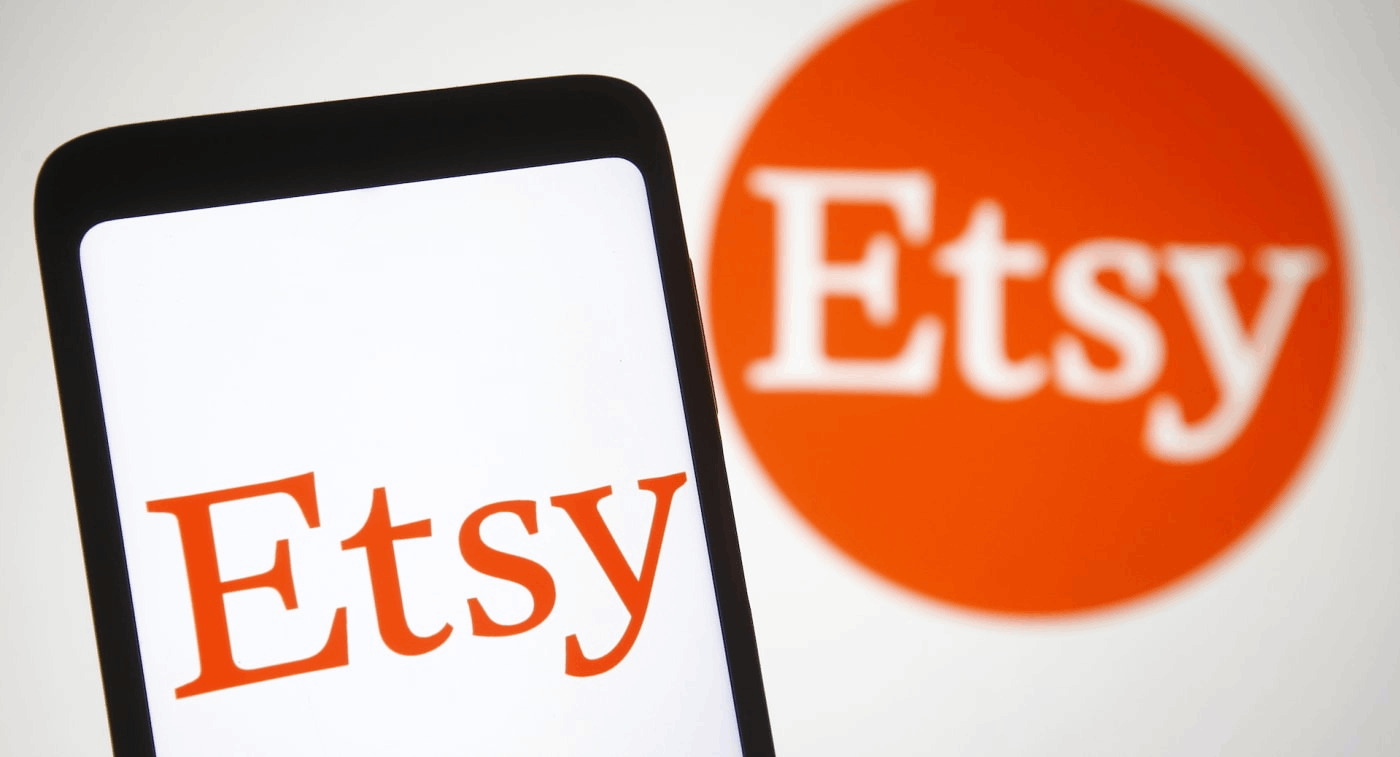 An Online Marketplace for Everyone
The Etsy App is an online marketplace where users can purchase and sell different kinds of items.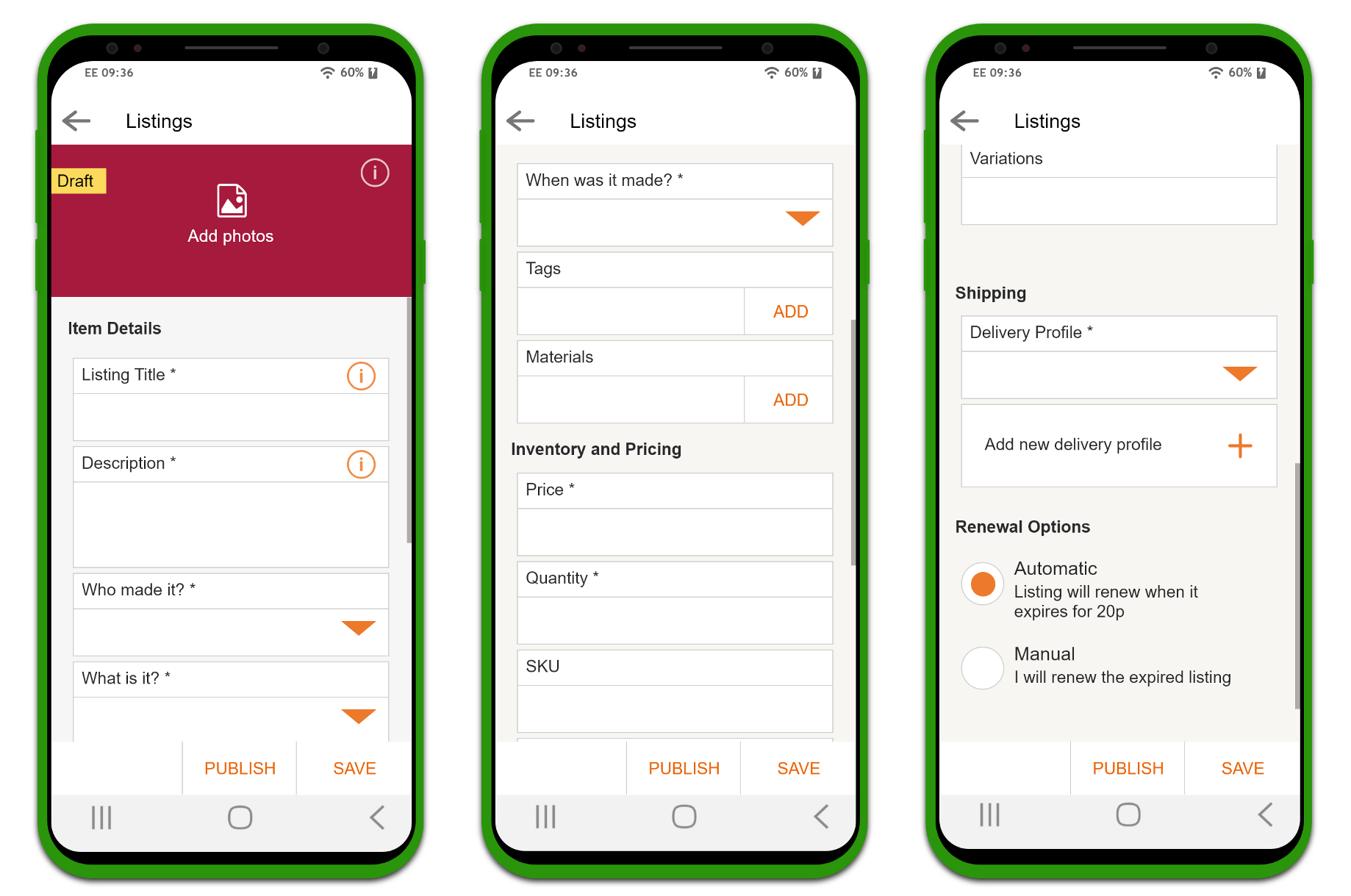 Initially, I was somewhat hesitant to use the app for online purchases. However, when I realized that it has over 89 million users and counting, it's safe to say that it is one of the world's most underrated applications.
The Etsy App hosts more than 5 million active sellers and, while many might think that the marketplace may be saturated, the app still has a lot more to offer.
From small to large scale online businesses, the Etsy App has everything you need to start your online business and optimize it to be successful.
Where and How to Download the Etsy App
Before we try to discuss Etsy even further, let me tell you first about how you can download this wonderful app. Etsy is available on all mobile devices including iOS and Android devices.
To download the app, head over to the Google Play Store or the App Store depending on your device. Then, search for Etsy. Download the app by tapping Install and waiting for it to be fully installed.
While waiting, I suggest that you also link any payment method that you want to use in case you want to make a purchase. Tap Open once the app is fully installed and input all of the necessary information to create an account.
Start Your Journey with the Standard Plan
When we talk about online selling on this platform, it doesn't surprise me that the app takes a percentage of each transaction that I make. It's quite normal for such a platform to have this kind of arrangement knowing that they also need to make a profit to continue supporting the app.
Now, there are two types of plans that sellers can use to boost their online presence on the platform. Let me discuss first the Standard Plan as this will be the most common plan to choose.
The Standard Plan doesn't cost a single cent and allows me to sell on the Etsy App. With this,  I can feature all of my items together with their pricing on the platform.
I can offer discounts and promotions to my customers as well as provide some coupons for them to enjoy. It is basically a very standard arrangement for anyone who wants to avail of this kind of plan.
Go All-in with the Plus Plan and Expand Your Horizons
I highly recommend using the Plus Plan if you want to go all-in with Etsy. The Plus Plan costs $10 a month and has all the features of the Standard Plan and more.
With the Plus Plan, I have advanced customization options that allow me to personalize my online store within the platform and fully create my branding. There's also a banner option alongside new layouts.
The best part about having the Plus Plan is that I get $5 in Etsy Ads credits every month, plus discounts on custom packaging and many promotional materials. This is the best plan to take for those who want to expand their presence online and market their online store aggressively.
Navigating Through the Etsy App Is Easier
One of the best things that have come out of the Etsy App is the convenient interface. When you're a buyer who simply wants to get to an online store and pick items to purchase immediately, you always want the best experience possible.
The Etsy app has one of the best interfaces that I've seen so far in any online selling app. The simple interface makes it so that both buyers and sellers can easily go through all the products.
As a seller, I can add products and manage orders without having to deal with a lot of menus. I can list all of my products in the online store seamlessly.
Managing the store is also very easy since the app doesn't have complicated navigational tools.
Personalize Your Online Shop with a Wide Variety of Design Tools
Designing and personalizing your online store is a complex process on its own. Thankfully, Etsy offers a plethora of design tools that I can use to customize my Etsy shop.
Sellers who want to personalize their online shop will surely appreciate the myriad of options such as shop icons, profile photos, banners, and a lot of small design spaces that I can add to make the shop more enticing to look at.
Etsy has also partnered with Canva to bring even more customization to the app. I can rearrange the items and access a long list of design themes that will help customize my shop and make it more attractive.
Faster and Safer Transactions with Etsy Payments
Next, let's talk about payment processing and how Etsy offers two online payment processes for its users.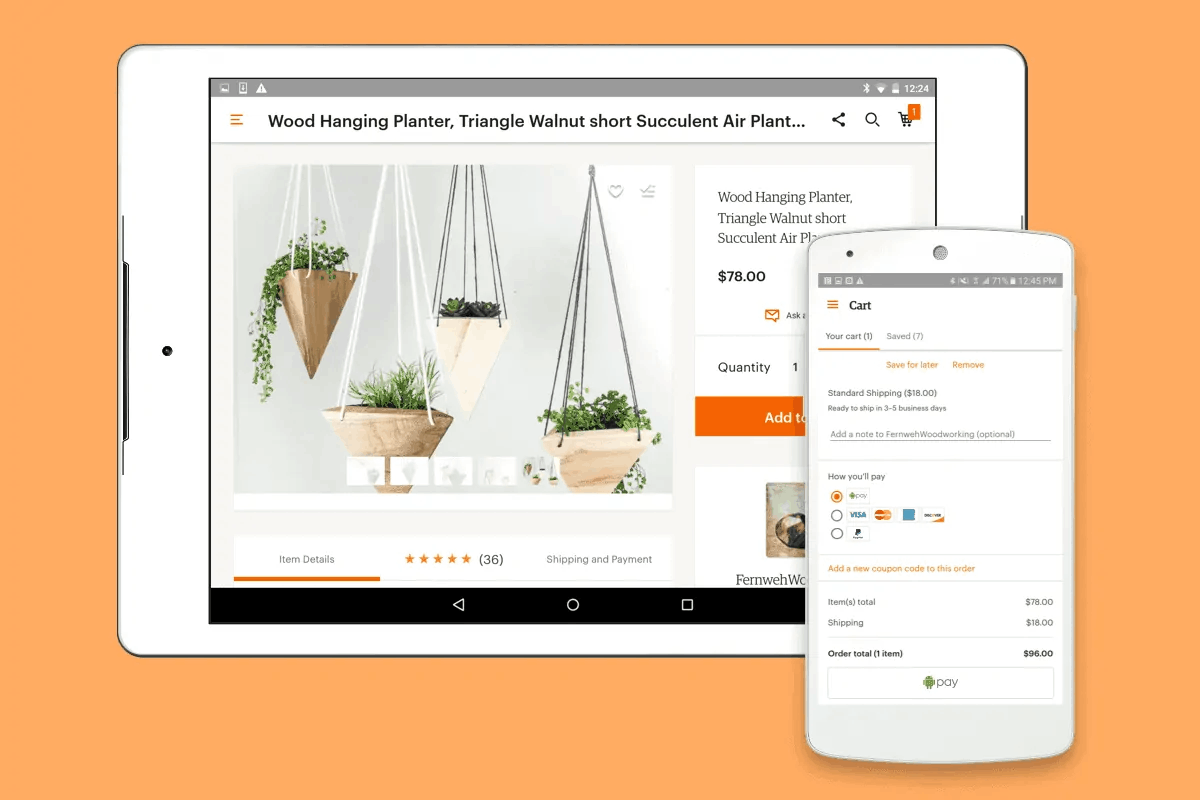 The Etsy App offers an in-house payment processor called Etsy Payments but is only available in 36 countries. This payment method also accepts services from Apple Pay and Google Pay.
For countries in which Etsy Payments is not available, PayPal is the optimal choice. Both choices offer convenience to the buyer and the seller since both services are available to a very wide audience.
Rest assured that you'll always have available choices when it comes to payment processing.
Reducing Your Expenses
Talking about payments and finances, one of the reasons why I choose to buy and sell through the Etsy App is its affordability. Selling on Etsy is more affordable and costs less than many other online marketplaces.
This allows me to save on expenses and has given me the opportunity to run my online store better. I get to route my finances from the supposed expenses that I would get on other online marketplaces to other things that optimize my online store.
Running an online business shouldn't be a burden especially for new businesses. This is why I will always choose Etsy.
Track Your Order, Get Delivery Notifications, and More
As a buyer, I always want to know about my order and its whereabouts. The Etsy App has an order tracking system that allows me to track my order from the time it leaves the store to the time I receive it.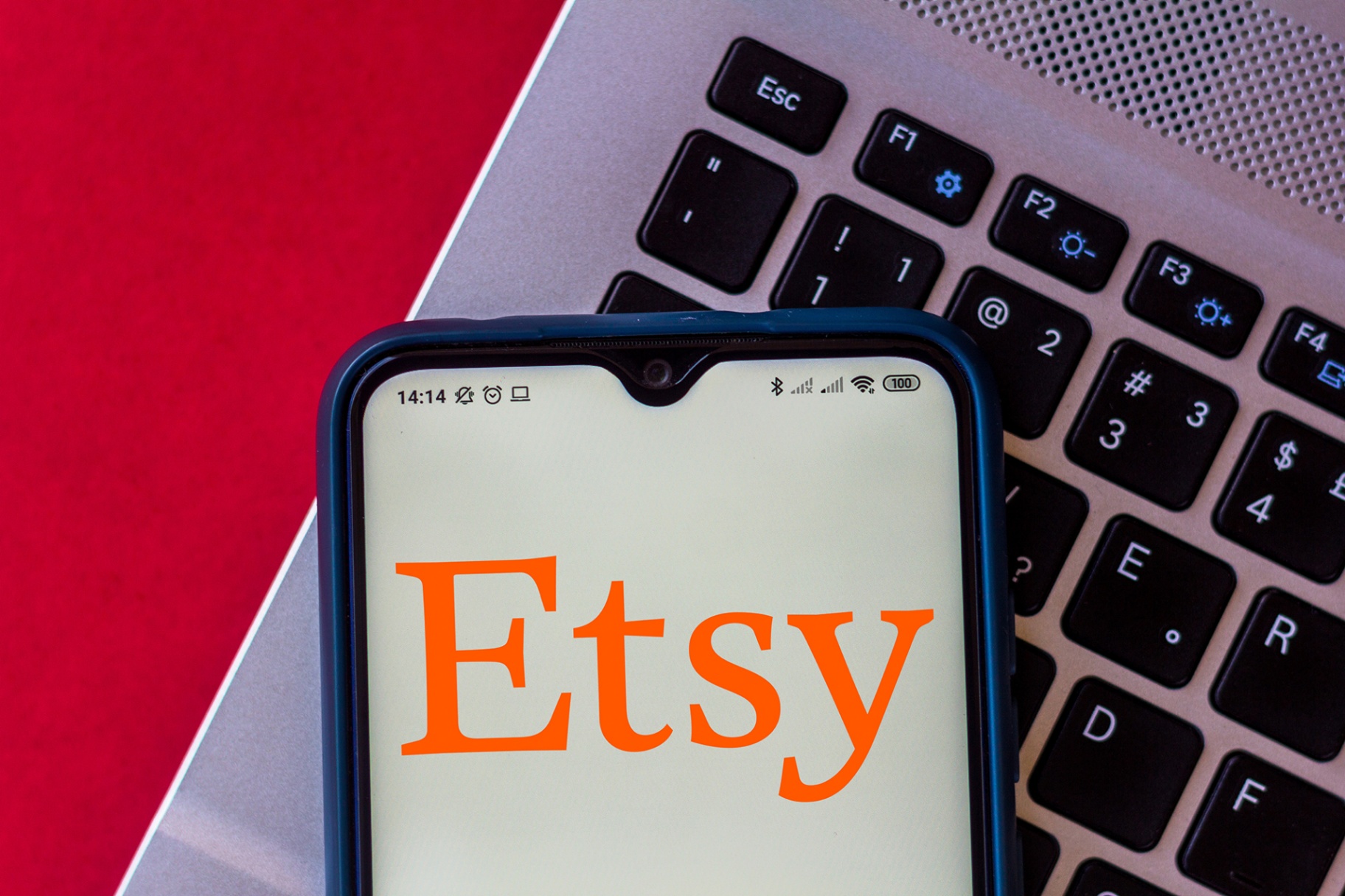 Whether I want to know when my order ships out to the time it finally arrives on my doorstep, I always get a notification on the app. It's a hassle-free experience knowing that I don't even need to get a copy of the delivery code and check it myself.
The app does all of that for me and all I need to do is tap on the notification and read the update. The app also notifies me when new items are added or when my favorite item is on sale.
This way, I'll never miss the chance to save money from sales and special events.
Robust Customer Support
This is the final yet most important aspect when it comes to online businesses—customer support. The Etsy app boasts a comprehensive library of self-help resources that will initially help all users with their common concerns on the app.
There is also a community forum where I can check for updates and resolutions to my concerns. The Help Center and guides provide very distinct instructions to common issues and all of them are kept up to date.
It is impossible that you're running an online business and never encounter any issues. Etsy provides a support team through phone, email, and even live chat. I can submit a request form for any issue that I have and I can expect a reply in a very timely manner.
Conclusion
Many online sellers like me are always on the lookout for the best possible app that can help us achieve a good experience for both parties.
Thankfully, the Etsy App is a great solution. With its simple interface, affordable rates, excellent customer service, and more wonderful features, it's only a matter of time before Etsy takes over the top spot among online shopping apps.