As someone who enjoys interior design, I love discovering apps that support me in this hobby. A few days ago, a friend who studies design recommended the Planner 5D app.
Advertised to help anyone create a beautiful-looking home, I downloaded the app and started testing it out. In this article, I will discuss its potential and the challenges that I've met while using it.
What Is Planner 5D all About?
How to Download Planner 5D
Is Planner 5D Safe and Reliable?
What Does the Free Version of Planner 5D Feature?
Is the Paid Version of Planner 5D Worth It?
Overview of Planner 5D's Features
User-Friendly Interface
Experiencing the Project in a Realistic Mode
Rendering the Completed Project
Downsides of Planner 5D
What Is Planner 5D all About?
Looking at the market, there is a bunch of home decorating tools that allow users to create realistic interiors and exteriors.
However, none of them are as comprehensive as Planner 5D due to its extensive catalog of items and intuitive Virtual Reality mode that offers a realistic sneak peek.
Judging by my experience, this app is suitable for hobbyists, students, and professional designers.
The thing that has me most psyched is the ability to draw realistic floor and wall plans, and I can also let my creativity roam wild with attractive furniture pieces.
Customer Types
As a cloud-based platform, Planner 5D allows me to share my work with friends and family members.
Consequently, it is a perfect choice for freelancers, as well as small and medium-sized businesses, to create photorealistic projects without the need to download third-party tools.
How to Download Planner 5D
To recognize whether the developers did a good job with the app, one of the elements that I take into consideration is the supported devices.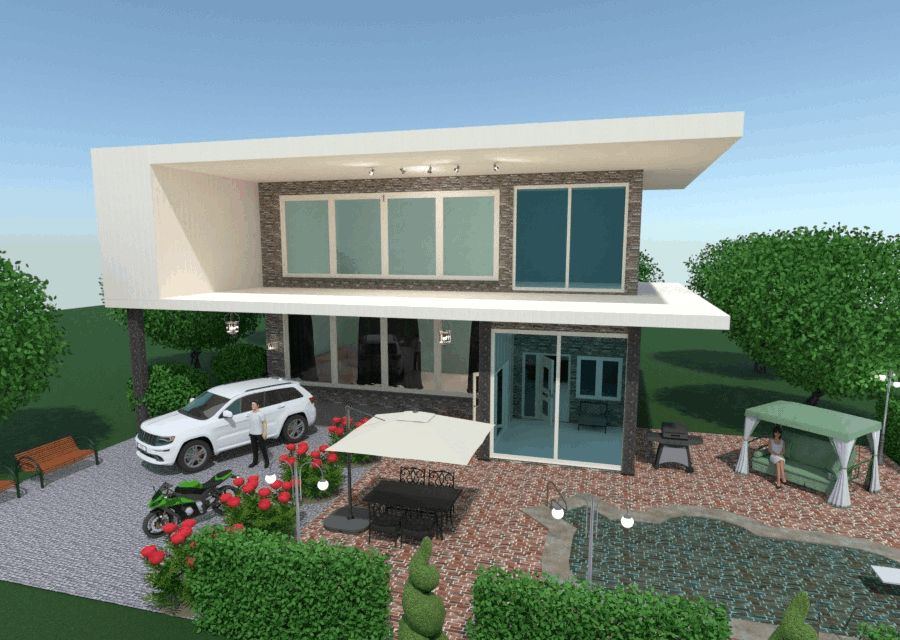 As an Android user, I enjoyed a simple installation process. Planner 5D is available on the Google Play Store and requires 116 MB of storage space.
To run the app, I needed to make sure that my Android was version 4.1 or higher. The setup process is the same for iOS devices, with the app being available at the Apple App Store.
It requires 565 MB of free memory space and an iOS device that is version 12.0 or above. It also offers an interface in a wide variety of languages.
What About the Desktop Version?
After testing the mobile app, I was eager to find out whether the desktop version meets my expectations.
The web-based app is supported by macOS and all versions of the Windows operating system.
Is Planner 5D Safe and Reliable?
I wanted to double-check before I began to be sure that the app wouldn't compromise my device.
I ran a couple of security and anti-malware tests, and the results were excellent. The developers from Planner 5D are legitimate, and the app doesn't require any particular permissions.
This app has thousands of positive reviews on the Apple Store and Google Play Store.
In my experience, it works 99.5% of the time, as there was just a single time that it kicked me out after the latest update.
What About Customer Support?
It is only natural that the app offers a reliable customer support team to settle any interface or login-related issues.
I contacted their email support a few times during my 30 test days, and every time, they came back with a message within a couple of hours.
What Does the Free Version of Planner 5D Feature?
Unlike some of its competitors, Planner 5D is suitable for users on a limited budget.
Its basic version is inclusive and offers access to 150+ free items, as well as the ability to create an unlimited number of projects and view your completed work across different platforms.
The main feature of the free version is the 2D and 3D editor. For someone who is just getting familiar with how to create wall and floor plans, this is more than enough.
Apart from the catalog of 150 items, there are also more than 600 colors, textures, and patterns included.
Features Exclusive for Android and iOS Devices
While the apps that are available on Google Play Store and the Apple Store are almost identical, there are two main differences.
iOS users can utilize the Apple Pencil, 3D Touch Support, and split-screen multitasking for a more intuitive interface.
As an Android user, I enjoyed the Google Cardboard feature that is integrated with the Virtual Reality Mode, offering an immersive reviewing experience.
Is the Paid Version of Planner 5D Plan Worth It?
I have to say that the pricing scheme posted by Planner 5D is rather confusing. Firstly, there are in-app purchases for rendering projects into HD mode.
There are different bundles, including 20 images for $9.99 or 200 for $49.99. The price for accessing the full catalog depends on whether you are signed up for personal, educational, or commercial use.
For personal use, it is set at $6.99 per month, $15.99 for the whole year, and $24.99 for lifetime access to 5,000+ items.
For educational use, it is set at $9.99 per year, while anyone who owns a business in this sphere will pay twice as much for each option when compared to the prices for personal use.
Lifetime Subscription
Satisfied with the results that I got from Planner 5D, I made sure to get the most affordable option, which was $89.99 for lifetime access to all the catalogs plus unlimited HD renders.
In addition, I have the ability to render the texture and patterns. Lastly, by subscribing to Planner 5D, I could enjoy an ad-free interface.
Overview of Planner 5D's Features
The main feature of this app is the editor that allows me to create realistic projects and view them in 2D, 3D, and Virtual Reality Mode.
There is also a Snapshot feature, with which I took images of my completed work. It is great that Planner 5D is integrated with Google+, Facebook, and iCloud.
This makes it simple to export projects on various platforms. The aforementioned catalog feature plays a major part in the functionality of this app.
After subscribing, I got more items than in the free version. Lots of furniture is exported from the catalogs of IKEA, a Swedish brand well-known for attractive designs and extraordinary value.
Supports Offline Use
One of the coolest points about Planner 5D is that I was able to view and work on my projects without an internet connection.
While it can't be synced with other connected devices until I am online, the ability to utilize the editor in an offline mode is impressive.
User-Friendly Interface
Getting started is a straightforward process and includes signing up or logging in with a Google+/Facebook account.
As mentioned above, Planner 5D is a newbie-friendly platform and offers two initial options – start from scratch or start from a template.
In my modest opinion, the template option is just ideal for beginners, and it is available in a few different variants, including kitchen, bedroom, living room, loft, and bathroom.
Among the features included in the template are a bunch of fixtures and pre-set furniture pieces, such as a coffee table, chairs, dining table, sofa, and a TV.
Editing the Template
I had an easy time navigating through the toolbar and adding elements like windows, doors, and other furnishings.
The toolbar saves my most recent choices, which made it much easier to find my favorites without having to look through 5,000 items in the catalog.
There are three different catalog categories, including miscellaneous, electrical appliances, and furniture.
Experiencing the Project in a Realistic Mode
As a perfectionist, I don't like to rush my work. Still, once I was relatively satisfied, I wanted to experience the project from a first-person perspective.
This came down to clicking the 3D button and enjoying the wide variety of available viewing angles.
The mode is simple to control with keyboard shortcuts and on-screen icons. When I was testing the web-based app, it was easy to zoom in and zoom out with the cursor.
The most impressive point of the 3D model is the ability to experience different types of lighting and other fixtures.
Fast and Fluid
The most impressive point of Planner 5D is that experiencing the projects from the 3D model is efficient and glitch-free.
The fast and fluid interface is available on all of the supported devices (Windows, macOS, Android, iOS).
Rendering the Completed Project
Once I was done with exploring the project that I created, the next step was to save the finished work and share it with my friends and family members.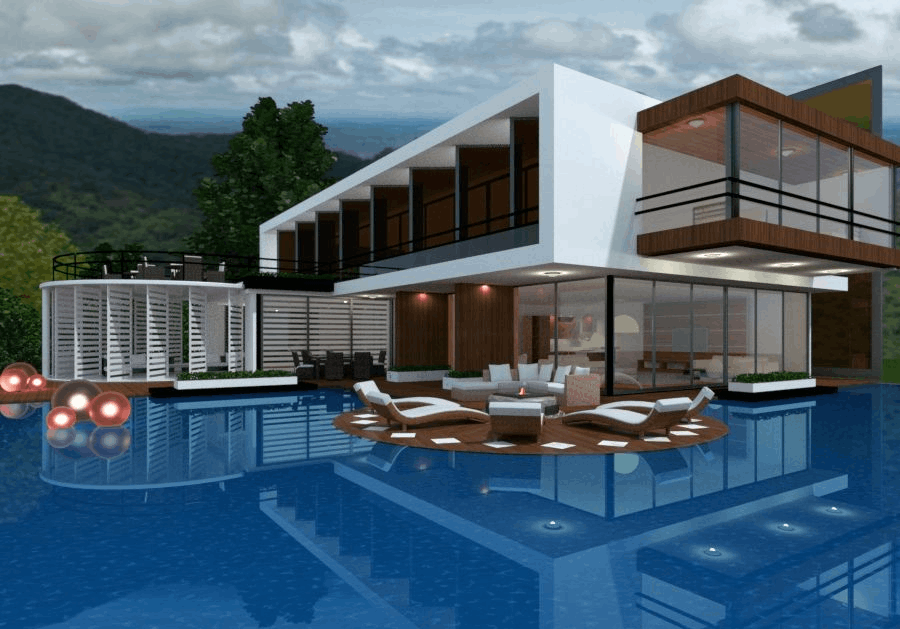 This can be done by taking a snapshot, which comes in the form of a rendering feature. You can pick from one of three options. The first one was a regular image of the view that I was just taking.
The second one is a rendered photo at a resolution of 640×480, which is free and features some of the materials used in the creation of the project.
Share Through a Link
The third option is the HD render image, which is set at 900×675 and is available for everyone who made an in-app purchase or subscribed to Planner 5D.
All projects are automatically saved and feature restricted access unless I allow otherwise.
I shared my work by embedding the link to my website and sharing the project link with my friends and family members.
Downsides of Planner 5D
Similar to any other app, Planner 5D isn't perfect. The main issue that I had is the confusing pricing scheme.
While I do understand that the developers need to make money, they could have made in-app purchases more understandable.
As it stands now, you don't know about all of the features that you will get until you actually subscribe. In my opinion, advertising the paid plan without providing all of the details of the exclusive elements isn't the best marketing strategy.
Full of Ads
The second issue is the fact that I was bombarded by advertisements until I made an in-app purchase.
Summary
Planner 5D is an impressive app that is highlighted by an extensive catalog of furniture and fixtures.
It offers a user-friendly interface and is a platform that I'd recommend to anyone with an interest in interior or exterior design, whether as a hobby or as a profession.