Some people think that organizing a children's party is a simple task: buy balloons, send invitations, decorate the place, and choose the menu. But no, it turns out it's more complex than that. Deciding what the party's theme will be might be the most difficult part because it will affect everything from the location of the party to the games that will be played.
If you are about to celebrate your child's birthday and you have been wondering what you can do for weeks, we explain how to choose the theme of a children's party so that you can start preparing everything you need for that special day.
2 and 3 Years
When choosing the theme of a children's party, there is one aspect that you must take into account, and that will give you all the answers you need: age. Maybe since you were pregnant, you dream of throwing your daughter a princess party, but it may be better to wait if she is only two years old. Similarly, you may feel like your little 12-year-old deserves a Mickey party, but at this age, that is a thing of the past.
If it is a birthday boy between 2 and 3 years old, the most common themes are Barney, Backyardigans, and Playhouse Disney. If your child does not have a favorite character yet, you can decide on some details: flowers, dinosaurs, butterflies, cars, etc. When we grow up, we remember a few details about staying, so do not exhaust your best ideas on this birthday and better save them for later.
Birthdays for children between 4 and 7 years old are usually the most unforgettable since at this age, it is common for them to have a favorite movie, character, or sport.
The most common themes at this age are Disney princesses, Dora the explorer, Tinkerbell, the fashion movie, superheroes, Barbie, SpongeBob, pirates, Transformers, Iron Man, Toy Story, Eurocup, ballet, among others. The key will be to discover what your child is most passionate about and set the whole celebration around that theme.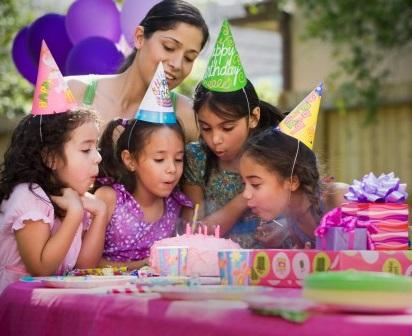 8 and 9 Years
Choosing the theme for a party for children between 8 and 9 years old is perhaps more difficult than at other ages since many begin not to want to be treated as children and begin to be interested in activities that do not correspond entirely to their age.
In general, they are more intimate parties, with the best friends from school and without any very childish theme. The following activities are always the order of the day for children: rent a soccer field, organize a game with their friends, take them to the cinema to see the current movie, or organize an afternoon excursion.
For your part, the girls enjoy going out with their friends, having an afternoon of tea, going to the concert of their favorite singer, skating, or spending the day in the pool.
The most important thing at 10 and 11 years is fun. If your child is a boy, an afternoon of video games with his friends or a Saturday at an amusement park will be ideal options for this pre-adolescent. If it is a girl, you can pamper her by giving her a spa afternoon with her best friends or throwing a karaoke-style party, because feeling adult is all she wants.
Adapted and translated by The Cop Cart Staff
Sources: Uncomo