One of the best and most recommended practice for being healthy is to keep your body hydrated, but when it comes to hydration and health consciousness the only thing which comes in our mind is Water. There's no doubt water has its own benefits and health aspects but then you might also want to consider other options you have which can provide extra health benefits due to their ingredients and compositions. Among many one is claimed to be Patriot Power Greens which we're going to discuss today with you after detailed analysis and research. If you are here then you might have several questions and want to know, What is patriot power greens? How it works? What are the ingredients? Does it really work? How much it costs? Is it a scam? To get answers to all your questions just go with the flow or if you're in a hurry just jump to the 4 Reasons To Avoid Section.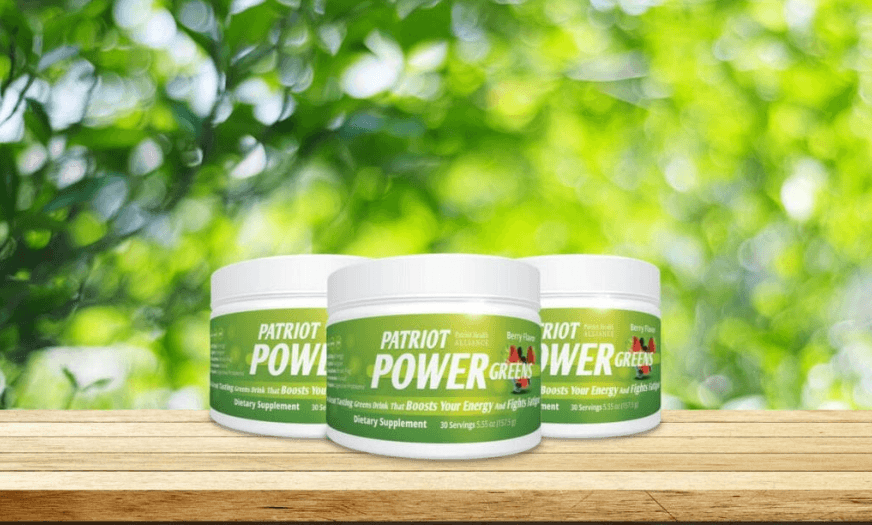 What Is Patriot Power Greens?
Patriot Health Alliance is the manufacturing company of Patriot Power Greens. It is based in Salt Lake City, Utah which is claimed to be making donations to the U.S. Armed forces under your name if you buy their products. It was claimed to be created initially for Military personnel only in order to restore their energy and enhance their vitality. It is nutritional Superfood supplement and is also referred as anti-aging medicine. The manufacturers claims that it targets joints, hips, knee pain, physical fatigue and poor memory. According to the official website the ingredients are sourced from multiple countries including United States & South America. Although the official website doesn't provide sufficient information and no evidence at all to back up their claims, but lets dive into more details.
How Patriot Power Greens Work?
Patriot Power Greens faces challenge as their are other competitors in the market which offer better results with more claims such as Organifi, Juie Plus+, Athletic Greens & Burn TS. So how can you determine which product to buy and how effective it is? Well in case of Patriot Power Greens its developed to target inflammation, as according to manufacturers if you have joint issue or pain it is usually catalyzed by inflammation so to prevent such scenario they have developed Patriot Power Greens. Also inflammation increases naturally as we grow older so its best suited for senior citizens.
Patriot Power Greens is also claimed to target cholesterol levels. It also helps in increasing metabolic activities of body as well as provides necessary vitamins and minerals. The manufacturers also claim that it targets digestive system and aids the process of digestion, but to back up the claims there's not enough evidence provided by the manufacturers on the website.
Patriot Power Greens Ingredients
The Official website has provided the ingredients used in manufacturing of Patriot Power Greens which include Organic ones as well. According to manufacturers the product does not contain Gluten, Wheet, Dairy, Soy, Shellfish, Egg, Fish, Peanuts and is composed of 100% Natural Ingredients.
Agave Inulin (Starchy substance present in herbs and vegetables, safe to use for adults but should be avoided during pregnancy & breastfeeding.)
Organic Spirulina (Helps in digestion but due to its composition could lead to temporary cramps, nausea, vomiting and weakness)
Beet Juice Powder (Its considered good for weight loss as it contains Vitamin C, Dietary Fibers, Nitrates, Betanin & Folate. Drinking it empty stomach could cause discomfort)
Organic Apple Powder (It helps with diabetes, digestive problems, heart issues and weight management)
Organic Kale (It got hype because of sulfur-containing phytonutrients and provides regularity in digestive track)
Enzyme Blend (Protease, Amyglucosidase, Cellulase, Amylase, Protease, Lipase)
Kombu Seaweed (Its high in Iron, Vitamin C, K, B-12, Iodine and nutrients. Usually its considered safe but it can also lead to burning sensation in mouth or throat as well as vomiting and diarrhea)
Acai Juice Extract (It helps in protecting body against inflammation, aging, neurological diseases, infections and cancer. Eating too much acai berries can lead to bleeding and blood pressure.)
Amla Fruit (Its bitter but can be eaten fresh, it helps in terms of coughing, digestion, acidity and cold)
Wolfberry/Goji Extract (Its found in Asia and helps regarding diabetes, high blood pressure, fever and age related problems. Goji berries are considered safe and doesn't have significant side effects unless you have certain health conditions or if you are allergic to it)
Wakame Seaweed (Its low in calories and rich in nutrients. It enhances your metabolism and digestion, sea farmers in Japan produce it as well)
Nori Seaweed (Its a sea vegetable and is rich in iodine as well as provides significant benefits in terms of hair, skin, teeth and nails)
Organic Broccoli (Its a great source of Vitamin C & K as well as provides sufficient fibers and potassium which helps in healing processes)
Organic Spinach (It is grown without use of any fertilizer, pesticide or herbicides and considered to be 100% natural. Organic Spinach provides Vitamin A, C, E, B6 & K as well as zinc, protein and fibers. It has no significant side effect but many benefits)
Prune Powder (It is considered great for digestive problems such as constipation)
Pineapple Powder (Its a great source of Manganese and helps in nourishing your nervous system and brain)
Pear Powder (It contains high amount of vitamins, calcium, potassium, manganese, copper, nutrients and antioxidants which help in boosting immune system as well as lowering cholesterol levels.)
Organic Cranberry (Its an excellent natural source of Vitamins and anti-oxidants)
Organic Sweet Potato (They are great source of Vitamin A, C, B1, B2, Dietary Fibers, Niacin and potassium)
Organic Noni (It strengthens your immune system but could lead to diarrhea and liver toxicity during the process)
Organic Pomegranate (Its high in manganese, foliate, Vitamin K and potassium)
Organic Papaya (It lowers cholesterol, boosts your immunity, improves digestion and helps in menstrual pain according to MSN)
Organic Lemon (It promotes hydration as well as is a good source of Vitamin C. It aids digestions and helps in weight loss)
Organic Grape (It helps in digestion as well as may help in protecting against cancer, diabetes and heart problems)
Organic Raspberry (It can lower risk of oxidative stress, rich in nutrients and supply antioxidants)
Organic Carrot (Its rich in fiber, vitamin K, potassium and nutrients as well as helps in lowering Cholesterol levels)
Organic Blueberry (It helps in protecting body from free radicals as well as provide necessary antioxidants with cancer fighting properties)
Organic Strawberry (It lowers your blood pressure, increase good cholesterol, boosts immunity and is full of vitamins)
Organic Parsley (It reduces your risk of cancer, improves your immunity, helps in terms of inflammation as well as protects your blood vessels. Its healthy for you but consuming too much can be dangerous)
Organic Tomato (It helps in controlling blood pressure and provides sufficient vitamins as well as potassium)
Organic Green Cabbage (Its low calorie and rich vitamins vegetable, helps in protecting your body from free radicals as well as provides fibers and nutrients)
Organic Beet (It keeps your blood pressure in check, improves your digestive systems, helps in fighting inflammation as well as helps you in loosing weight)
B. Longum, L. Plantarum, Strep Thermophilus & Lactobacillus Acidophilus
Blackberry Juice (May hel in boosting brain health as well as provides Vitamin C, K and fibers)
Black Currant (It was banned in U.S.A for nearly half a century but now its back. It provides Vitamin C, antioxidants and anthocyannice which helps in terms of immune system)
Dragon Fruit (It strengthens your immune system and may boost low iron levels as well as its loaded with fibers and nutrients according to HealthLine)
Mango Juice (It helps in preventing cancer, lowers cholesterol levels, maintains blood pressure, clears skin, fights diabetes and alkalizes your whole body)
Passion Fruit Juice (It is highly rich in Vitamin B6, B3 & C as well as boosts your immunity. However it can also lead to drowsiness, dizziness.)
Organic Coconut Water (It neutralizes oxidative stress as well as free radicals. Meanwhile, it might lead to upset stomach)
Organic Cauliflower (Its rich in sulforaphane, good source of antioxidants and is high in fibers)
Onion Powder (It contains calcium, iron, magnesium, potassium, vitamins, iron and antioxidants)
Celery Powder (Its fine source for beneficial antioxidants and enzymes. Its rich in vitamins as well as regular and healthy consumption can help protect cardiovascular health)
Bifidobacterium Lactis, Lactobacillus Casei, L. Rhamnosus, B. Breve & B. Adolescentis.
Other ingredients include citric acid, natural berry flavor, Stevia extract and silicon dioxide.
Although all the ingredients present in the Patriot Power Greens have certain benefits and can help you achieve your goals still if you have allergies or going through certain health conditions you should consult with your doctor before using it.
Is Patriot Power Greens Clinically Approved?
The manufactures have made many claims regarding the product and provided different studies as well as testimonials but the evidence to back it up is very less. The product is not clinically approved as well as it's not evaluated by FDA (Food and Drug Administration).
Patriot Power Greens Pricing & Refund
Patriot Power Greens offer three deals. First one is 1 Canister which costs $49.95 with Shipping and Handling charges of $8.95 so total of $ 58.9. Second one is 3 Canisters which costs $149 and you will get free shipping as well as free shaker bottle along with 2 free reports. Third one is 5 canisters which also costs $149 with discount and includes free shaker, free "No More Pills" report, "9 powerful food cures for pain" report and free shipping.
The manufacturer provides 100% money back guarantee for that you have to return the bottles to the provided address and refund won't include shipping and handling charges as well as you are advised to record all tracking numbers associated with delivery. You can contact customer support @ 1-800-230-8956.
What Customers Say About Patriot Power Greens
In terms of ingredients and claims made by manufacturers as well as affiliate sites the products seems really good but after doing our research we found many customers complained about the results as they were not how its mentioned by advertisers. Also many customers had issues while reaching out to customer support and in terms of billing as well. The claims of manufacturers can't be verified as well due to lack of evidence, so its really hard for customers to go for Patriot Power Greens while having many other options.
4 Reasons To Avoid PPG
Well after going through everything you might have decided not to go for this product. However, still I'll sum up everything for you in five points.
All the claims made by the manufacturer of Patriot Power Greens on the Official website are too good to be true as there is no evidence provided regarding studies or research, which makes the working of product suspicious.
The product is claimed to be formulated in FDA approved facilities but is not evaluated by the FDA. As well as it's not clinically validated.
When it comes to the pricing of Patriot Power Greens which I've discussed in the pricing and refund policy section, it is expensive as compared to many alternatives available in the market.
The billing support has many negative feedback regarding the payments and refunds.
Natural Ways To Avoid Inflammation
Inflammation could be helpful as it helps in healing as well as if it becomes chronic it could be harmful. If you don't want to use products such as Patriot Power Greens you can go naturally. Here are some ways to counter inflammation naturally.
Hydration: It helps body to detox from toxins which you can get from pollution or other sources on daily basis. Hydration clear outs the bowels and additionally helps out cells to perform properly. The more hydrated your body is the less inflammation you'll face.
Diet: In your daily routine prefer anti-inflammatory foods such as Vegetables (Kale, Cabbage, Cauliflower, Broccoli etc), Fruits (Grapes, Cherries, Berries, Olives, Avocados), Nuts, Peppers, Chocolate, Tea and Spices etc. Reduce sugar, get rid of bad fat, change the meat.
Stress & Sleep: Stress could also lead to inflammation as well as if you add poor sleep with it then its really going to harm your health.
Conclusion
Overall the Patriot Power Greens is a good product with natural ingredients but keeping the complains and lack of evidence in mind I wouldn't recommend it at all. I'd rather encourage you to go for natural ways to counter the issues you are facing.
FAQs
What is Patriot Power Greens?
Patriot Power Greens is product manufactured by Patriot Health Alliance to counter health issues such as inflammation especially in elder people.
What are the side effects of Patriot Power Greens?
Most of the ingredients used in production of Patriot Power Greens are natural and good for health but if you have allergies or facing certain health issues I'd recommend you to consult with your doctor before going for it.
Where can you buy Patriot Power Greens?
You can buy it from official website or from any affiliate website.
Can you use Patriot Power Greens during Pregnancy?
If you are going through pregnancy or breast feeding I'd certainly recommend you not to use Patriot Power Greens as it contains some ingredients which could have side effects during Pregnancy.
Discliamer: These statements have not been evaluated by the Food and Drug Administration and are not intended to diagnose, treat, cure, or prevent any disease. Please consult your physician before beginning any program or if there is a change in your medical condition.
If you have tried Patriot Power Greens. Let our readers know about your experience with Patriot Power Greens below! 🙂