Having a dry scalp and handling it requires significant care. The constant scratching and itching is far from ideal and could lead to severe complications. Unfortunately, there is a lot of shampoos that exaggerate this problem. Stress, poor diet, and other medical conditions like scalp psoriasis may also be to blame for a flaky, itchy head. Regardless of the cause, a scalp refresh is much appreciated. So, if you've been struggling with any of the scalp concerns, we've got you covered and here's the list of the best shampoos for dry scalp.
Nizoral A-D Dry Scalp Shampoo
Ratings: 4.5/5 | Store: Amazon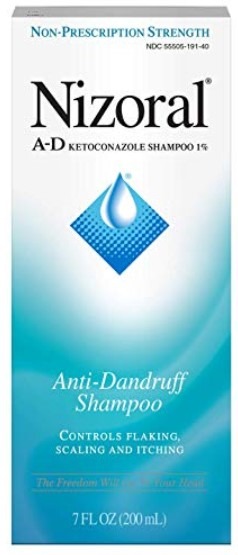 Nizoral A-D Dry Scalp Shampoo is a drugstore shampoo, which is formulated with 1 percent ketoconazole to help reduce the amount of pityrosporum yeast on the scalp and cut down on inflammation, redness and scaly patches. Some of us with dry scalp issues are not relieved by organic formulas and essential oils. Moreover, end up suffering from medically recognized skin irritations. Additionally, the product is suitable for all types of hair and can be used with gray hair too. It also works efficiently in terms of reducing dandruff, in order to get most out of you'll have to use it twice a week between washes. Furthermore, the shampoo will leave your hair soft, clean, and fresh, along with an excellent scent. Lastly, all that you're getting in a reasonable package of below fifteen dollars then what else do you need? Give it a try, and if you don't see significant results in the first three weeks, you should discontinue it.
Honeyskin Organics Scalp Shampoo
Ratings: 3.8/5 | Store: Amazon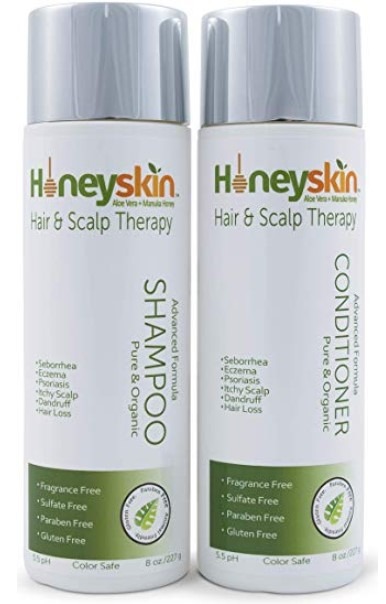 If you are an organic aficionado, the Honeyskin's dry scalp shampoo will be your right Allie. It contains a bunch of earthly ingredients including Manuka honey, aloe vera, and cehami, which can also be considered as a healthy organic overload. This shampoo-conditioner combo is free form sulfates. Moreover, the three ingredients mentioned reduce infections, soothe the scalp, and speed up the healing process. Additionally, manuka honey and aloe vera are being increasingly used in cosmetics due to their healing properties. Since it is ph-balanced at 5.5, it should also help retain natural scalp oils. The product also claims to repair dry, flaky skin and treat seborrheic dermatitis, psoriasis, and even eczema. Furthermore, the shampoo of double the price as compared to the Nizroal's, but it'll certainly exceed your expectations.
ArtNaturals Dry Scalp Shampoo
Ratings: 4.3/5 | Store: Amazon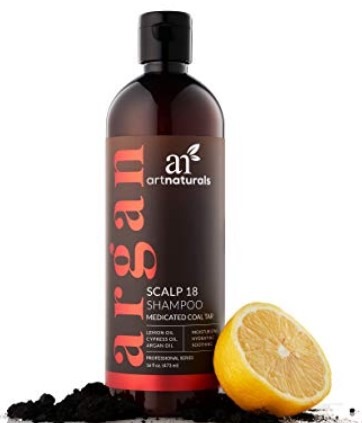 The shampoo, when used 2-3 times a week, cleanses hair and the scalp deeply while unclogging hair follicles and removing itchiness. Moreover, the good part is that it doesn't pull out the natural scalp oil from your hair. The company prides itself in using certified fair trade practices, and its products are sulfate-free as well as not tried on animals. Additionally, the 3% coal and tar help to reduce cell production and eliminate flakes as well as dandruff from the scalp. It is also reported to have tackled psoriasis and seborrheic dermatitis. Furthermore, if you want to see the results, you need to stay patient as it would take its time to work, but if there's no significant improvement in three weeks just like Nizoral, you better discontinue it.
Neutrogena T/Gel Therapeutic Shampoo
Ratings: 4.3/5 | Store: Amazon

Neutrogena is very popular for its facial products, but it does wonders when it comes to the scalp too. The T/Gel by the brand is excellent in terms of providing you the relief from itching and flaking along with controlling the symptoms of dandruff, psoriasis, and seborrheic dermatitis. I've personally tried the product when I had psoriasis nearly four months ago. It worked like a charm, and I noticed the significant positive results in three weeks. Moreover, the product no doubt, fulfill its claims and works excellently as living up the expectations. Neutrogena does have contact allergens and sulfates, which many people prefer to avoid, and the fact remains that it still works for millions of people. One problem that a lot of people complain about is its smell, and you can not escape its bad odor. In the context of the price, it is an affordable and reasonably priced product.
Maple Holistics Special Shampoo
Ratings: 4.3/5 | Store: Amazon

Maple Holistics has a range of essential oil shampoos, amongst them the tea tree oil shampoo holds the position of 'Best Selling' product. In case you don't know sulfates really help shampoos to lather. Parabens are added to preserve the shampoo in good working condition. Most people have concerns over these ingredients. The beauty industry has definitely reacted to these concerns by providing shampoos that are all-natural and free of these ingredients. In this product tea tree oil has done the job of parabens and sulfates, tea tree oil is naturally germicidal and fights bacteria, yeast, and fungus, which are the main causes of dandruff and itchy scalp. Furthermore, the shampoo is a savior and is highly recommended, given the price-tag of less than $10.
LivSo Dry Scalp Moisturizing Shampoo
Ratings: 4.2/5 | Store: Amazon

The brand claims it's shampoo to be a moisturizing one and it really fulfills the claim in terms of keeping the dry scalp moisturized. The shampoo has a nice citrus type smell, and consistency of the shampoo is really thick. This means you don't have to use a lot of product, so you are getting a decent quantity. It is recommended to use it along with conditioner by LivSo to produce the best results. Your hair might feel a bit flat but not greasy or oily. LivSo uses soothing ingredients including coconut oil, glycolic acid, hydrolyzed oat protein, and Abyssinian oil, in a three-step hair-care system. Furthermore, the excellent formula offers exfoliation and repairs the damaged sections along with significant moisturization.
Tingle Tea Tree Special Shampoo
Ratings: 4.0/5 | Store: Amazon

This product by Tingle Tea Tree comes in a green bottle and offers 33.8 Fl.Oz of shampoo. The shampoo is chock full of tea tree oil and is formulated to defeat itchiness, flakiness, and dryness. Moreover, this shampoo will make your scalp tingle, which is a good sign. The tea tree works at the skin cells on your scalp; stimulating them to get rid of dead cells, and encourages the growth of new ones. That makes this shampoo work as a rejuvenating hair-growth product, as well. Furthermore, the product is sulfate and paraben-free, which makes it gentle on already sensitive skin. These oils help to moisturize and nourish the scalp in a reasonable-price.
Head & Shoulders Dry Scalp Care
Ratings: 3.7/5 | Store: Amazon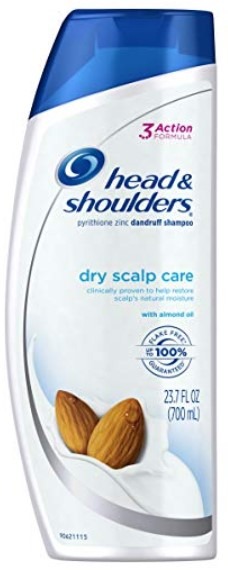 This budget-friendly package comes many options as well as flavors and ingredients. You are able to choose what suits you the best. Interestingly, the shampoo uses sulfates which are known to dry out the scalp. You see, sulfates are great for removing dandruff as well as the flakes associated with dry scalp. They don't discriminate though, as the natural oils of your scalp are also removed. Don't fret! The good news is that the almond oil and pyrthione zinc counteract the effects of the sulfates, meaning your scalp will still end up moisturized (and free of dandruff). If your primary purpose is to get the product that will clean your hair, remove itchiness and get rid of dandruff and turn your dry scalp into hydrated one, then this is the right one for you. Moreover, it is easy on the pocket, and since you get two bottles, it can be easily used by the whole family.
Innersense Organic Hydrating Shampoo
Ratings: 4.0/5 | Store: Amazon

As the name indicates, the product is fabricated by an infusion of all-organic products. The amalgam of organic products is meant, especially for thick, thirsty hair that helps strengthen the hair from inside out. The product is scented in vanilla flavor. Best results can be seen by following proper directions for use. It is recommended to apply it to fingertips and massage gently and cleanse the scalp. Following up with a hydrating cream turns on life for dry, damaged hair.
MG217 Coal Tar Dry Scalp Shampoo
Ratings: 4.2/5 | Store: Amazon

The 'coal tar' in the shampoos name is the coal tar you are picturing – the black, thick liquid produced from the distillation of coal. It effectively provides relief from psoriasis, seborrheic dermatitis, and dandruff. The shampoo has a maximum strength of 3% coal tar content, and above this percentage, you would need a prescription. As the shampoo can suit all hair types and conditions, you would care less about the smell as long as their itchiness is in control and the flakes are eliminated. Moreover, the MG217 coal tar shampoo is a solid option for someone who is suffering from psoriasis or a really itchy flaky scalp as that requires a powerful medicated formula instead of a general anti-dandruff shampoo. If you can bear the coal tar smell, this medicated conditioning shampoo is an ideal solution for an itch-free scalp.
BIOLAGE Scalpsync Shampoo
Ratings: 4.1/5 | Store: Amazon

If you are looking for a dandruff shampoo that is suitable for color-treated hair, then BIOLAGE has got you covered. This shampoo is highly recommended for the colored hair as it won't fade the color as well as will help you in terms of getting a dandruff-free scalp. Moreover, the brand provides a really good quantity for the price. The large bottle would last you quite a while, usually 5 -6 months. So it is really worth the price.
Neutrogena T/Sal Shampoo
Ratings: 4.2/5 | Store: Amazon

If your itchy, flaky, reddened scalp won't respond to any gentle, natural treatments and shampoos – then it's time to bring out the Neutrogena T/Sal. The Neutrogena T/Sal starts working from the first use, and its effects last for up to a week – meaning you can use T/Sal just once a week. Moreover, if you're concerned about the harsher ingredients in the formula, then utilizing this shampoo weekly will still save you from your dandruff problems. Additionally, this shampoo is formulated for daily use and fights the symptoms of dandruff, seborrheic dermatitis, and psoriasis.
ORIBE Serene Scalp Shampoo
Ratings: 3.8/5 | Store: Amazon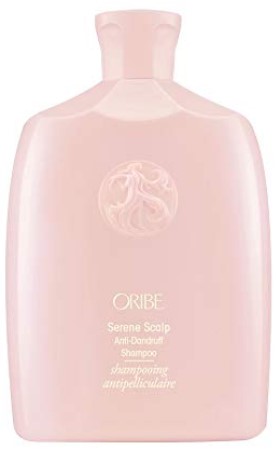 The Shampoo by Oribe may be a pricier option, but you'll get your money's worth back in results. The formula majorly has caffeine which helps hair to get recharged from the roots. Along with caffeine, it has standard dry scalp ingredients including orange and lemon extracts which hydrate the hair and also help to get rid of dandruff. Moreover, one of the major impact of this product, about which most people talk, is it's the beautiful heavenly scent. Furthermore, this product works differently for different individuals. It is highly recommended to get an allergy test before spending your bucks on this one.
Atlantis Moisturizing Shampoo
Ratings: 3.9/5 | Store: Amazon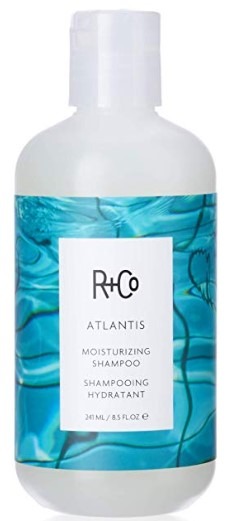 When you'll look at this shampoo, you'll be shocked by its surprisingly small size, but the product is seriously moisturizing and smells amazing. In terms of of the impact it does wonder especially for the coarse dry and frizzy hair. The product does a decent job at cleansing the hair and scalp without stripping away the moisture. Moreover, the best results can be seen if the shampoo is paired with the conditioner by Atlantis. However, you might find it at the pricy end in the market, but it does the job decently.
HS Zinc Shampoo
Ratings: 4.1/5 | Store: Amazon

It's one of the best shampoos by DHS that helps to control seborrheic dermatitis. The product leaves the hair clean without any smell. Moreover, it contains 2% zinc which is superior in every way as zinc plays a very important role in hair tissue growth and repair. Additionally, hair loss is a common symptom of zinc deficiency. You can say that it is slightly medicated. However, some people complain about the replacement of Tea Sulfate with Sodium Laureth Sulfate. As tea being a natural ingredient is trusted more over the synthetic chemicals. Overall the product is good, and you get what you pay for.
REGENEPURE Scalp Treatment
Ratings: 3.8/5 | Store: Amazon

REGENEPURE Scalp Treatment is a beautiful array of ingredients. From a range of vitamins to oils and extracts, this shampoo has a great formulation that can re-hydrate the scalp and creates an environment for natural hair growth. Moreover, the formulation is also free of any harsh parabens and sulfates, which is good news for your scalp and hair as this lowers the risk of any side-effects or reactions. Many hair-care experts recommend alternating between Regenepure DR hair & scalp shampoo and Regenepure – NT shampoo to help thicken and strengthen the hair. REGENEPURE hair care regime adds volume, body and shines while repairing limp and brittle hair with Regenepure intense volumizing biotin product. Furthermore, there is a deep conditioner by REGENEPURE, with the added benefits of biotin and tea tree oil, produces more bounce and thickness to your hair when used in combination with the shampoo.
Avlon Keracare Dry Scalp Shampoo
Ratings: 4.4/5 | Store: Amazon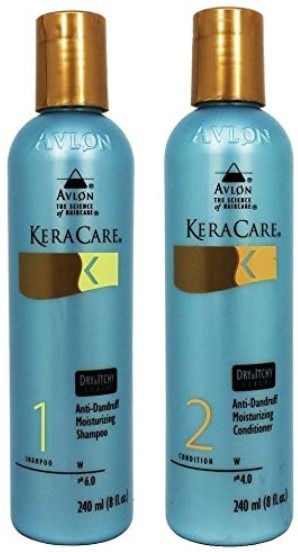 People have given glowing reviews about this shampoo, and it's because it is really worth it. As with most of the dry scalp care hair care products out there, you can see that the manufacturer did try to combine dandruff-removing ingredients with moisturizing oils to provide a balanced product. There are oils and extracts like rosemary, arnica, watercress, garlic, and more to help nourish and moisturize the scalp. The product also works well on chemically treated hair, so it's a great choice if you're into dying your hair. However this formulation is not entirely natural, you'll find few contact allergens like sulfates and Cocamidopropyl betaine, that may cause allergy.
Eufora Aloe Therapy Shampoo
Ratings: 4.8/5 | Store: Amazon

If you are looking for a shampoo that is really gentle on your skin and scalp, then here you go. Eufora Aloe Therapy Shampoo is really gentle to fulfill your need for conditioned hair. Moreover, the shampoo has a nice thick consistency which means you don't need a lot of product. This bottle offers the benefits of physical exfoliation as well as chemical exfoliation. It's effective but gentle, so you can get that tingly clean feeling without leaving your scalp stripped raw. In terms of price, it is an affordable product that is capable of answering all your prayers.
Eucerin Calming Urea Shampoo
Ratings: 3.6/5 | Store: Amazon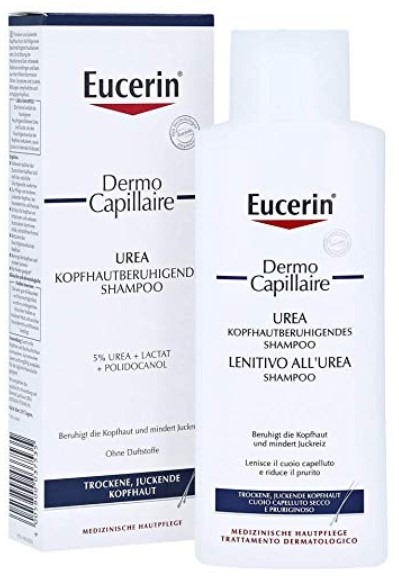 The last product in the list is by Eucerin. The shampoo helps soothe irritation and stop dandruff in its tracks with the excellent formula. Not surprising as it's coming from the brand that has mastered dry-skin relief. For those of you who like to wash your hair every day, we suggest trying Eucerin as your new go-to. Moreover, after regular use, you will notice that your hair would start feeling wonderful and scalp won't be flaky anymore. Furthermore, If you are suffering from psoriasis of the scalp, this product is a life-changer. Although it won't cure psoriasis, but it makes the symptoms and discomfort almost completely disappear.
Looking for more dry skin products? Here are the top recommendations (moisturizers for dry skin) or sorted list (Toners for dry skin). Check out the linked guides with best comparisons and reviews of top products from well-known brands. 💡