All of us yearn for beautiful, voluminous hair. Shampoos play a significant role in enhancing the beauty of the hair. Shampoos with natural ingredients of natural and organic content are preferable in many ways, but choosing the one that best suits your chemically treated hair is often a difficult task. There are numerous products available for chemically straightened hair, and you just have to choose that best suits your hair type. So to make it easy for you here's the list of best shampoos for chemically straightened hair.
SheaMoisture Set Hair Shampoo
Ratings: 4.1/5 | Store: Amazon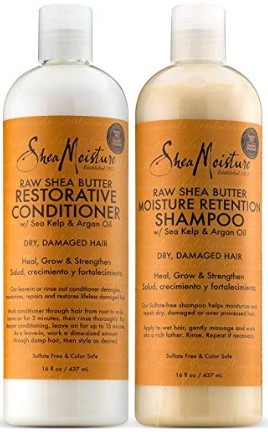 SheaMoisture Set Hair Shampoo made by a combination of sea kelp, shea butter, argan oil provides the best of all these natural ingredients. The sea kelp promotes a healthier scalp that makes the hair stronger. Shea butter is used for centuries is a great natural moisturizer. Argan oil treats hair loss and promotes the growth of hair. The shampoo is enriched with Vitamin E, which boost cell production and nourish hair follicles. It comes along with a conditioner as well that conditions the hair very nicely. It makes the hair healthier, very manageable, soft, and healthy overall. It makes hair free of frizz and gives them shine. It replenishes the natural form of hair after they gave been damaged by chemical treatments. It leaves the hair bouncy and shiny.
L'Oréal Paris EverPure Shampoo
Ratings: 4.2/5 | Store: Amazon

This is a sulfate and paraben-free shampoo that is made to protect the color of hair. Color-treated hair can get very frizzy, so this product provides frizz-prone hair humidity and frizz control. If you are someone who is struggling with poufy and frizzy hair, you have a solution. It has a pleasing scent added and makes the hair so soft and tangle-free. Additionally, it is a decent priced product for the work it does. This shampoo providing smooth luminosity to hair comes in a purple bottle with an orange cap.
NaturOli Sulfate Free Shampoo
Ratings: 4.0/5 | Store: Amazon

NaturOli formulas made and bottled in the US are Ayurvedic formulas that rinse the hair making them tangle-free and manageable with a healthy body, texture, volume, and shine. It is a conditioning shampoo that is safe for color-treated and chemically straightened hair. Additionally, It helps to hydrate and revitalize dry, damaged and stressed the hair. Moreover, it cleanses the scalp, weakening hair follicles or depleting natural nutrients and moisture. It is free of any artificial fragrance. It produces the best results by using it twice or thrice only in a week. It makes the hair so fresh and free of greasiness. Also, it is really a cost-effective product for the work it does.
Schwarzkopf BC Hair Shampoo
Ratings: 4.4/5 | Store: Amazon

Schwarzkopf BC Hair Shampoo that comes in a cute girly white and pink packaging claims to provide 90% retention of color. This shampoo is enriched with violet colored pigment that can reduce warm-colored undertones within the hair. Additionally, it cleanses the hair while the direct violet pigments fight with warm undertones. Moreover, it is ideal for pre-lightened and cool color-treated hair. It adds a subtle shine to the hair that complements the hair color. Also, it does not make the hair sticky and make the hair to live actively. It takes away the brassiness in a single wash. Lastly, it's a very cost-effective product indeed!
Royal Locks Hair Shampoo
Ratings: 4.0/5 | Store: Amazon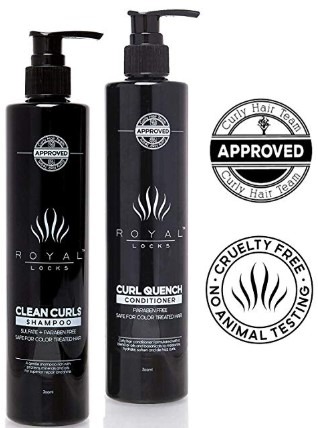 The Royal Locks Hair Shampoo available in a black bottle is manufactured and suitable for all hair types, Curly, coarse, fine, way, and even straight. The natural argan oil and macadamia nut oil provide hydration to the hair naturally. The product is designed to provide a natural healing treatment to the hair. Additionally, it gives a rich start to lifeless, damaged hair making them soft, smooth, and unbelievably shiny. Moreover, it helps to restore the natural strength of the hair. This product that comes in a pump makes the hair surprisingly bouncy and shiny after a lot of damage.
Moroccanoil Volume Hair Shampoo
Ratings: 3.6/5 | Store: Amazon

The gentle Moroccanoil Volume Hair Shampoo with infused Argan oil and fortifying nutrients increases the volume and weightlessly enhances the shine of hair and health. It takes out the bugs of the hair without making them flat. Addition of the conditioner will mainly strengthen the actions of the shampoo. Moreover, it replenishes the natural moisture of the hair and makes them silky soft. It is advised to massage the shampoo on wet scalp activating the lather. However, this can cause hair to fall in some individuals with the extremely dried scalp.
OGX Organix Hair
Ratings: 4.0/5 | Store: Amazon
OGX Organix Hair is designed to deal with the business of hair very effectively. It is a fantastic product which is super creamy and makes the hair very soft and free from tangles. Moreover, it adds the right amount of moisture to the hair rendering the hair nor too heavy neither too flat. Best results are visibly apparent when the shampoo and conditioner are used in combination. It's also an anti-frizz master. Furthermore, it replenishes natural hair oils and scalp moisture.
Herbal Essences Hair Shampoo
Ratings: 4.3/5 | Store: Amazon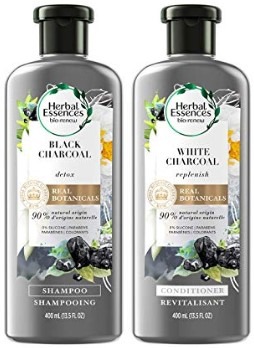 This 13.5 fluid ounce herbal shampoo is fabricated to remove impurities from hair. Herbal Essences Hair Shampoo is enriched with Detox black charcoal help to moisturize and replenish the hair. Additionally, this product full of the natural botanicals detoxes the hair from root to tip. Moreover, this shampoo is secretly infusing notes of lavender, juicy citrus, and cocoa into your hair, making it balanced and beautiful — the best results are seen when used with the white charcoal conditioner. The conditioner helps to protect from damage and breakage. This shampoo works as a lifesaver for the hair, makes the hair refreshed.
Khadi Natural Herbal Shampoo
Ratings: 4.2/5 | Store: Amazon

Khadi Natural Herbal Shampoo works significantly to fight against dandruff, helps to repair the dead cells, and prevent more damage to the hair. Additionally, free from the parabens and sulfates and is enriched with an infusion of extracts of amla, reetha, bhringraj, haritaki, henna, and neem. These ingredients are used for ages as a remedy to dull and dry hair at home. Moreover, it leaves the hair lustrous, manageable, and healthy with continuous use. In addition, it stabilizes the condition of hair. It does wonders!
Haircare is essential to maintain the health and life of hair. Using heating product is mostly a cause of damage to the hair. Hairdryers and iron exude the heat. Using a conditioner daily is fine, but using shampoo daily is not just okay! Shampoos make the hair rough and dry. Protecting the hair from the sun and pollution also prevent the hair damage to a large extent. Getting a hair cut also improves the condition of the hair as it puts off the split ends. To stop the breakage of hair you need first to comb and then gently brush your hair. Moreover, if you are into make and looking for lip liners then here's a guide containing the Best Lip Liners.