Unlike its glamorous cousins' lipstick and lip gloss, lip balm gets no love and attention until you suffer from dry lips. It is something you find at the bottom of every woman's bag for a good reason. Lip balm is a topically used substance with waxy consistency that moisturizes and relieves dry lips. Moreover, lips balm preps the pout for smooth and even application of lip color. So considering all the best of it here is the list of best lip balm for dark lips.
Burt's Bees Natural Lip Balm
Ratings: 4.7/5 | Store: Amazon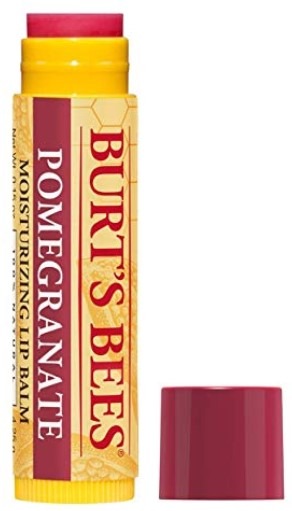 Burt's bees lip balm is enriched with antioxidant-rich pomegranate oil, which helps to moisturize the help with a beautiful hint of color. It contains beeswax and potent fruit extracts that soothe and hydrate the dry lips. Moreover, natural ingredients make the lips soft and feel refreshed. If you're using it on a daily basis before going to bed, you would see improved lips. However, some people are offended by the presence of soya bean oil and canola oil as ingredients.
USDA Organic Lip Balm
Ratings: 4.5/5 | Store: Amazon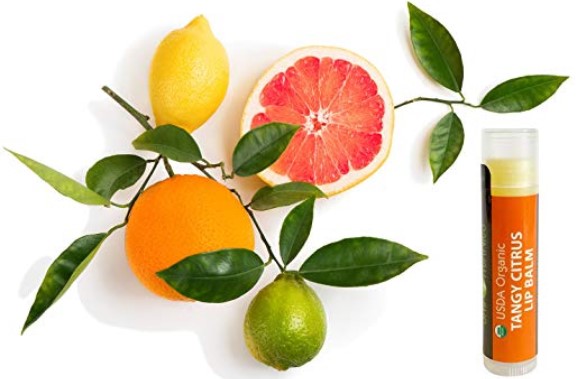 The USDA Organic Lip Balm comes in a pack of 6 which are made by infusion of organic ingredients that tend to make the lips soft and healthy. It is a nourishing lip butter which can be used by everyone including toddlers, kids for dry, chapped lips. All flavors of this lip balm are amazing to smell and does a great job of moisturization. Moreover, regular use of the product makes the lips get rid of patches and flakes of dryness on lips. Furthermore, this balm doesn't have an SPF so if you want sun protection you need to have an SPF separately.
Blistex Medicated Lip Balm
Ratings: 4.6/5 | Store: Amazon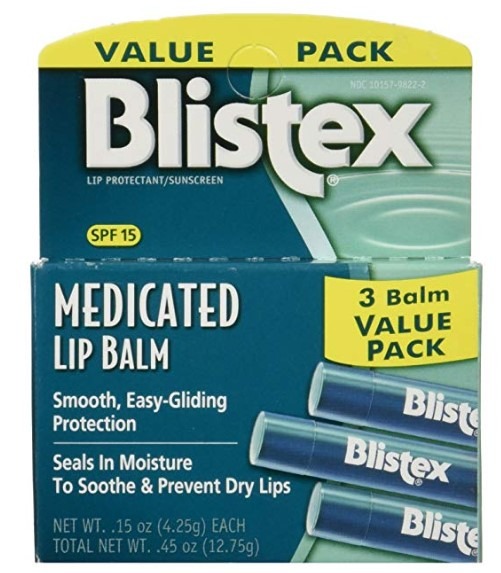 This lip balm is available in three tubes with 0.15 oz of product per container. As the name indicates, this formula is medicated and help in the healing of dry and chapped lips. Moreover, the balm is made to glide on to soothe irritated lips easily. Furthermore, the price makes it a really cost-effective product for the amount. Also, it has an SPF so if you work outdoors and have the dryness issue for lips you have found a solution. Some people can face a little bit of irritation on the first application.
ArtNaturals Beeswax Lip Balm
Ratings: 4.5/5 | Store: Amazon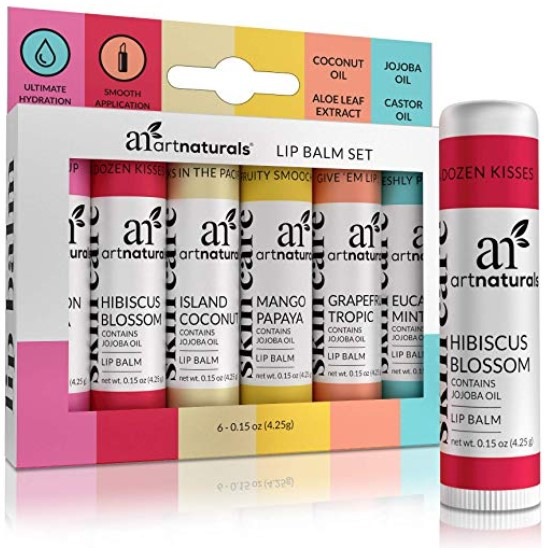 The ArtNaturals Beeswax Lip Balm is made by the combination of jojoba, coconut and sunflower seed oils; all of these ingredients are full of antioxidants and cleansing vitamins that help the lips to nourish and heal. The formula glides on the lips and stays on longer. Moreover, it does not cause useless residue sitting on the lips. Furthermore, the formula keeps the lips moisturized even if you eat or drink something after application, it doesn't get eaten up. Also, the six pleasant flavors make it an excellent product.
RUGGED & DAPPER Lip Balm
Ratings: 4.4/5 | Store: Amazon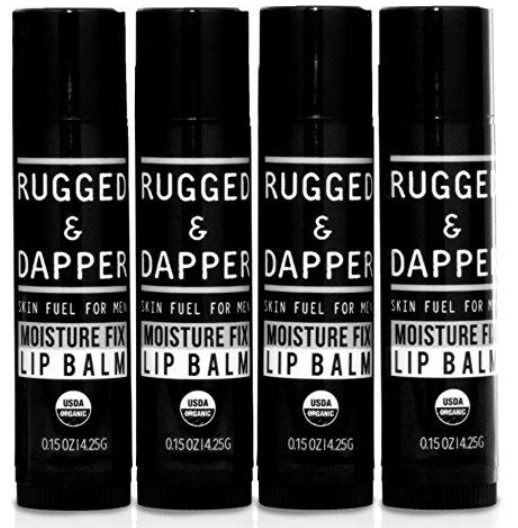 RUGGED & DAPPER Lip Balm is designed especially for men and is made to nourish, hydrate the lips. Although it claims to be prepared for men, it works great on women as well. Moreover, it glides on the lips smoothly and gives a subtle cooling effect. Like the other balms it can feel a little thick when first applied but after a while costs a healthy moisturization through the day. However, the staying power is not as long as it claims. It is made in the USA and is free from paraben and gluten.
Sky Organics Lip Balm
Ratings: 4.5/5 | Store: Amazon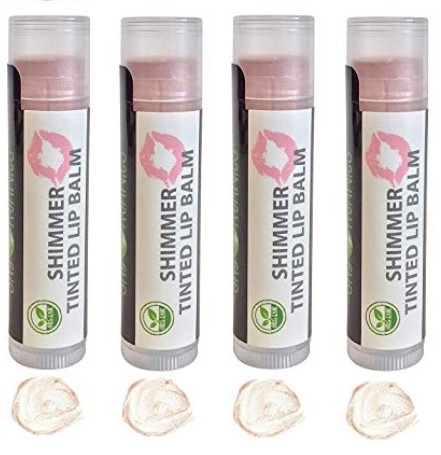 The product comes with an excellent smell and is made to trigger the energy of your lips as well as to provide shimmery tints as well. Sky Organics Lip Balm is safe for sensitive lips and provides best lip care for all ages. Moreover, the balm infused with Castor Oil, Natural Beeswax, Cocoa Butter, Coconut Oil, Vanilla Flavor, Argan Oil, Peppermint Oil, Aloe Vera Oil, Vitamin E comes in a variety of shades and users claim it to be almost like lipstick. So it works as a bonus to the balm. Additionally, It goes on smoothly with a sheen and smells lovely. Furthermore, it can be used in a daily makeup routine. So, Sky Organics lip balm is an excellent product.
ChapStick Protectant Lip Balm
Ratings: 4.4/5 | Store: Amazon

The brand claims to provide 12 chapsticks, but they deliver only one in the packaging. The scent and taste of this chapstick are just like the cake butter but are pleasant. Moreover, this has a smooth application and provides a moist feeling. The use of matte lipsticks throughout the day makes the lips really dry it is recommended to use this balm to makes the lips soft and recovers the moisture.
ChapStick Classic Lip Balm
Ratings: 4.3/5 | Store: Amazon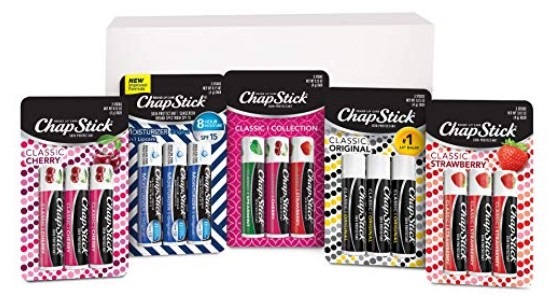 ChapStick Classic Lip Balm is an excellent product for a fraction of price. It is available in a pack of 5 with three sticks in each package. The product is fantastic and holds the position of the favorite for the people who tried. Most people find a balm that moisturizes and also gives a hint of color, so you don't need two different as ChapStick Lip Balm does both the jobs. It is recommended to use the sugar scrub first that helps to remove dry surface on the skin and then balm moisturizes them beautifully.
Honest Beauty Lip Balm
Ratings: 4.4/5 | Store: Amazon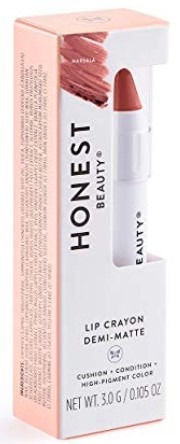 Honest Beauty Lip Balm is a great product which is fabricated by a blend of jojoba oilseed and shea butter, the antioxidant properties of which help to restore the moisture of the lips. The crayon is smooth and creamy and dries down a little making the lips soft and not wet or sticky. The size of the crayon is very suitable that provides quick application and puts off lovely color. However, it may cause itchy rashes to some individuals. So you must get an allergy test.
Biotique Whitening Lip Balm
Ratings: 2.8/5 | Store: Amazon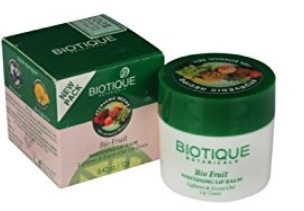 This balm comes in a jar containing up to 12 grams of the product. Although the product claims that it is made up of a combination of all-natural fruit extracts, it leaves users' lips dry and parched and leaves them with a reddish, dark stain that does not die out soon. However, it does the job of moisturizing the lips. Moreover, it is quite expensive as it does not fulfill the claims it does.
💡 In case you are looking for best lip liners for dark skin then check out the linked guide as it contains significant detail and excellent comparison of the products you can get at a reasonable price 💡