If glowing and radiant skin is all you want, then you must not skip the most important step that is 'EXFOLIATION'. But why is there so much emphasis on it? You know our skin has an innate ability of regeneration, dead cells shed off, and new cells are produced from underneath. These dead cells make up piles on your face and make your skin dull and weary. This accumulation of cells can also lead to clogged pores and can cause the oil to get trapped on the surface leading to acne. As you start to age, this ability of skin shedding becomes slower. By regular exfoliation, you can continuously get rid of these piles of dead cells showing off the new cells, producing healthy and glowing skin. There are two types of exfoliators; chemical and mechanical. The task of both is to remove dead cells. Facial scrubs available in the market usually use beads, small particles, or chemicals to get rid of dead cells, making way for the new ones. Here are a few favorites and best face scrubs, that are known to produce excellent results on the skin.
Quick Answer: Top Best Rated Face Scrubs in 2020
St. Ives Gentle Face Scrub
Ratings: 4.4/5 | Store: Amazon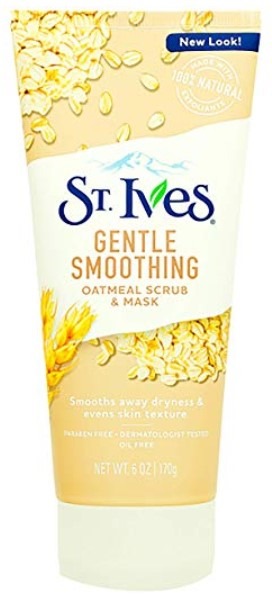 If you are looking for a very gentle scrub that is ideal for sensitive or dry skin, this scrub by St. Ives is for you. If you wany more abrasion and deeper scrubbing, this one is not for you. The scrub is very soft and gentle and does not contain any grains. The use of scrub not only cleans the skin but also helps to even out the skin tone with regular use. The instructions advise to use it 3-4 times a week, but due to the gentle texture, you can also use it on a daily basis. Gently massage on the face in a circular motion to promote natural circulation and wash with lukewarm water. Pro-tip; For deep exfoliation, add sugar that would act as beads and would produce deep exfoliation.
Nip+ Fab Fix Face Scrub
Ratings: 4.6/5 | Store: Amazon | Skin Type: Sensitive & Dry

This face scrub with the fruitful grape smell is very effective if you are struggling with acne issues. The product is very good at exfoliation without irritation and helps the skin to achieve clear, glowing skin. Moreover, infusion of 3% glycolic acid and salicylic acid penetrates deep into the skin, removing the dead cells, unclogging the pores, and helps to combat blackheads. There is a visible reduction of blemishes with continuous use. The scrub granules are "large", feel like the size of Epsom salt, and you need to apply pressure while massaging. If you do not use acids or chemical exfoliants regularly, then you may only need to use this 1-2 times per week for around 1-2 minutes as formulation may get a bit harsh on super-sensitive skin.
Murad Age Reform Face Scrub
Ratings: 4.4/5 | Store: Currently Unavailable | Skin Type: Oily & Combination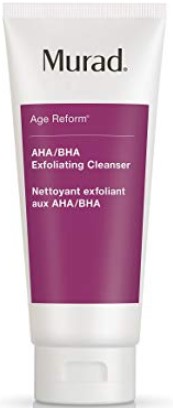 Murad is founded on the simple truth that living younger is a choice you can make every day. The brand is known well for its good quality skincare products. Additionally, the product is an excellent mild exfoliant and consists of tiny beads in it. Best results are produced by gently massaging a small amount on damp face and neck and rinse with warm water. Also, follow by the application of jojoba oil. Optimal results are produced by using 2-3 times per week. Moreover, the product is very effective for acne-prone, as well. In terms of price, this scrub lies on the pricey side, but the results are worth it.
ACURE Brightening Facial Scrub
Ratings: 4.2/5 | Store: Amazon | All Skin Types

The cute yellow and white packaging of ACURE Brightening Facial Scrub provides 4 Fl Oz of the product. The texture of the product is simultaneously grainy, scrubby, slick, and slippery. On massaging the product on the skin, you get an excellent exfoliation, and the clays tend to add a soothing cleansing. Moreover, you gently scrub a small amount of the product in circular motions, this stimulates not only circulation but also slough off the debris of dead cells, providing a radiant glow on the skin. It is also recommended to consult a dermatologist if you have super-sensitive skin; otherwise, it's perfect for all skin types. What else you need under $10? give it a try.
Biore Pore Unclogging Scrub
Ratings: 4.3/5 | Store: Amazon | All Skin Types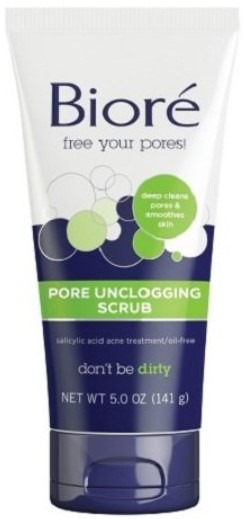 The smell of zesty mint gives a feeling of freshness, so does the Biore Pore Unclogging Scrub. The product is uniquely designed with the infusion of salicylic acid, glycerin, and sodium cocoyl isethionate, which fight acne, moisturize, and clean the skin, respectively. The addition of blue spherical beads helps to exfoliate the skin gently. Moreover, the scrub has a little amount of beads yet leaves the skin smooth, soft, and clean. Additionally, It also helps to prevent blackheads. The texture is not gritty and might feel a little waxy, which some people do not like. It's a perfect product offered at a low price.
Clinique 7 Day Scrub Cream
Ratings: 4.3/5 | Store: Amazon | All Skin Types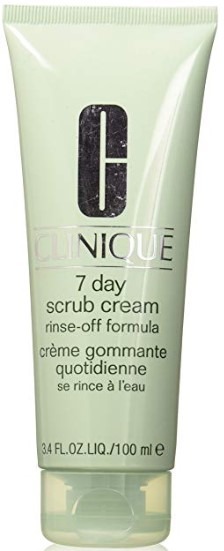 The delicate exfoliating cream comes in a 3.4 Fl. Oz. tube. The package provides a generous amount of product that goes for a long way. The formula of the cream is really gentle and helps get rid of the dead cells, deflates the skin. Moreover, the regular use of the scrub cream helps to un-clogged the pores and produces a radiant glow. The massage of this scrub cream on the clean face makes the skin comfortable to it. The special moisturizing feature gives the skin the 'drink' it needs to maintain the optimal moisture balance. The dry skin will simply love this scrub.
dr. Brandt Face Scrub
Ratings: 4.5/5 | Store: Amazon | All Skin Types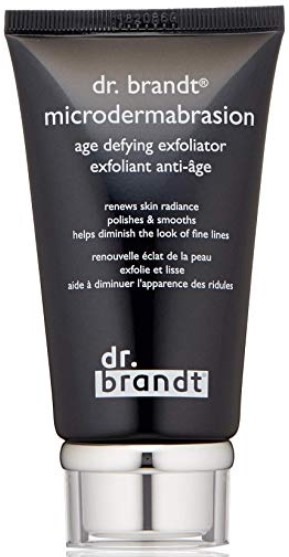 Dr. Brandt Face Scrub features aluminum oxide crystals that help to exfoliate the skin. Lactic acid present in it exfoliates and also softens the skin. A botanical blend containing chamomile, jojoba, and aloe vera are responsible for soothing the skin after slight abrasion and also keep it moisturized. The fragrance is citrusy/lemony. Most of the users find this scrub a great product; however, some report that their skin gets dry by using dr. Brandt Face Scrub. Some people also have reported that the tube is half-full. In terms of the price, it is a bit expensive as compared to others in the list. It is also suggested to get an allergy test prior to purchasing this one and it's great to get over concealers for your skin.
Philosophy Exfoliating Wash
Ratings: 4.3/5 | Store: Amazon | All Skin Types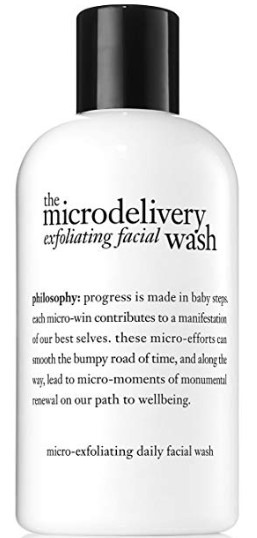 Philosophy Exfoliating Wash is a very gentle formula, it is gentle enough that can be used by 'all skin types'. This feature makes this scrub good for daily use. The formula is sulfate-free and has rich antioxidants. It can help to clean the pores, prevent blackheads, and retain the moisture level of the skin. Many people get worried when they do not see any exfoliating particles, don't worry; these are immensely small, and you feel their presence when you massage it. Moreover, the product is fragrance-free, which is a great relief for people with sensitive skin. Furthermore, the price is a bit high, but they provide a generous amount that goes for a long way.
Queen Helene Honey Scrub
Ratings: 4.8/5 | Store: Amazon | All Skin Types
Gentle oatmeal and honey scrub that you can use to exfoliate your face, hands, and body if your face skin usually is dry. This face scrub features oatmeal and honey. These natural ingredients are very mild and gentle on the skin and help to remove dead surface debris of skin that removes the dullness and produces a radiant, glowing complexion. The formula is soft enough to be used daily and features an impressive smell. People with acne have also reported it to be gentle and helpful for their acne.
Freeman Facial Scrub & Mask
Ratings: 4.3/5 | Store: Amazon | All Skin Types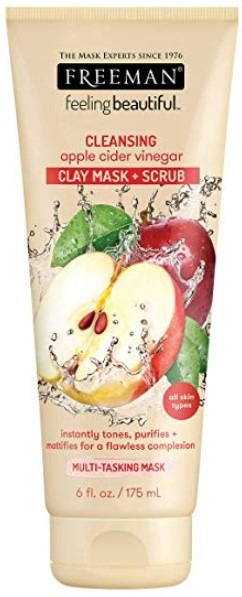 This is a combination of facial scrub and a mask. You will love the subtle candy-apple smell of the product. However, some people who are sensitive to fragrance might find it overpowering when using it as a mask. The infusion of pumice helps to polish the skin, getting rid of the dead skin cells. Apart from being affordable, a little product goes for a long way. Moreover, the product might work as an excellent mask for your skin but it depends. For super-sensitive skins, it works better as a cleanser. You can learn more about top products on the HomePage.
Neutrogena Hydro Boost Cleanser
Ratings: 4.4/5 | Store: Amazon | Skin Type: Dry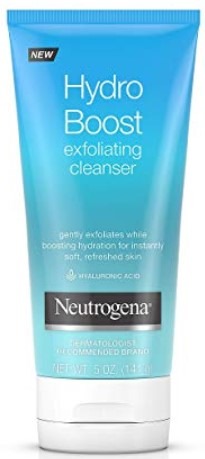 The Neutrogena Hydro Boost line is an absolute favorite for so many people with sensitive skin, as these products are hypoallergenic. Many people often find the beady crystals not gentle, but with Neutrogena, it is not the case. The small beads are really helpful in exfoliating the skin deeply without drying it out. Moreover, it is very good at removing makeup. For some people, the strong scent might be a cause of irritation. Overall, this is a great product without any soap and parabens.
Simple Skin Facial Scrub
Ratings: 4.2/5 | Store: Amazon | All Skin Types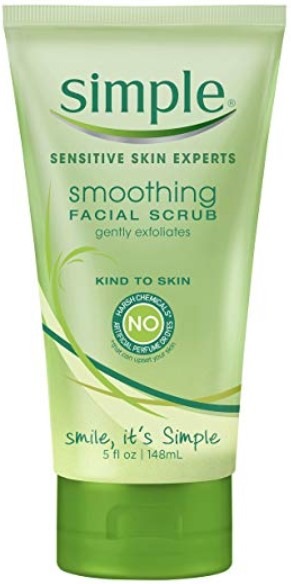 Vitamin E and Pro-vitamin B5 are perfect for skin, and they restore the skins healing properties and make it soft and supple. The infusion of micro rice granules presents a mild exfoliation. This formulation is not a deep cleanser, and it is more of a maintenance product that ensures that you don't have gathered piles of dead skin on top, and make skin fresh and smooth. So the formulation is not as grainy and scrubby, but some people will prefer the no tearing effect on the healthy skin. Moreover, some people complain about the unpleasant chemical smell, so hyper-sensitive noses, take the note.
Ole Henriksen Walnut Scrub
Ratings: 4.3/5 | Store: Amazon | All Skin Types

The lightly-foaming scrub by Ole Henriksen is made by the blend of walnut powder, ginseng, and chamomile extracts. The product has an excellent smell and serves two purposes, firstly, perfect exfoliation, secondly, cleansing. People with sensitive skin should avoid mechanical exfoliants, those who do not have sensitive skin, and struggle with moderate to severe texture imbalance – this is for you. The scent should get ten stars as it is amazing. However, the grains of this product might cause really deep exfoliation on the skin, causing a rash, but it is perfect if you exfoliate other body parts rather than face.
Kate Somerville Face Treatment
Ratings: 4.6/5 | Store: Amazon | All Skin Types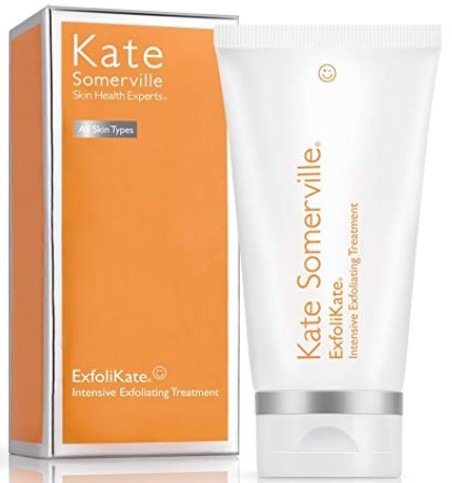 This face scrub made by the infusion of natural exfoliants is formulated by Celebrity skincare guru Kate Somerville. This product has a combination of lactic acid and fruit enzymes that work in harmony to produce glowing complexion. The scrub not only helps to remove the accumulation of dead skin but also fills in the fine line and reduces the appearance of wrinkles. There are different packagings of this scrub available, providing a different amount of products at different prices. You can opt for anyone best suited to your budget.
Pixi Glow Tonic Treatment
Ratings: 4.3/5 | Store: Amazon | All Skin Types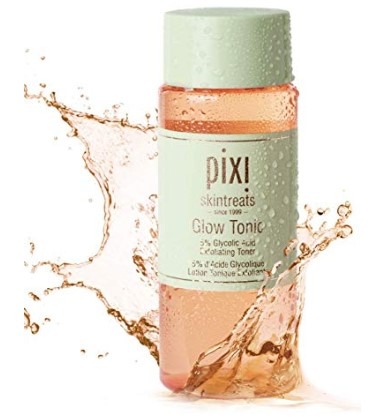 The cute pink bottle of Pixi glow tonic provides 100 ml of the product. This product is formulated in the USA. Moreover, the product is very gentle and has helped people with surface acne. It calms the redness without drying the skin out. The product also helps a lot with flaking and makes skin feel clean; Does not have any harsh smell. For best results, use by applying on cotton ball or pad and apply on a washed, clean face. You can also use it on a daily basis, as it is very mild.
Murad AHA/BHA Exfoliating Scrub
Ratings: 4.7/5 | Store: Amazon | All Skin Types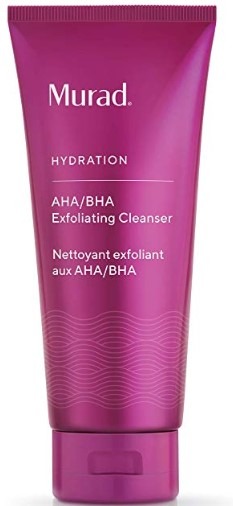 Alpha hydroxy acid and Beta hydroxy acid decodes the AHA and BHA in Murad AHA/BHA Exfoliating Scrub. Commonly these are known as glycolic acid, lactic acid, alicyclic acid, and all these acids help to exfoliate the skin surface and also reduce wrinkles and clarify the pores. One fact about this product is that it removes the dirt and also locks in the moisture in your skin. Use of this scrub does not leave your skin tight, making the product useful for most skin types, if not all, especially during winter. On one side, it might work great for some people, while on the other, it can be a bit harsh for sensitive skin types. Moreover, the product lies on the pricey side.
Paula's Choice Face Scrub
Ratings: 3.3/5 | Store: Amazon | All Skin Types

If you see closely at the label of the product, you will know that it claims to be suitable for all skin types. The unscrub cleansing face scrub has a blend of jojoba beads, vitamin E, and green tea. These natural ingredients make this scrub very gentle. The scrubbing dissolves the beads into the skin, producing exfoliation; it is also reported to produce improvement in rosacea. The product is reasonable in terms of price, as a little goes a long way, and the results are worth the price. Moreover, people also call it as 'tube of miracles', due to the wonders does by the product.